The appeal to be truthful, kind, and enduring decorated the skies of Perth, Western Australia, on Dec. 2, 2018, on a banner trailing behind a light airplane. Perth local Karen Dunscombe, 35, was inspired by a dream to hire the [sky banner] service to display the hallmark mantra of the spiritual discipline and energy practice, Falun Gong.
Dunscombe's health and wellbeing have significantly benefited over 8 years of practicing Falun Gong. Over the years, she has regularly participated in public Falun Gong energy-movement exercises and meditation displays as a way to introduce the practice to others.
In late October she was doing the Falun Gong meditation in a park when a light aircraft trailed a sky banner overhead, triggering her memory of several unusual dreams she'd had 3 years earlier.
Dunscombe had dreamt three times over a short period of time that she was flying in the sky over large gatherings of people. But she had no idea of what the dream meant.
Then about 2 months later, she had the same dream, but with a distinct variation.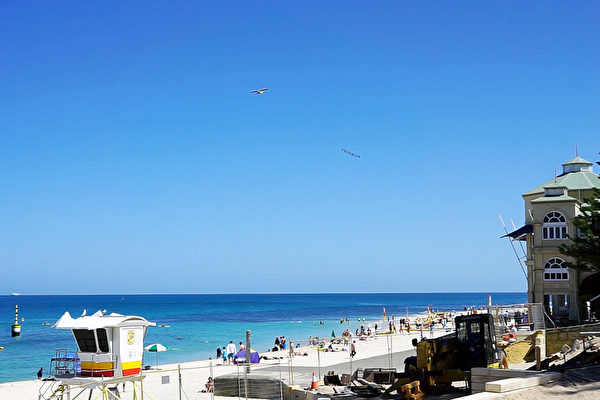 This time her commitment to sharing the benefits of Falun Gong came to mind and in the dream she began to shout down to the people below, "Falun Dafa is good. Truthfulness, compassion, and tolerance are good," she said.
The people looked up and waved at her in response.
From Dream to Reality
As she finished meditating in the park, her dreams combined with the light plane and banner flying above her, and sparked Dunscombe's inspiration to hire the Falun Gong-mantra sky banner.
From there we cut to a warm summer morning in December 2018, on Perth's premiere Cottesloe Beach where Dunscombe's dream has become reality.
Orlando Travers, 3, who was strolling along Cottesloe shore, suddenly pointed his finger to the sky. He shouted, "plane," drawing his parents' attention to the light aircraft overhead trailing the 100-foot long line of letters behind it.
Orlando's father, Leigh Travers, recalled being pleasantly surprised and appreciative of the sign's inspired message.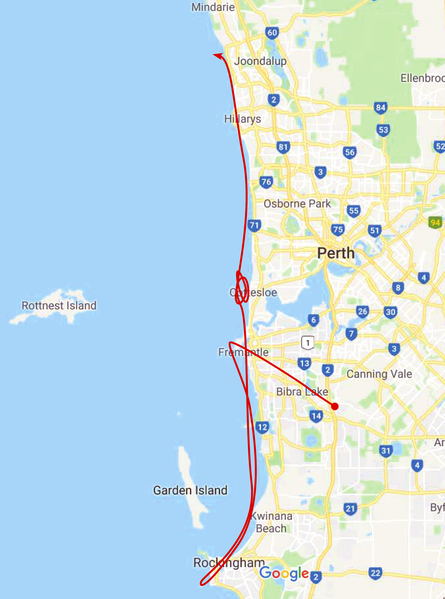 The Travers family were among hundreds of Perth summer beachgoers at Cottesloe Beach that morning who were treated to the unexpected aerial spectacle.
Among them was the spectacle's orchestrator—Dunscombe sat sunbaking just a few meters away from the Travers family, enjoying seeing her plan come to fruition. She'd been sitting there since 8 o'clock, waiting for the arrival of the plane which the pilot had told her would pass at 10 o'clock.
How Family and a Generous Businessman Helped Make it Happen
Back in October, after Dunscombe had had her lightning bolt moment while meditating in the park, she rushed home and searched for "air advertising" online. She found a competitive package that charged $900 for the banner and $3,000 for one hour of flight time.
"I was very excited." Dunscombe said, "maybe that's what those dreams were about."
"I really didn't care about the money," she added.
The next morning the banner was the first thing that entered her mind when she woke up. She was convinced that it was the right thing to do.
Despite the high cost, Dunscombe's husband and mother, knowing the health benefits she'd received from Falun Gong, supported her plan.
Dunscombe then contacted Brian Collingridge, the owner of Air Ads to negotiate a price.
She told him about the positive benefits Falun Gong brings to people's lives and her intention to share its mantra of truth, compassion, and endurance with Perth.
Collingridge quoted her $1,100 for a two-hour package, which she happily accepted. However, an hour later he called her to say that after discussion with his wife he'd decided to extend the flight time to 3 hours. Since the couple wanted to support Dunscombe's plan, the extension would be provided free of charge.
The Plan Takes Shape
On Collingridge's advice, Dunscombe agreed to book the flight for the first weekend that the temperature was expected to reach 86 degrees Fahrenheit (30 degrees Celsius). This was to ensure that the maximum number of people would be at the beaches to see the banner. Thus, Dec. 2 was selected.
At 9 a.m., the plane departed from Jandakot Airport in southern Perth and flew northwest over the Adventure World theme park in Bibra Lake and the E-Shed markets in Fremantle, it then diverted to Rockingham City in the south.
From there the plane headed north along the coastline. It made three circles at low altitude as it passed over Cottesloe Beach, where it was seen and enjoyed by the Travers family, Dunscombe and countless others who were out and about that day.

"They're not trying to sell something and they're just trying to lift everyone's spirits up," Leigh Travers later said of the initiative.
On Reflection
Collingridge said that his curiosity was pricked when Dunscombe came to book the plane, as it was unlike the requests of his usual clients—wealthy businessmen.
He said that he admired the purity and goodness of what Dunscombe was doing when she explained the Falun Gong practice to him and the challenges faced by its followers in China. He felt inspired to help her out.
"I just want to give back to Falun Gong," Dunscombe said. "It's Falun Gong that makes me a better person."
"I want to bring this positive feeling to more people," she added.