Human Rights Issues Surround Chinese Leader in Toronto
September 11, 2005 12:00 am Last Updated: August 21, 2015 6:29 pm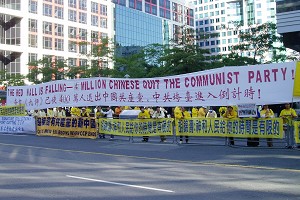 TORONTO—Chinese communist leader Hu Jintao arrived in Toronto Saturday amid large protests, skirting protesters by entering his hotel via the underground parking garage.
Outside the hotel, hundreds of Falun Gong practitioners appealed for an end to the more than six year persecution of their faith in China.
"We call on all levels of government to uphold the integrity of Canada and strongly condemn the Chinese Communist Party on the persecution of Falun Gong," said Joel Chipkar, a spokesperson for the group.
Since then-communist boss Jiang Zemin launched the persecution of Falun Gong in 1999, at least 2781 have been persecuted to death by Chinese authorities for their belief in the practice, according to the Clearwisdom.net website.
Many thousands of others have faced torture or have been sentenced to prison terms or forced labour.
Chinese Commerce Minister Bo Xilai, who was scheduled to join Hu on his trip to Canada, was notably missing from the delegation after Falun Gong supporters called on Canadian authorities to bar him because of his role in the torture deaths of Falun Gong practitioners in Dalian City, where he was previously mayor.

Falun Gong also called on the Canadian authorities to grant refugee status to Fang Yaobin and his wife Xiong Fengying, two Falun Gong practitioners in Vancouver who risk being deported to China later this month. If that was to take place, Chipkar says, they would be at risk of torture or even death.
Also lining Front Street outside Hu's hotel was a vocal group of Tibetans who decried what they say is the communist government's attempt to wipe out their culture.
"Not only they take over our country, now they're destroying our culture, our language and everything," said Yangchen Gyaltong, an executive member of the Tibetan Women's Association of Ontario.
Gyaltong escaped Tibet to India as a young child after the Chinese Communist Party (CCP) took the region by force. She has lived in Canada since 1974.
She says the Chinese government has forced an influx of Mandarin Chinese into Tibet and has offered incentives to Chinese who marry ethnic Tibetans. Added to this, she says, the government has made gaining an education and finding work difficult for Tibetans who want to preserve their native language and traditions.

"The purpose is to make Tibetans become the minority, to erase our language, culture, and religion," she says.
And she's skeptical about negotiating with the CCP leaders.
"I have my reservations because of their past history, because of all the things they have said and all of the things they have promised. They turn things around with no regret for breaking promises; as long as they can get what they want."
Prime Minister Paul Martin said Friday that he did raise human rights in a talk with Hu in Ottawa on that day.
"We did discuss the issue of Tibet […] also, yes, I did raise the issue of Falun Gong," he told reporters at a press conference on Parliament Hill, adding that he had drawn attention to ten specific human rights cases.
But Hu did not acknowledge the concerns and instead lashed out at the Dalai Lama for considering Tibet independence.

According to Chinese media reports, Hu's delegation had reserved all 500 rooms at the upscale Hotel Intercontinental in downtown Toronto. The hotel is connected directly to the Metro Toronto Convention Centre, the site of all of Hu's Toronto engagements, which further assures he will not be confronted with the masses demonstrating outside his hotel.
By eluding the protestors outside, Hu also avoided a large, well-organized welcome group. Chinese community organizations with close ties to the Chinese consulate in Toronto had been working around the clock to muster up a large team to great Hu.
The group beat drums and waved red flags but left shortly after it was learned that Hu was inside the hotel. The protesters, however, persevered in hopes their messages would be heard.
Hu was scheduled first to join a luncheon co-hosted by Canadian ministers Jim Peterson and Joe Volpe. After visiting Niagara Falls in the afternoon, he was to take part in a dinner hosted by a Canada-China business organization, and then meet Chinese consulate-friendly community leaders from the Toronto area.