Google Moon shows what appears to be a massive alien spacecraft on the moon. It is L-shaped with what appears to be seven lights dotting its edge. The Google Moon imaging is taken from NASA's Lunar Reconnaissance Orbital Camera (LROC).
Turner Radio Network reports that the U.S. government has been secretly tracking two huge objects approaching Earth for two years, citing an outside consultant from NASA's Meteoroid Environment Office. In January 2013, the objects disappeared all of a sudden about 200,000 miles past Mars, reports the network, but now it seems at least one of them has landed on the moon.
On Jan. 15, NASA launched three Terrier-Orion suborbital rockets from the Wallops Flight Facility in Virginia for the Department of Defense (DoD). The NASA press release states: "At the request of DoD project managers, no real-time status updates will be available. The launch will not be shown live on the Internet, nor will launch status updates be provided on social media once the countdown begins." 
As the Google Moon image gains attention, some have speculated that this launch could be related.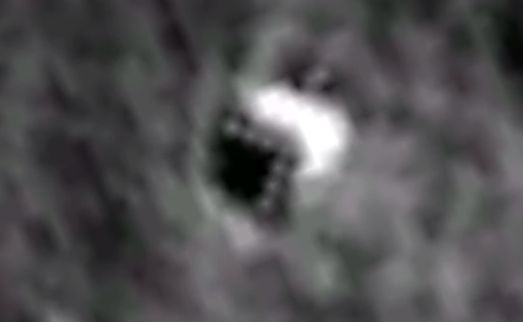 Turner Radio Network named its source as "Dr. Eric Norton," a long-time consultant for the National Security Agency (NSA) and NASA. Norton described the objects he was called in by NASA to help monitor at the MacDonald Observatory in Texas.
"What I saw was an array of massive, three-dimensional, black structures in space, in straight-line formation, advancing in direction of planet Earth," he said. He was shown the objects over a three-month period and saw they "had moved millions upon millions of miles closer within just months."
Analysing the objects, he and his team hypothesized that they must be made of a material several thousand times as hard as the hardest materials known to humans on Earth.
The objects have been a cause of great concern, Norton said, with many questions arising and few answers. 
Turner Radio Network bills itself as a media source for news that doesn't make it to mainstream media. 
Tech and Gadget News speculates: "The gigantic shape actually looks like the leading edge of an immense, triangular space ship, similar to, so far, super secret stealth aircraft technology, but is much larger than any airplane ever built on Earth."
This video showing the Google Moon sighting has had more than 500,000 views on YouTube: