What do eating peas, lentils, grapes, rice cakes, and pork have in common with wearing yellow underwear and tossing plates? They're all examples of how people around the world ring in the New Year to bring good luck, abundance, and prosperity.
While customs vary by culture, there are common threads. Many celebratory foods are round in shape to represent coins for prosperity, such as beans, peas, and grapes. Consuming savory sausages and meat dishes, meanwhile, symbolizes a rich life.
Here, food experts share local traditions.
Greece
Vasilopita is a meat pie served on New Year's Eve in Greece. "We hide a foil-wrapped coin in the vasilopita. Whoever receives the slice with the coin will have good luck for the rest of the year," says Maria Loi, chef and owner of Greek restaurant Loi Estiatorio in New York City.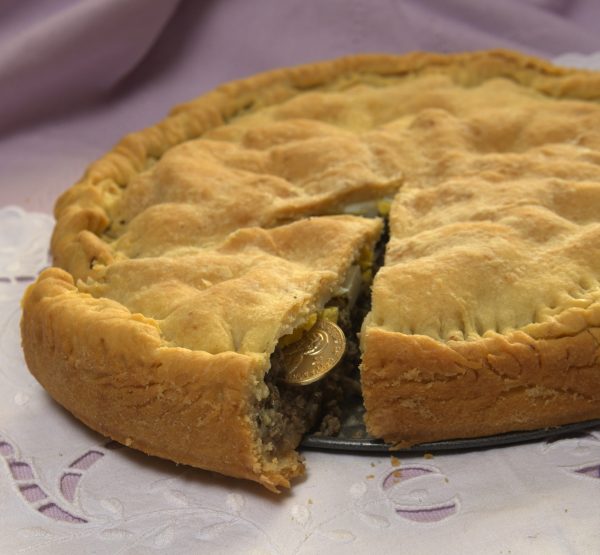 Pomegranates are also important, Loi says. "According to tradition, just before midnight on New Year's Eve, everyone leaves the house. You must re-enter the house with your right foot first and smash a pomegranate on the floor at the entrance. The amount of seeds that come out of the fruit is proportionate to the amount of good luck the family will have. If someone gets splashed and stained with the juice from the pomegranate, they will be the first to receive good fortune in the new year."
Italy
Cotechino with lentils is a popular New Year's dish throughout Italy, according to Michele Scicolone, author of "1000 Italian Recipes." "Cotechino is a large spiced pork sausage typically served with stewed lentils and mashed potatoes," she explains. "The richness of the sausage and the number and appearance of the lentils (thought to resemble gold coins) promise wealth in the new year."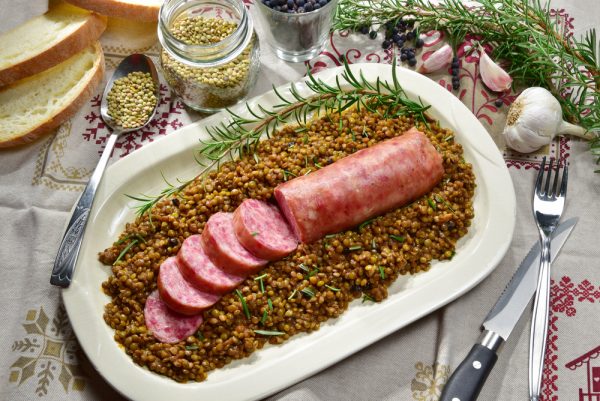 Some regions of Italy have local specialties. In Emilia-Romagna, it's zampone, a pig's trotter stuffed with sausage meat. Sicilians eat sfinciuni, a thick pizza topped with onions and anchovies. In Abruzzo, they eat cardoon soup.
Other traditions include wearing red underwear and tossing old belongings. Watch your head walking the streets! "Both men and women wear red underwear to ward off evil. Throwing old unwanted belongings from the windows, such as furniture, crockery, pots, and pans, symbolizes a fresh start," Scicolone adds.
Spain
Consuming 12 grapes at the last 12 strokes of the midnight bell on New Year's Eve started in 1909 in Alicante, Spain, when growers came up with the idea to sell more grapes after a bumper harvest. Each grape symbolizes prosperity for the next 12 months. Today, the tradition is celebrated throughout Spain as well as in countries in South America.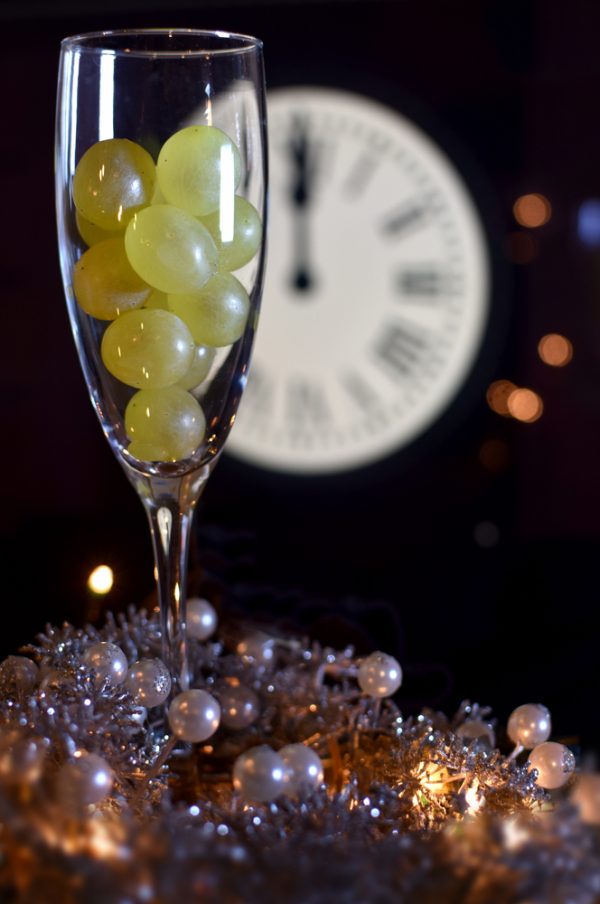 While popping grapes—and corks of sparkling Cava—is a lighthearted way to party into the New Year, "the occasion is also important for families to gather for a festive meal," notes Alix Raij, co-owner of Txitkito and El Quinto Pino in Manhattan and La Vara in Brooklyn, with Spanish husband Eder Montero.
The Spanish spare no expense for their New Year's dinners, preparing multi-course meals that start before midnight and stretch into the wee morning hours. Regionality plays a big role in the kinds of dishes served, although fresh seafood is considered a specialty.
"In coastal Basque country," Raij says, "locals prepare large seafood feasts featuring whole-grilled Rodaballo (a round-shaped turbot), steamed percebes (goose neck barnacles), oysters, clams, and caviar. Inland, the meal will include roasted lamb and pork. Consuming rice, black-eyed peas, and greens for prosperity is popular in certain regions."
Japan
Well before midnight, Buddhist temples throughout Japan ring their bells 108 times, to ward off evil spirits and cleanse the soul of the prior year's sins. The final chime rings at 12:01 a.m. on Jan. 1.
As far as food goes, "we celebrate the end of the year by eating toshikoshi-soba, which translates to 'year-crossing soba,'" says Okuda Tetsuya, executive chef of the kaiseki and kappo kitchen at Sushi-Seki Times Square, in New York City. "Long soba noodles signify health and longevity. Soba noodles are easy to cut, [symbolizing] cutting our ties with the old year and leaving our troubles behind."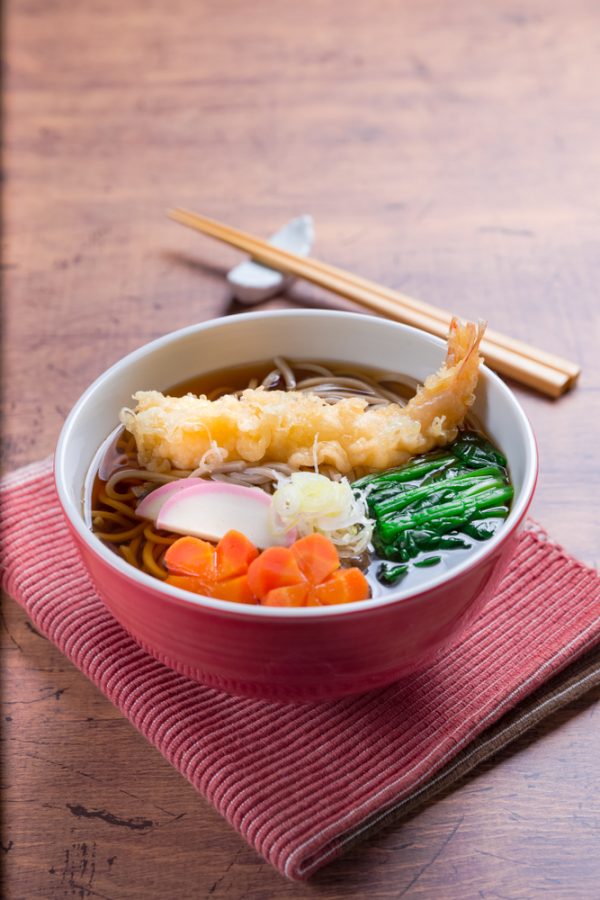 Korea
Rice cake soup, known as tteokguk, is a special soup served on New Year's Day in Korea to signify a long life.
"Koreans say that when you eat rice cakes on New Year's Day, you gain one year in age," says Bobby Yoon, owner of Yoon Haeundae Galbi in New York City's Koreatown.
Age is revered in Korean culture; the young must treat the old with respect, such as by letting them eat first. It's common to inquire in a conversation, "How many bowls of tteokguk have you eaten?" as a polite way to determine an individual's age, and thus status.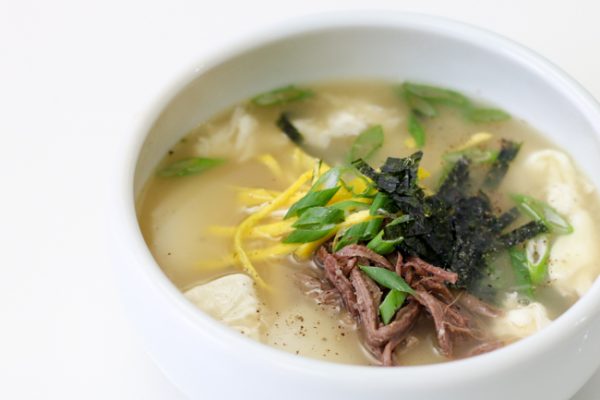 The steamed rice cakes (tteok), made from glutinous rice flour, are sliced and served in a savory meat broth, along with slices of fried egg and scallions. The whiteness and round shape of the tteok, and most likely the eggs, symbolize purity and renewal for a fresh, clean start to the year. The round shape also represents coins, for wealth.
While the exact origins of tteok are unknown, historian Choe Nam-seon writes about the soup's spiritual significance, noting that "tteokguk originates from ritual food prepared for ancestral rites in ancient times. Eating a white food to begin the new year holds the religious meaning of rebirth for all …"
"Another important custom," Yoon adds, "is catching the sunrise of the new year to pray for good luck and health. Growing up in Korea, I remember watching the sunrise before going to my grandfather's restaurant. The whole place smelled of bone stock on New Year's Day for the rice cake soup."
Peru
While food traditions vary from the Amazon to the Andes, rice dishes served with pork are common. "For Peruvians, it's important to have rice every day," says Carlos Pardo Figueroa, executive chef for the Sumaq Macchu Picchu Hotel. "For New Year's Eve, we'll create variations such as rice jardiniere, black olive rice with pecans, or Arabic-style rice."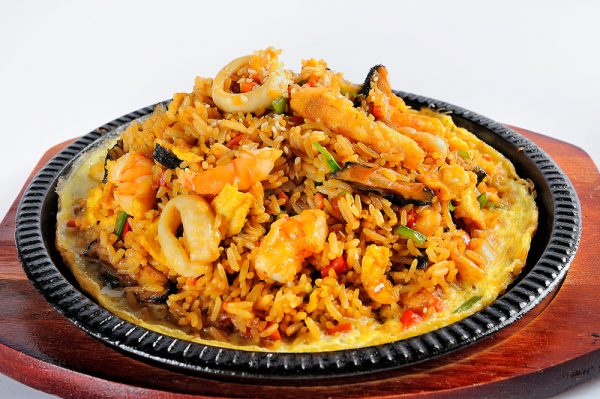 Many Peruvian New Year's customs reflect the cultures of the many immigrants who settled in South America from Europe, Africa, and Japan. Figueroa illustrates: "In Peru [like in Spain], we eat 12 grapes at midnight for good luck on New Year's. We also put raw lentils in our pocket as a sign for money. If you want to get married, place grains of rice at your door. For good health, wash your hands in Champagne."
Beyond food, the color yellow signifies hope and happiness in the New Year. It's common for Peruvians to wear yellow underwear, while homes and businesses are decorated with yellow flowers and ornaments.
United States
Black-eyed peas with pork, symbolizing prosperity, are served throughout the United States, most notably in the Deep South. Hoppin' John is a classic South Carolina New Year's Day dish, made with peas and rice, and flavored with fatty cuts of pork, such as hog jowl (pork cheeks), fatback (the meaty back of the pig), and cured pork belly, all signifying abundance. The dish is served with seasonal collard greens, which symbolize money.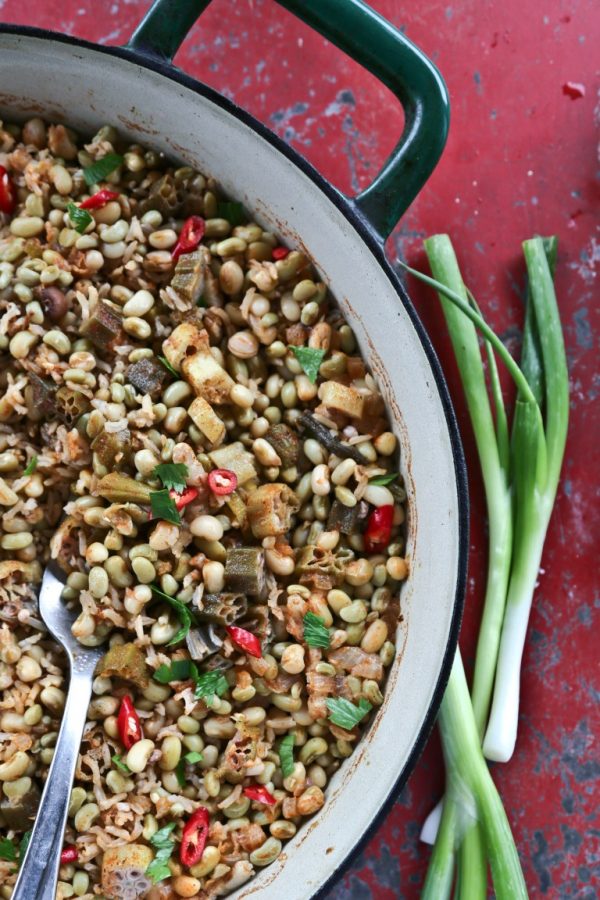 "Hoppin' John's name is shrouded in mystery," says Virginia Willis, author of "Secrets of the Southern Table." "Some folklore indicates diners being so excited to have peas for supper that they hopped around the table; others say it refers to a man with a limp who sold rice and peas in the Carolinas. The most commonly accepted explanation is that Hoppin' John is a corruption of the French phrase "pois à pigeon," meaning 'pigeon peas.'"
Whatever you serve at the table, one thing that is on everyone's lips at midnight is a kiss for good luck, love, and health in the New Year.
RECIPE: Hoppin' John and Limpin' Susan
Born on January 1, Melanie Young has made it her mission to celebrate New Year's in a different place every year. Follow her on Twitter @mightymelanie and Instagram @melaniefabulous.