DEL RIO, Texas—The largest caravan of illegal immigrants to date was, for them, successful. At its height, around Sept. 18, nearly 15,000 mostly Haitian nationals who had primarily been living in Chile or Brazil, were camped under an international bridge in Del Rio, Texas, that had been closed to legitimate trade and travel.
More than 12,400 of the aliens were ultimately released into the United States as the primitive camp was cleared and dismantled, according to Department of Homeland Security Secretary Alejandro Mayorkas.
The majority were given either a notice to appear, which is a date to appear in immigration court, or a notice to report, which is a request to check in with Immigration and Customs Enforcement (ICE) within 60 days. None were tested for COVID-19.
About 2,000 Haitians were flown back to Haiti during the week, Mayorkas said on Sept. 24. He also said that Border Patrol had apprehended almost 30,000 illegal immigrants in Del Rio during the previous two weeks.
News spread swiftly among the Haitians in Del Rio, and when the first deportation flights landed in Haiti, many of those left under the bridge fled back across the Rio Grande to Acuña, Mexico, to wait out the uncertainty.
All of the Haitians that The Epoch Times spoke to had been living in Chile or Brazil for years before deciding to come to the United States. They all said it wasn't an option for them to return to Haiti and that they were determined to get into the United States one way or another.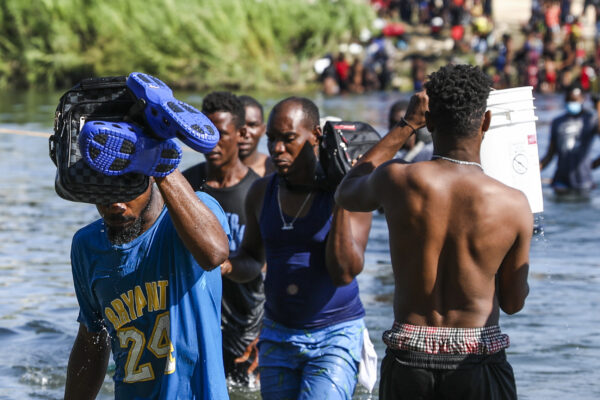 The southwest Mexican city of Tapachula is the common entry point of the well-worn route for Haitians making the trek north.
After passing through the treacherous Darien jungle from Colombia to Panama, they get help from the United Nations' International Organization for Migration. Then, they make their way through Costa Rica, Nicaragua, Honduras, and Guatemala, before entering Mexico near Tapachula.
Haitians and African nationals have been gathering in Tapachula for years to wait for  transit permits or to apply for asylum in Mexico.
In 2019, The Epoch Times reported that more than 5,000 Haitians and Africans were bottlenecked in Tapachula's immigration center. At the time, it took more than one month to get the required documents, but no one wanted to be caught without legal documents and risk deportation at that stage, so they waited.
However, in mid-September this year, thousands of Haitians left Tapachula, some without legal documentation, and started making their way to the U.S. border, mostly by bus.
"The Mexican government has been very helpful," Phanel, a Haitian national, told The Epoch Times on Sept. 21 in Acuña, Mexico.
"Legally, they are issuing permits, but some of us didn't wait for it [in Tapachula]. But still they provided guidance on how to get here."
Phanel said he had been living in Chile for three years before deciding to come to the United States. He had spent five nights under the bridge in Del Rio with his wife, son, and daughter, before crossing back to Mexico to retrieve groceries.
Another Haitian man who had been living in Chile for several years was looking for a hotel to stay at in Acuña to avoid deportation from the United States.
"I thought I was going to be let in [to the United States], be handed the notice to appear, and right away, look for a job so I can send money back to my family," he said.
Traditionally, Haitians first made it to Puerto Rico, rather than take the overland route through Latin America. The second-busiest crossing point for Haitians had been the northern U.S. border (604 arrests in 12 years) and the southern border was third, with 473 arrests in 12 years.
But, in 2019, Border Patrol agents in Del Rio started apprehending upward of 1,000 Haitians within a few weeks.
This year, the number of Haitians crossing illegally into Del Rio has been on a sharp upward trend, especially since April, when agents apprehended 514 Haitians. The number grew tenfold to 5,196 in August. September is set to break all records.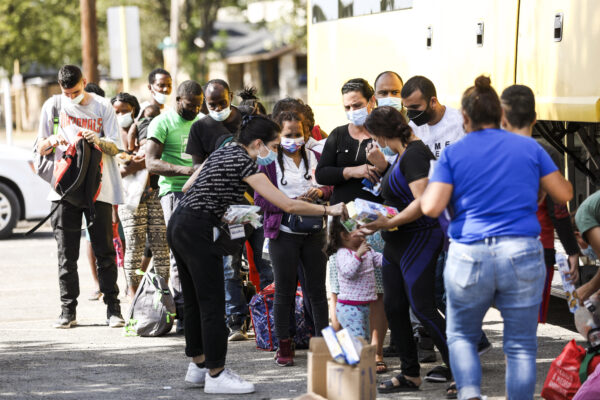 Policy Incentives
On a policy level, the Biden administration has been lenient on illegal immigrants, including through policy changes that allow most to be released into the United States.
Mayorkas announced on May 22 an extension for Haitians currently eligible under the Temporary Protected Status (TPS) program that was put in place after the 2010 earthquake. That allowed Haitians who were already in the United States before the earthquake to stay, as their country was deemed unsafe to return. TPS holders get work permits and are shielded from deportation.
The original 2010 designation was extended several times until the Trump administration announced in January 2018 that Haiti's designation would end, effective July 22, 2019. Subsequent lawsuits allowed the designation to remain in effect.
On Aug. 3, Mayorkas dramatically increased the number of Haitians eligible for the program by announcing that all Haitians who had made it into the United States by July 29 this year, would now be eligible to apply for TPS.
Former President Barack Obama started the practice of redesignating TPS so people who arrived after the original designation were also covered, said Jessica Vaughan, director of policy studies at the Center for Immigration Studies, a D.C.-based think tank that promotes legal immigration.
"Redesignating … does provide an incentive to get here and then take advantage. You can never be sure that that's going to happen, but I think it was a reasonable expectation for people that if they got here, the Biden administration would eventually do it again," Vaughan told The Epoch Times.
"I don't think the migrants themselves always know the specific policies and what the eligibility criteria are … they just know that people are being allowed to enter and stay here for an indefinite period of time."
Social media such as Facebook and messaging platforms such as WhatsApp contribute greatly to the rapid spread of information and organizing capacity of large groups of would-be illegal immigrants.
As many as 30,000 Haitians are currently on their way to the border, according to reports received by Del Rio Mayor Bruno Lozano last week.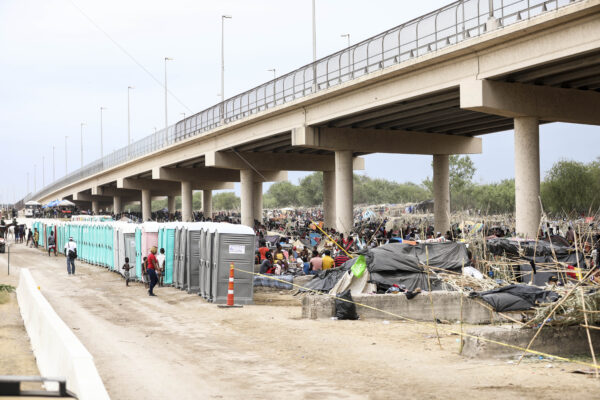 A Warning
Three months before the Haitian crisis, Jon Anfinsen, a Border Patrol agent and national union representative for Del Rio, said he warned the administration to prepare for an overwhelming influx of illegal immigrants. It was a  warning cry he said was ignored.
"It was basically recommended that they should start building some kind of facility down here," Anfinsen told The Epoch Times on Sept. 21.
Brandon Judd, president of the National Border Patrol Council said, "Not only did they ignore him, they came back and said, 'We have more efficient ways to handle it.'"
"Now we're in this situation," Judd said as he pointed to the squalid conditions under the bridge in Del Rio.
Judd said "there's no way in the world" that the Department of Homeland Security didn't know 15,000 Haitians were on their way to the U.S. border.
"We have a very robust intel department. There is no way in the world they could not have prepared. They just didn't do it," he said.
Speaking to the media at the White House on Sept. 24, Mayorkas said the situation in Del Rio was unprecedented.
"It is unprecedented for us to see that number of people arrive in one discrete point along the border in such a compacted period of time," he said.
He reiterated that the criteria for asylum don't include "economic need, flight from generalized violence" but rather "credible fear of persecution by reason of one's membership in a particular social group."
It's unclear if Haitians who have safely lived in Chile or Brazil for years will be eligible for asylum.
Vice President Kamala Harris was tapped in March to address the border issue and has said her focus is on the "root causes" of illegal immigration.
Mayorkas's three-part plan is to invest in the countries that people are leaving, to build "safe, orderly, and humane pathways" for migration, and rebuild the asylum system and refugee program.
Vaughan said Congress has been unable to address border security and immigration issues for years.
"Immigration law and policy has been abdicated by Congress, and is now in the hands of the courts and the executive branch," she said.
The effects of huge numbers of illegal immigrants being released across America will put a "huge burden" on communities, she said.
"[The communities] are going to have to pick up the tab for it—to have these kids in school, for health care. They're going to be occupying a lot of the affordable housing, they're going to be trying to work off the books because they don't have work permits. And they will eventually be accessing all kinds of public welfare programs."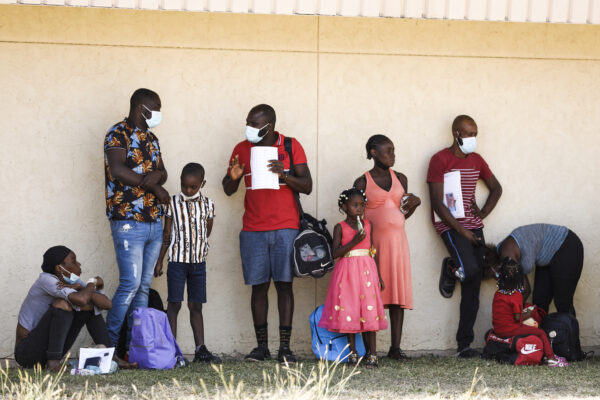 Off the Border
As the Haitian nationals poured across the border, Border Patrol was forced to close several highway checkpoints for more than a week in order to send agents to deal with the influx. That left Highway 90—a direct shot from Del Rio to San Antonio—open, as Texas state troopers also left the highways to guard the border.
On Sept. 24, before the checkpoint reopened, Highway 90 kept troopers and local law enforcement tied up with vehicle pursuits and smuggling arrests.
The driver of a stolen pickup truck out of Houston took state troopers and Kinney County deputies on a high-speed chase for several miles, before he careened off the road and smashed through a high game fence. Five illegal aliens were arrested near the truck and the remaining three were located and arrested with the help of the DPS helicopter. Border Patrol took all eight into custody.

Within hours of that stop, Kinney County Sheriff's Deputy Danny Molinar stopped a vehicle suspected of carrying illegal aliens. The driver, a 15-year-old boy, had stolen the car from his father in Cedar Creek, Texas, and was smuggling four Mexican nationals.
The boy is currently in juvenile detention facing four felony counts of human smuggling. A recent law change in Texas has made it easier to prosecute human smugglers by removing the requirement to prove pecuniary gain, or payment, to the smuggler.
"When you look at the resources that are being pulled to the bridge to deal with this, it's completely and totally depleted the field resources of not just DPS but the Border Patrol," Judd said.
"And Del Rio, you've got close to 240 miles that just is being patrolled by an absolute skeleton crew. And, of course, the cartels are going to exploit that."