NEW YORK—Look around New York and you might see waves of bright yellow shirts, golden dragons, and troops of drummers this week. About a thousand Falun Gong practitioners will participate in three days of events around the city to celebrate World Falun Dafa Day.
Officially observed on May 13, it marks the day when Falun Dafa (or Falun Gong) was first introduced to the public by Mr. Li Hongzhi in Changchun, China. May 13 is also Mr. Li's birthday.
The ancient spiritual discipline involves four gentle standing exercises and a sitting meditation. The practice has attracted tens of millions across the world and at its core are just three simple principles: truthfulness, compassion, and tolerance.
The festivities kicked off at Union Square's North Plaza, with a demonstration of the five meditative exercises that stopped busy New Yorkers in their tracks.
Then shortly after noon, the pace jumped up about 100 notches with a performance by the New York branch of the Tian Guo ("Celestial") Marching Band. Branches of the now famous band perform in major parades across the world.
Other musical performances followed, including a choir, a range of instrumental solo's, classical singing, and as a special treat, a solo on the songful pipa, a traditional Chinese instrument.
Aside from the music, a crowd-pleasing golden dragon dance team glided across the audience (perhaps scaring a few little ones in the process), as did a Chinese lion—all accompanied by the beats of Chinese drums.
Every single piece was performed by Falun Gong practitioners, most of them from the local New York area.
Many of the participants said they found inner peace and true wellbeing after taking up Falun Gong—often standing in stark contrast to what their lives were like before practicing. They say the practice changed them both physically and mentally.
Changing Lives 
Mika Hale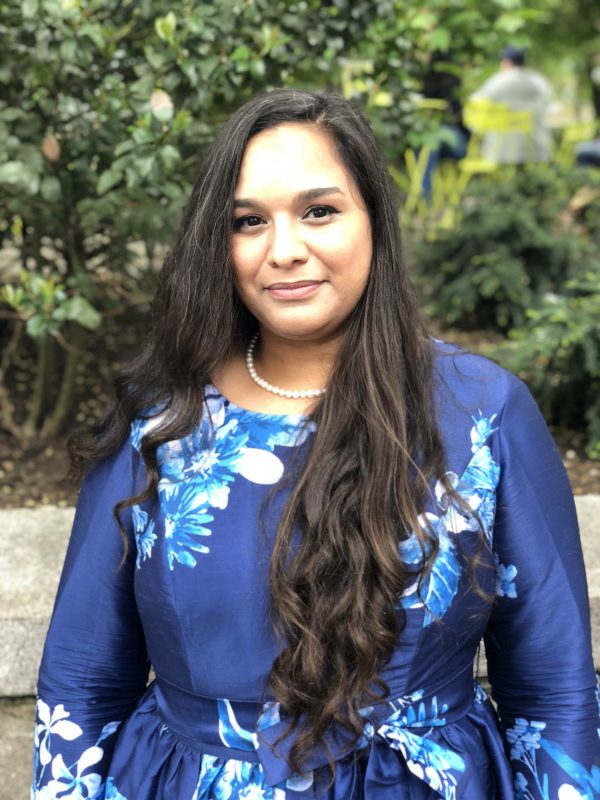 "Most of my relationships were really strained, especially with my family. In 2007 I was so miserable with my life that I used to pray every day outside my window to be killed. But after practicing, the biggest change is now being able to talk to people from a genuine place. My relationship with my mother is amazing and the relationships with my sister and children are amazing; before—they were really turbulent."
Dorian Filip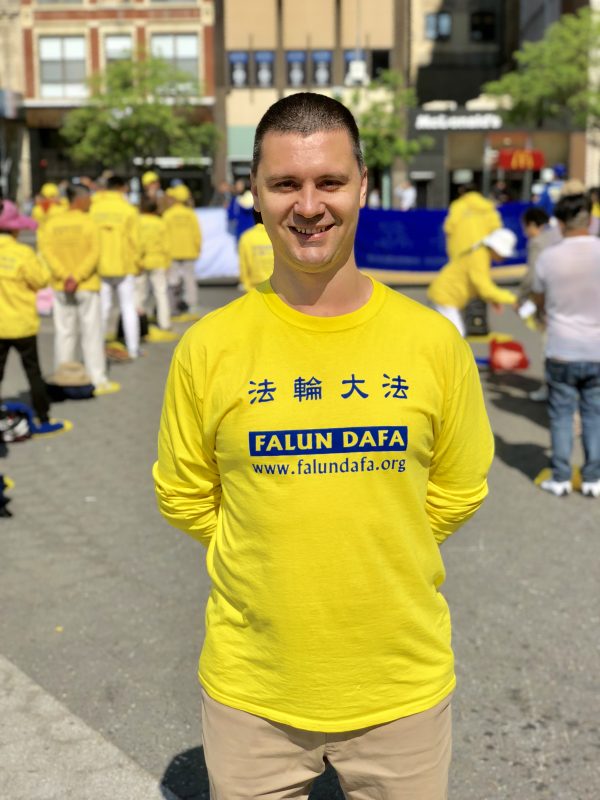 "I got sick, physically sick, really sick. My body was feeling quite a lot of pain in different parts. Over time with the pain, I started becoming quite anxious and depressed to be honest, not happy, not happy at all. I was wondering a lot about life. What's the meaning of life, why there's so much pain, why suffering? When I started practicing everything changed, tremendously. I feel a lot more relaxed, more focused on what I'm doing in my daily life, either work or family related. And I'm happy, really happy inside. I feel happy!"
Michael Carter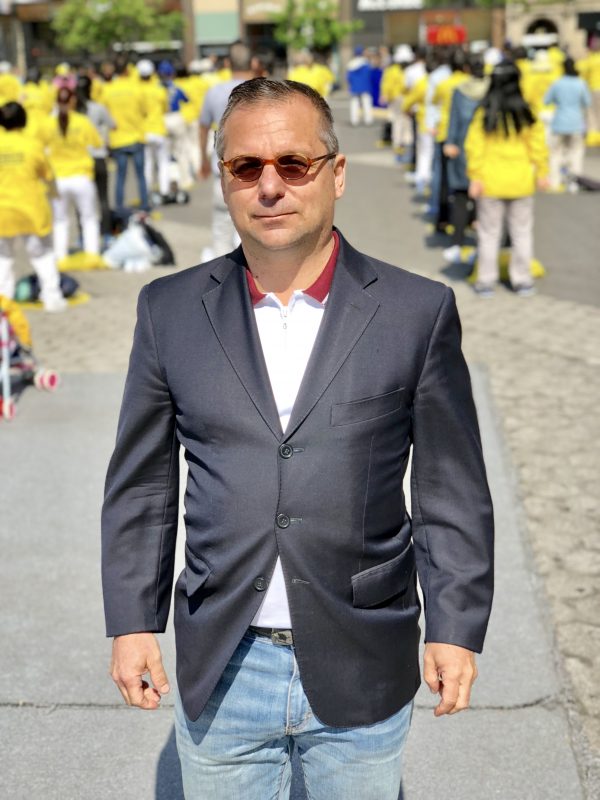 "I indulged in a lot of fun, I used to party a lot, wasted a lot of time so it was very destructive behavior. Physically, I became unwell because of that. I had a lot of health issues back problems, knee problems. I also had a bad relationship with my family, I was never around or spending time with my relatives, [I was] very selfish. Physically, [Falun Gong] completely changed my life. Mentally, it made me realize there's more than myself in this universe. I became more positive, more harmonious. When I have conflict, instead of immediately getting angry or striking out, I kind of reflect on it instead."
Victoria Szafranska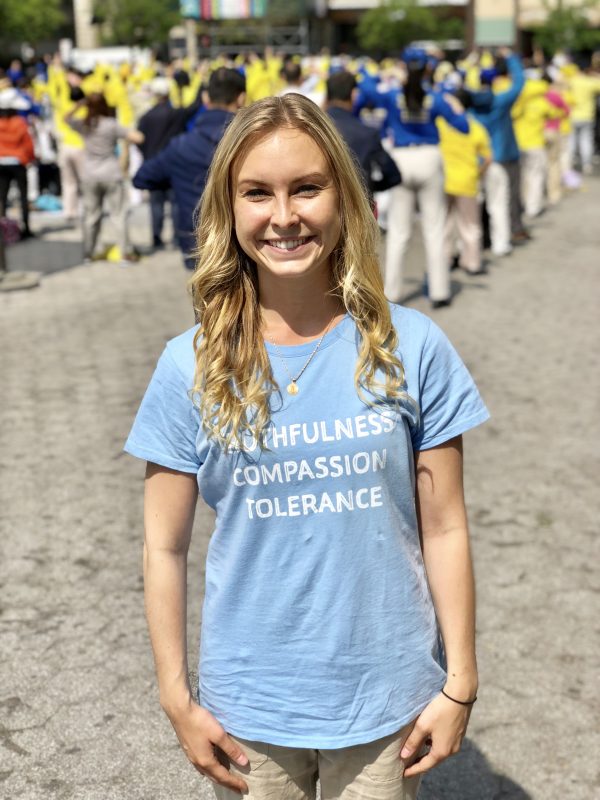 "Before practicing I had a lot of muscle pain, so the Falun Dafa exercises really helped me to get rid of my pain throughout the day. Before I started doing the exercises I felt stressed and mentally overwhelmed and then after the exercises, I feel like I can breathe again. I'm more calm mentally and able to deal with situations and emotions better. I feel more at ease mentally, less stress overall, definitely more happy and more positive going to work."
Scott Chinn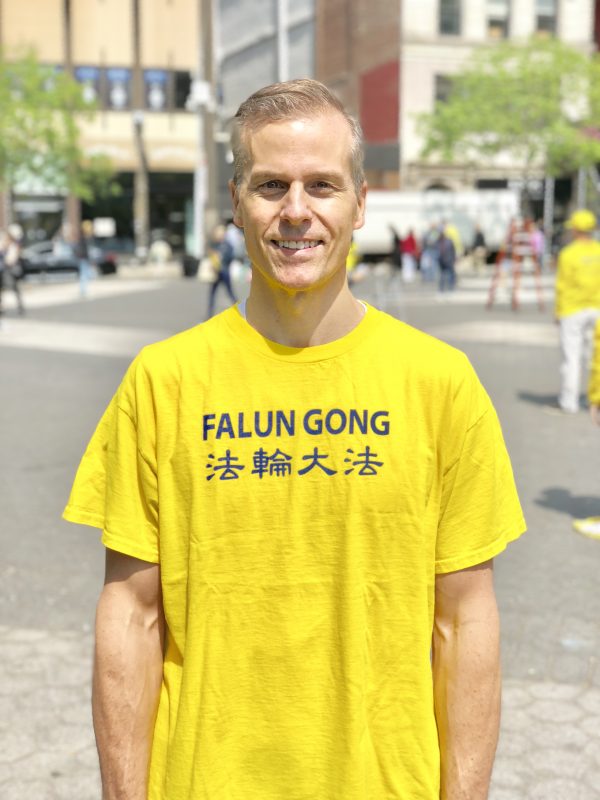 "Before I started practicing Falun Gong you could say I had a lot of anxiety, also stress, stressed about things I couldn't control—relationships, family issues, work. On the mental side, I was just like, 'Why do I go through these ups and downs of happiness, why can't I be always happy?' I used to have a lot of football injuries, neck, and back. Now my mindset is completely different. So many things over the past 19 years of practicing helped to naturally bring more and more happiness to my life. I have two kids and I try to raise them and apply the principles to my kids, work friends, and family as well. I've never missed a day of work in 19 years, so no sickness—my body feels great. I feel really wonderful physically and mentally."