Four top House Democrats on Friday urged the Department of Justice's (DOJ) inspector general to immediately launch a review of U.S. Attorney John Durham's criminal investigation.
Durham was tasked by Attorney General William Barr to look into the origins of the FBI's counter-intelligence probe, dubbed Crossfire Hurricane, that explored possible contacts between President Donald Trump's campaign and Russia.
House Judiciary Chairman Jerry Nadler (D-N.Y.) and the other Democrats said DOJ Inspector General Michael Horowitz should open an emergency investigation to see whether Barr, Durham, and other political appointees are following policy to avoid taking actions that could influence the upcoming presidential election.
"We also request that you evaluate the authority and scope under which U.S. Attorney Durham is operating, as Attorney General Barr has only provided vague and shifting statements about the purpose and scope of the investigation," Nadler, House Intelligence Chairman Adam Schiff (D-Calif.), House Oversight and Reform Chairwoman Carolyn Maloney (D-N.Y.) and House Administration Chairwoman Zoe Lofgren (D-Calif.) wrote in the letter.
Barr's actions appear to conflict with both internal DOJ rules and the Hatch Act, the Democrats assert.
The DOJ didn't respond to an inquiry. A spokeswoman for Horowitz's office declined to comment.
Because Crossfire Hurricane was rife with the appearance of political bias and investigators botched a number of issues, whether inadvertently or maliciously, Durham was told to review how the probe started and whether appropriate steps were taken.
Former FBI attorney Kevin Clinesmith pleaded guilty this month to altering an email to state that former Trump campaign adviser Carter Page was not a CIA asset when the original message stated that Page was.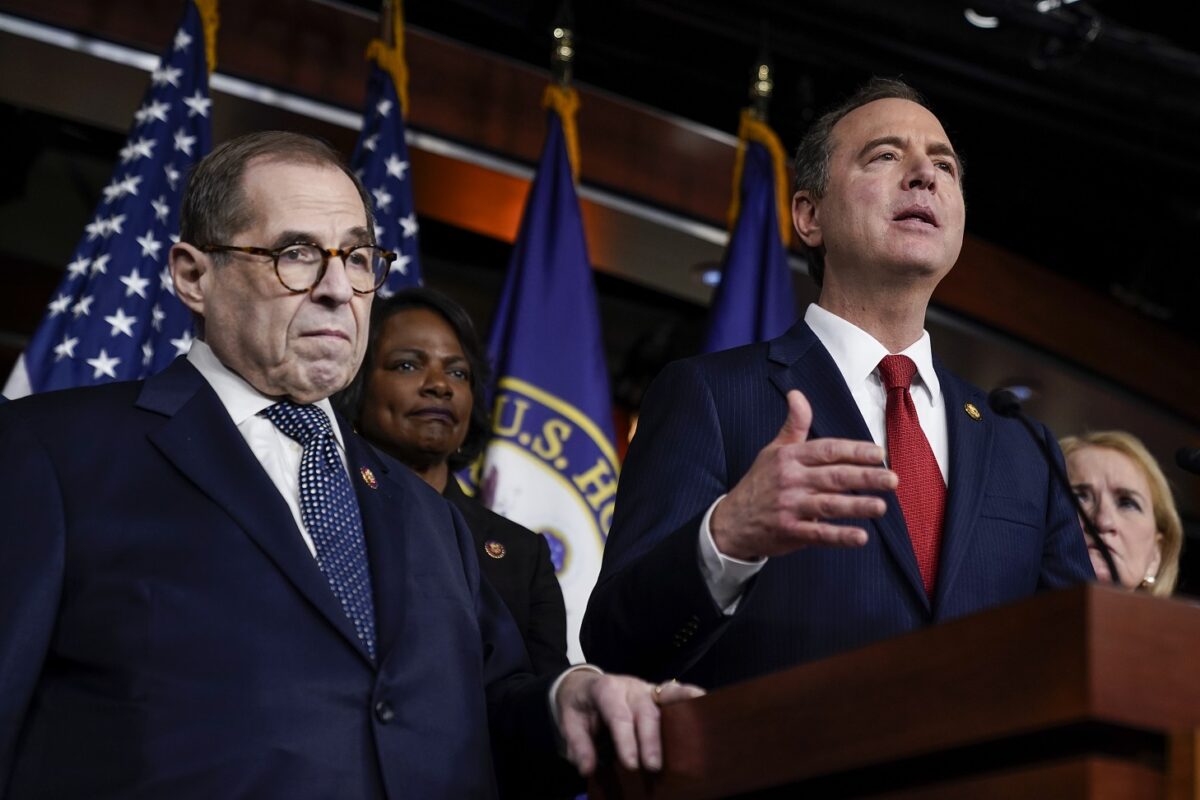 The email was one of a number of details that was used to obtain warrants from the secretive Foreign Intelligence Surveillance Court to spy on Page.
A review of those warrants by Horowitz's team found them riddled with errors.
Barr has commented regularly on the Durham investigation, usually in reply to questions from reporters.
During a press conference in May, Barr said he didn't expect either former President Barack Obama or former Vice President Joe Biden to be criminally investigated as part of the probe.
Earlier this month, the attorney general said the probe won't affect the upcoming election.
He also shot down speculation that there's a rule that no action can be taken in the 60 days leading up to an election.
"The 60 days is not part of the rule," he said. "But I said that I don't think anything we're going to do would violate our policy."
Barr last week responded to a reporter who asked whether it's unlikely there would be further criminal charges stemming from the probe.
"No, I wouldn't say that at all, no," Barr said, adding, "There could be."