Pro-democracy demonstrators returned to Hong Kong's streets Sunday in the first major rally since the 79-day long mass protests last year, which made international headlines.
In a peaceful and orderly afternoon march in Hong Kong Island, protesters unfurled yellow umbrellas—a symbol synonymous with the city's pro-democracy movement—carried an assortment of banners, and chanted, "say no to fake democracy, we want genuine universal suffrage."
Starting from Victoria Park at about 2:00 p.m. local time (1:00 a.m., Eastern time), the marchers passed former Occupy protest zones in Admiralty and Causeway Bay in a three-hour long walk to the rally's end point in Central, Hong Kong's central financial district.
"The Chinese regime is going back on its promise to give true democracy to Hong Kong," said Mr. Li, a 40-year-old civil servant, to Epoch Times. "We're not afraid of being suppressed by either the Party or the Hong Kong government."
Fake Universal Suffrage
Rally organizers Civil Human Rights Front held the Feb. 1 march, which they secured a police permit for, to protest a Beijing political reform package for Hong Kong that the local government is backing.
"Never forget the original goals of the Umbrella Movement."
, student leader
On Aug. 31 2014, the Standing Committee of the National People's Congress (NPCSC)—China's faux legislature—issued a decision that will allow more than 5 million Hong Kong voters to freely elect the city's Chief Executive in 2017, but only from a list of two or three candidates handpicked by a nominating committee loyal to Beijing.
The NPCSC decision sparked the Occupy protests, where student protesters held key road arteries in three areas of the city between September and December last year. Because demonstrators used umbrellas to defend themselves from police tear gas, pepper sprays, and batons, pro-democracy activism was dubbed the Umbrella Movement.
Although the Occupy protests were well supported—an estimated 1.2 million Hongkongers out of a population of 7.2 million joined the street occupations at some point—the Hong Kong government is still promoting the Aug. 31 ruling in a second round of public consultations, which was launched in mid-January.
"This is pseudo universal suffrage," protester Julia Choi told the Associated Press on Sunday's rally. "We do not have the rights to elect who we want."
'Never Forget'
Student leaders Joshua Wong, Alex Chow and Lester Shum, as well as Occupy Central with Love and Peace co-founders Benny Tai, Chan Kin-man and Reverend Chu Yiu-ming were some prominent faces from the Umbrella Movement who took part in the Feb. 1 march.
"We need time to recover, people are really exhausted."
, Occupy Central with Love and Peace co-founder
Wong, the 18-year-old teenage face of the Occupy protests and leader of Scholarism, plans to raise awareness on the need for genuine universal suffrage by talking to people in the streets, organizing protests, and cooperating with other groups to explore different methods to achieve the pro-democracy movement's demands.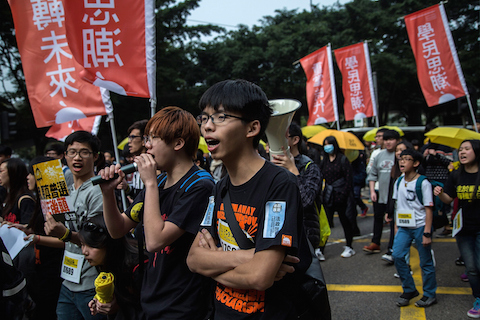 "Never forget the original goals of the Umbrella Movement," said Wong.
The march, said Chow, the secretary-general of the Federation of Students, is a sign that the Umbrella Movement is still on-going, and that the Hong Kong people still want true democracy.
Muted
But Sunday's rally may not be a good benchmark to gauge Hongkonger's commitment to their demands for democracy due to a poorer-than-expected turnout.
The Civil Human Rights Front puts the marchers count at 13,000, below the anticipated 50,000 people. Hong Kong police, who kept an eye on the protesters throughout the event, estimated a peak crowd of 8,800.
Benny Tai puts the lackluster showing to Occupy protest hangover.
"We need time to recover," said Tai, adding that he had anticipated lower numbers. "People are really exhausted."
"It'll all kick off again," Adrian, a Twitter journalist covering the Umbrella Movement, told Epoch Times. "This rally wasn't it."
But Adrian, who is following the nightly "9Wu" or "Shopping Revolution"—protesters stand at sidewalks in Mong Kok, shouting slogans and holding umbrellas—and occasional scuffles between pro-Beijing "blue ribbon" anti-Occupy protesters and "yellow ribbon" pro-democracy supporters, feels that the second round of public consultations "will likely be a catalyst for new events."
Indeed, the final election plan must be approved by a two-thirds majority in Hong Kong's Legislative Council before it may be submitted to authorities in Beijing.
And pro-democracy legislators, who hold 40 percent of the seats, have said they would veto the screening proposal.
The Associated Press contributed to this report