Apple Daily, an independent pro-democracy tabloid in Hong Kong known for its critical stance on China's Communist Party, has weathered police raids and the jailing of its founder. But its 26th birthday might be its last.
Hong Kong's government, backed by Beijing, has taken aim at the newspaper. Last week, 500 police barged into the newsroom, seizing computers and files and arresting five of the publication's executives. Two directors now face charges of colluding with foreign forces, an ambiguous offense under the draconian national security law imposed by Beijing last year.
Adding insult to injury, authorities froze the paper's assets as part of the investigation. With HK$18 million ($2.32 million) worth of assets on hold in local banks, it's now unable to pay its more than 800 staff members, and could be just days away from shutting its doors, the paper says.
The outlet's looming closure "marks the end of an era," Mary, a senior employee at Apple Daily using a pseudonym, told The Epoch Times. "The disappointing part is, we are shut down not because readers don't like us or that we lack good management. We have plenty of supporters and could have continued.
"It's saddening. It makes you wonder why Hong Kong has become like this."

The company marked the 26th year of its founding on June 20. The next day, a news anchor bid farewell as 36,000 people watched the last episode of its evening live broadcast. The company has ceased updating its online English site and the finance section of its Chinese-language site.
Apple Daily announced it will print its last edition on June 24. Friday will be the paper's last working day if the government denies an appeal to unfreeze some of its funds. The paper has given its staff the option to resign immediately without the customary one-month notice. Many have left, but some want to stay on, according to local reports.
Readers have showered the outlet with support by sending food, drinks, and thank you cards, or buying their print copies, Mary said. Their encouragement is the driving force for her to keep going.
"I just feel that I need to be responsible for these readers. If there are people who still read your newspaper, you need to keep writing," she said.
Apple Daily was founded in Hong Kong in 1995 by Chinese dissident and textile tycoon Jimmy Lai, a leading opposition voice to the Chinese Communist Party (CCP), who is currently jailed for taking part in a pro-democracy assembly in 2019. The Committee to Protect Journalists honored Lai with the Gwen Ifill Press Freedom Award on Monday, saying he is "not just a champion of a free press, he is a press freedom warrior."
"He fights for the right of his Apple News organization to publish freely, even as China and its backers in Hong Kong use every tool to quash them," said Kathleen Caroll, chair of the committee's board.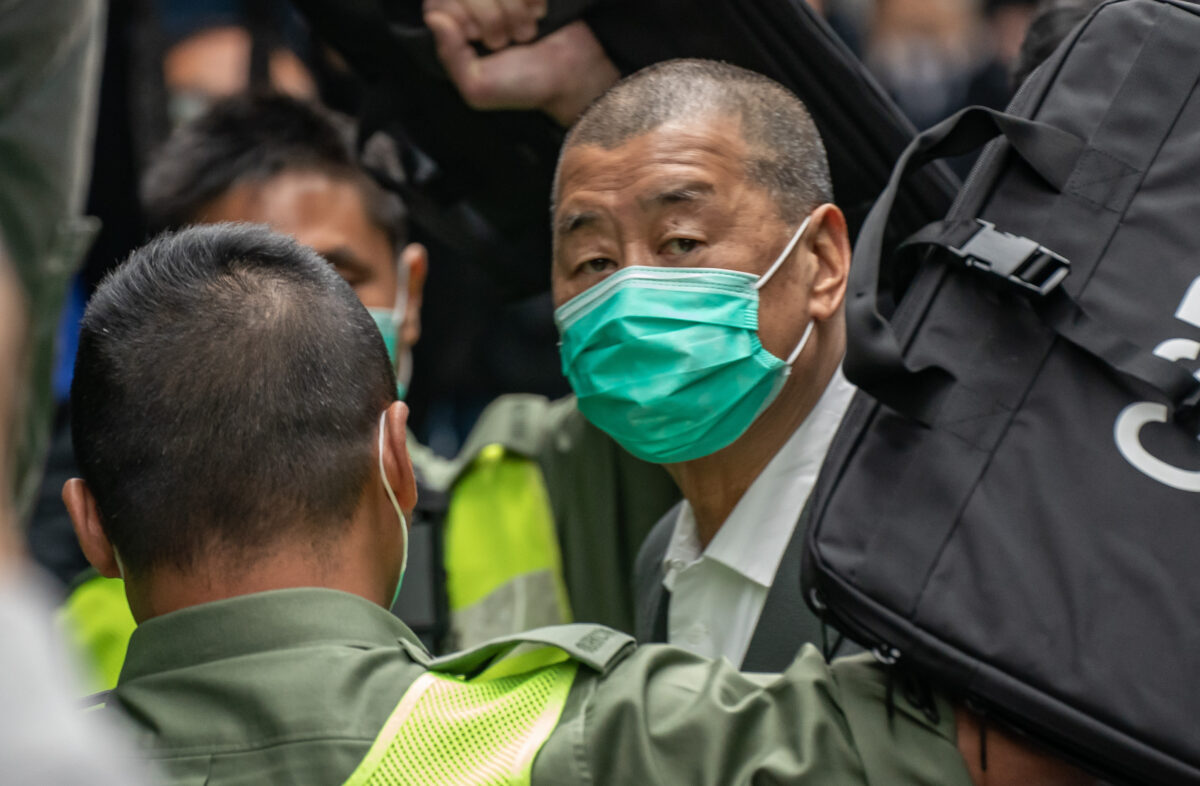 What happened to Apple Daily is proof of the harm the national security law can have on the Hong Kong press, Mary said. Since it took effect last July, the law has been used to arrest and charge an array of figures critical of the CCP in the city, crippling Hong Kong's pro-democracy movement.
"It's likely to send a chill to the news industry," she said. "Because the police and the government haven't clarified what reporting or opinion articles they have deemed as a violation of the national security law, everyone will now be very careful with what they write and report."
In support of the collusion charges, police said they have identified more than 30 Apple Daily articles, in both Chinese and English, since 2019 that called for foreign countries to impose sanctions on China or Hong Kong, but wouldn't reveal details because of ongoing legal proceedings—the first time that news articles have been cited as potentially violating the law.
It paints a bleak future for Hong Kong's media, Mary said.
"It will leave many journalists in fear because you don't know what is illegal."
Hong Kong's press freedom has plummeted in recent years, particularly after the national security law went into effect in July 2020. According to the press freedom index compiled by the Hong Kong Journalists Association, the index for journalists hit a record low of 32.1 last year—down from 40.9 in 2018.
On June 22, the pro-Beijing Hong Kong leader Carrie Lam defended the police raid, calling Western criticisms an attempt to "beautify" actions that endanger national security. She ignored an Apple Daily reporter who shouted as she left: "You said the national security law only affected a small number of people. But more than 800 people from our company are now forced out of their jobs. Can you respond to this?"
The reporter was referencing statements by Hong Kong and Beijing authorities who, prior to the law's introduction, claimed that it would only target a "small number of criminals."

The paper's fate was something that Chung Kim-wah, the vice executive director at the Hong Kong Public Opinion Research Institute foresaw months ago.
A weekly columnist at Apple Daily, Chung penned an article in April titled "So what if they knock down 'Apple Daily'?" in which he noted the authorities' hostility toward the paper.
As early as March, the Hong Kong and Macao Affairs Office, an agency that answers directly to the regime's cabinet-like State Council, had singled out Lai as one of the "anti-Hong Kong forces" slated for "severe punishment."
"The government's stance couldn't be clearer. I had known in my mind two months ago that we would lose Apple before July 1," he said, referring to the date of the 100th anniversary of the founding of the CCP. "It will for sure take you down before the Party centenary … it was only a matter of how they do it."
"The Chinese Communist Party is 100 percent forcing Apple Daily to close down, this has been clear long ago," said Chen Yonglin, a former Chinese diplomat who defected to Australia more than a decade ago.
Chen pointed to the slew of arrests of prominent protest organizers within the past year as evidence that the CCP has exerted its influence over Hong Kong.
"Hong Kong has long fallen," he told The Epoch Times. "Eventually, Hong Kong will become a Chinese city, and the word 'special administrative region' will [be] no more—it will be just Hong Kong city [of China]."
Despite everything, Chung believes there's room for hope.
Chung used the example of the city's annual remembrance of the Tiananmen Square massacre, which often drew tens of thousands of locals holding candles at Victoria Park.
While authorities this year banned the vigil for a second year running and deployed more than 7,000 police to lock down the park, many Hongkongers turned to creative ways to mark the occasion, such as by illuminating phone flashlights and holding candles nearby, said Chung, who also went to the site.
"Whether Hong Kong government or Beijing, I don't think they are able to completely stifle all spaces [of free speech]," he said. "The whole world has its eyes on Hong Kong."
To fellow media professionals in Hong Kong, Mary said she hopes they can stick to what they believe in.
"The wintry night will be cold, but everyone needs to hold their ground."
Sarah Liang and Luo Ya contributed to this report.