Hong Kong's Largest Ivory Seizure in a Decade
September 14, 2010 3:12 am Last Updated: October 1, 2015 7:03 pm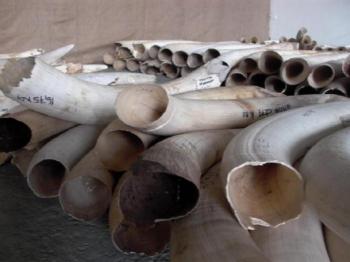 More than 1.55 tonnes of elephant ivory tusks were seized in Hong Kong last week, worth $HK10.85 million ($US1.4 million), making it the largest shipment in a decade.
Hong Kong customs intercepted the load containing 384 tusks, which were packed in two containers declared as dried anchovies. The ivory is believed to have entered Hong Kong via Malaysia, the Citizen reported.
The shipment originated from the East African country of Tanzania, once again highlighting the poorly controlled poaching activities in the country.
Nearly 50 per cent of the global illegal ivory trade originates in Tanzania, according to a report released by the London-based Environmental Investigation Agency.
Some reports say that at least 10 tonnes of ivory seized in South-East Asia last year were shipped from Tanzania. Other common sources of the highly priced good are the Democratic Republic of Congo and Zambia, according to The Citizen, an online news source based in Tanzania.
Meanwhile, Tanzania maintains that its elephant populations have climbed to 130,000 from a mere 50,000 in the 1980s.
East Africa is still recovering from extensive poaching in the 1960s and 1970s, when the elephant populations were reduced from around 1.3 million to just 500,000, according to the Washington University's Centre for Conservation Biology.
This prompted the 1989 global ban on ivory trade, but the Centre says poaching is still just as rampant.
Last month, Kenyan authorities intercepted more than two tonnes of elephant ivory destined for export to Malaysia, reported the Herald Sun.
Kenya loses about 200-300 elephants to natural causes annually, according to available statistics.
In May, Hong Kong Customs seized the biggest shipment of ivory in 20 years, worth $US8 million and containing 3.9 tonnes of tusks from Cameroon.