When news reached Simon Cheng, a former British consular employee and Hongkonger-in-exile, that he had become a fugitive overnight, he took it with a mix of shock and pride.
"You are in the headlines now," a friend texted him.
There was no notice in the mail, nor any official statement from the Hong Kong government. But CCTV, the Chinese Communist Party's state broadcaster, confirmed the Hong Kong police ordered Cheng's arrest, one of six overseas pro-democracy advocates they said violated the new national security law on charges of secession or collusion with foreign forces. The offenses are punishable with up to lifelong imprisonment.
Cheng, who fled to the U.K. under political asylum, dismissed what he called a "groundless accusation."
"I did nothing that violates my conscience," the 29-year-old activist told The Epoch Times from his London home, adding that, "at this moment, I have no way back but to persist."
Being on the Chinese regime's target list, he said, was something of an accomplishment.
"It's my honor to sacrifice for democracy," he said.
Since pro-democracy protests ignited last summer in the former British colony over Beijing's growing encroachment, police have made close to 9,700 arrests and prosecuted over 2,000. "Secondary and post-secondary" students made up roughly 40 percent of the arrestees. In Hong Kong, secondary school begins at age 13.
At least 24 have been arrested under the security law since it took effect on July 1.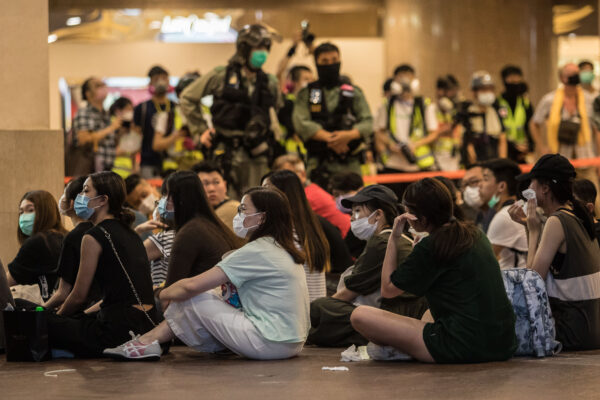 A State Enemy
The arrest warrant came roughly a year after Chinese agents abducted Cheng while he was on a business trip to mainland China and placed him in detention for 15 days.
Cheng later described being shackled, hooded, and repeatedly tortured as police tried to extract intelligence about the Hong Kong protest movement. A day after he broke his silence and shared his experience with the media, China's English-language state broadcaster CGTN aired a confession video showing him admitting to Chinese authorities' prostitution charges, for which he has brought a lawsuit to U.K.'s broadcast regulator, citing breach of privacy and fairness.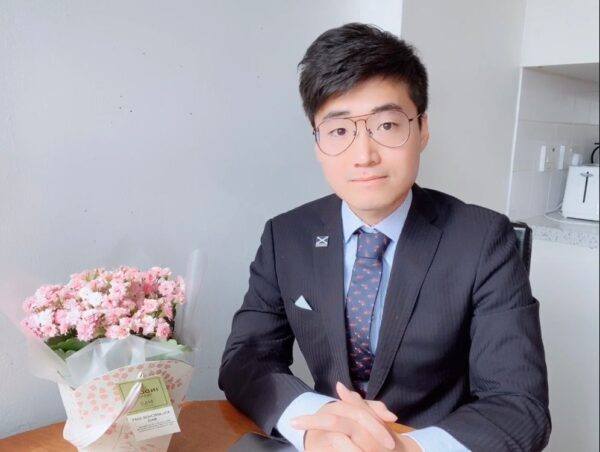 In London, Cheng said he has noticed suspicious people following him on at least three occasions. On Aug. 10, he posted a screenshot of a threatening email he received, with the subject line: "Chinese agents will find you and bring you back."
Still, Cheng keeps going. He has created a platform called Haven Assistance, to help Hongkonger dissidents escape to other countries.
Hong Kong has entered a new phase since Beijing enforced the new security law.
Local authorities have doubled down on their aggression, criminalizing the use of a popular protest slogan and an unofficial protest anthem, and barring 12 pro-democracy legislative candidates from running in elections before postponing the voting completely—which Beijing critics said was a tactic to avoid an embarrassing defeat at the polls for the pro-Beijing camp. Police have made arrests over social media posts, raided the newsroom of an outspoken newspaper, and put out arrest warrants targeting Cheng; a U.S. citizen; and other overseas dissidents.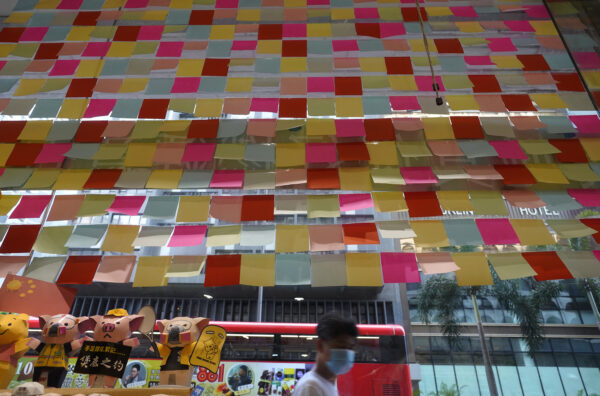 The regime's tightening grip has been heavily criticized by governments around the world. The United States has sanctioned 11 local officials for their role in implementing the law and trampling on Hong Kong's freedoms, including city leader Carrie Lam.
"No one would naturally hate the Chinese Communist Party from their birth," Cheng said, adding that many moderate Hong Kong youths have become more vocal in dissenting against the Chinese regime due to its aggressive policies.
Beijing has "pushed the young people to where they are. They made so many enemies because of their own doing," he said.
Defending Hong Kong's Identity
At Causeway Bay, a popular shopping district, Zack Ho, 19, hands out flyers containing creative catchphrases to remind people of Hong Kong's political predicament while promoting local cultural customs—from Hong Kong's use of traditional Chinese script (as opposed to the simplified version used in mainland China) to its famed creamy egg tarts.
The idea is to reach the "mild" people who don't have much of an opinion about the city's current political situation and who are too caught up in the humdrum of their daily lives, said Ho, who is the convener of the student activist group Inspidemia.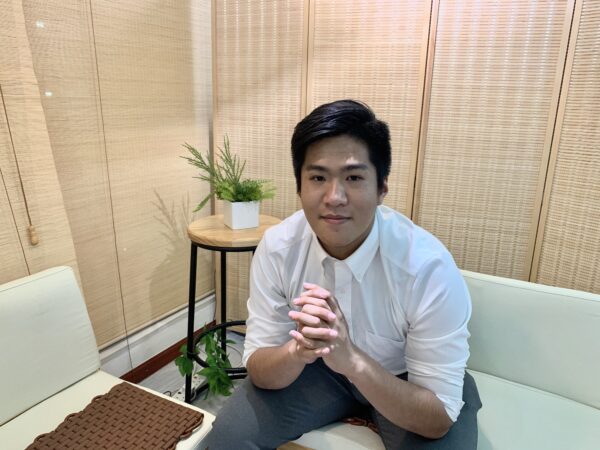 His flyers intentionally use phrases that would circumvent the authorities' new ban. "Post-Hong Kong times," for example, hints at the end of the "one country, two systems" formula, under which Beijing promised to preserve the city's autonomy upon its transfer of sovereignty in 1997. Parts of the slogan "there are no rioters, only a tyrannical government," are replaced with blank spaces to work around the new law.
"We try to just play word games," Ho said in a phone interview. Since "we cannot say 'one country, two systems' is dead, [and] we cannot say the autonomy of Hong Kong is dead … we try to imply that softly to them."
The streets are much quieter compared to last year, when fears of deepening Beijing control following a government proposal to enact an extradition bill brought millions to the streets. Citing concerns about the spread of COVID-19 and the new law, this year, police quickly made arrests to suppress any budding signs of protests. Often, people who walked past Ho's booth simply "stayed chill" and ignored them, as patrolling police officers, whose numbers have steadily grown, stood nearby and watched quietly, Ho said.
Even printing the materials was no small feat: among 50 printing shops he talked with, only a handful was willing to print his leaflets—because many complete their printing work in the mainland and don't want to risk provoking authorities, he said.
Ho, who hopes to pursue a political career in the future and serve local communities as a district councilor, was not deterred by the security law. "We just want to bring out our mindset," he said. "People should not shut up from this."
But in August, as several young pro-democracy activists were arrested for violating the new law, the escalating suppression forced Ho to reconsider his stakes.
"What should I say from now on … [to] be more safe for me to continue my work?" he asked himself. The first rule, he decided, was "try not to get arrested" and play a long-term game.
Despite the risks, he, like Cheng, likened the recent arrests to a badge of honor. "Because we stand for justice. We stand for Hong Kong's true values," he said.
Chasing Hope
There has been a sense of loss and frustration among Hong Kong activists as they grapple with the aftereffects of the new law, such as symbols of the movement being wiped away: slogans, protest songs, rallies, and Lennon Walls—either voluntarily to avoid authorities' scrutiny, or because police forbade them.
"It feels a bit lonely where we are. We're all alone," said Ventus Lau, who organized several major protests in 2019, in a recent phone interview. The 26-year-old, one of the pro-democracy candidates who was disqualified from the September elections, is also facing rioting charges in relation to last year's protests.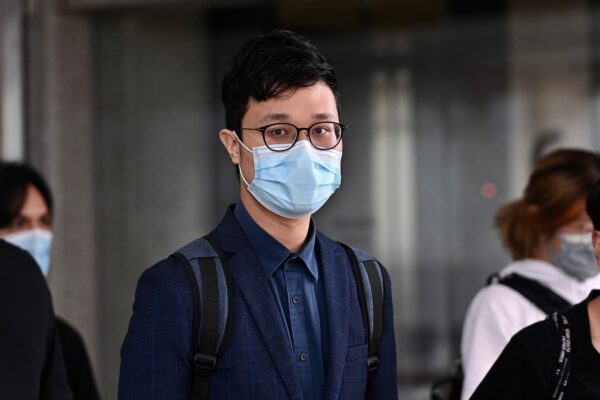 The new reality is the most dreadful for the young generation—the driving force of the pro-democracy protests—who face a future under Beijing's authoritarian reign, he said.
He doesn't see a way out yet, but believes that as long as Hongkongers preserve that flicker of hope, a solution will surface—"maybe just not now."
"We can never give up because it is what we can only do for our next generation," he said. "We have to fight until the final moments."
It's the only way they can envision a different future: by carrying on, they would show the world that Hong Kong still deserves freedom.
"We don't fight because we have seen hope. We fight because we want to chase hope, and hope is made by human efforts," Ho said.
And the darkest moment, in Cheng's words, also "would be the brightest moment" because they can witness the "massive change that will come."