Commentary
Twenty-five years ago this month, Hong Kong was handed over to China and the last governor of Hong Kong, Chris Patten, sailed out on the Royal Yacht Britannia.
Two months later, as a young fresh graduate, I flew in to begin my first job and career as a journalist and activist.
I had the privilege of living in Hong Kong for the first five years after the handover. I had the opportunity to witness history as an observer of the beginnings of "one country, two systems"—the principle established by former Chinese leader Deng Xiaoping and on which the handover of Hong Kong was based. I also had the privilege of beginning my working life in a city that was the gateway between East and West—the bridge between the democratic world and the world's largest remaining communist dictatorship.
And to be honest, for those first five years, by and large, it appeared as though the Chinese Communist Party (CCP) kept its side of the bargain. Hong Kong's freedoms remained largely, its autonomy was high, and the rule of law continued.
I worked as a journalist, first as an editor of a niche business journal and then as the lead writer and columnist for a pro-democracy daily newspaper—now defunct—known as the Hong Kong iMail. I wrote editorials and columns about the leaders in Beijing and their quislings in Hong Kong that would land me in jail if I were in Hong Kong today.
While the then-Secretary for Security Regina Ip complained about me to my editor at a reception, his response was to return to the newsroom laughing, telling me that "Regina isn't happy."
I managed to get one edition of the management journal I edited—China Staff—banned in mainland China because I had interviewed Chinese labor rights activist Han Dongfang, who had warned that "one day, the workers will take to the streets." But other than that, I wrote freely.

Alongside my journalistic career, Hong Kong became for me a hub from which to champion freedom for others across Asia who were denied it. I met humanitarian workers trying to help North Korea and Christian missionaries working in China. I worked with East Timorese refugees in Macau to lead a march through central Hong Kong in protest at the carnage in East Timor in 1999. I led groups from Hong Kong churches to help refugees on the Thailand–Burma border and in East Timor.
Hong Kong, for me, from 1997 to 2002, was a base in Asia from which to help those in urgent need in places of conflict and repression. I never expected one day to be protesting for Hong Kong or founding an advocacy organization to defend the rights of Hongkongers. I never expected to see my friends in Hong Kong in jail, in exile, or silenced.
A quarter of a century on, Hong Kong has changed beyond all recognition. It has transformed from one of Asia's most open cities to one of its most repressive police states. Within the past two years, since the imposition of the CCP's draconian National Security Law, Hong Kong's press freedom, freedom of assembly, freedom of expression, basic liberties, autonomy, and the rule of law have been shredded. In a city that was once an oasis of freedom, no one can speak freely.
In what was once the "Pearl of the Orient," everyone lives in fear. In what was once "Asia's world city," people no longer dare communicate with foreigners who might be politically risky. Before July 2020, I was in daily contact with dozens of friends in Hong Kong. Today, I am hardly in touch with anyone for fear of putting them in danger.
In 2017, I was denied entry to Hong Kong—the city that had once been my home. Since then, I have experienced a flurry of abuse—dozens of anonymous threatening letters to my home in London, my neighbors, my mother, my employers, and members of parliament, as well as efforts by the Chinese Embassy to lobby parliamentarians to persuade them to silence me.
Then, in 2022, I was directly threatened by the Hong Kong Police Force and the National Security Bureau with a heavy fine and a prison term of one year, or three years, or potentially life in prison for threatening China's national security. But I am in London and banned from Hong Kong—so how will they enforce that? I might have to be mindful of countries with extradition agreements with Hong Kong or China, but that's all.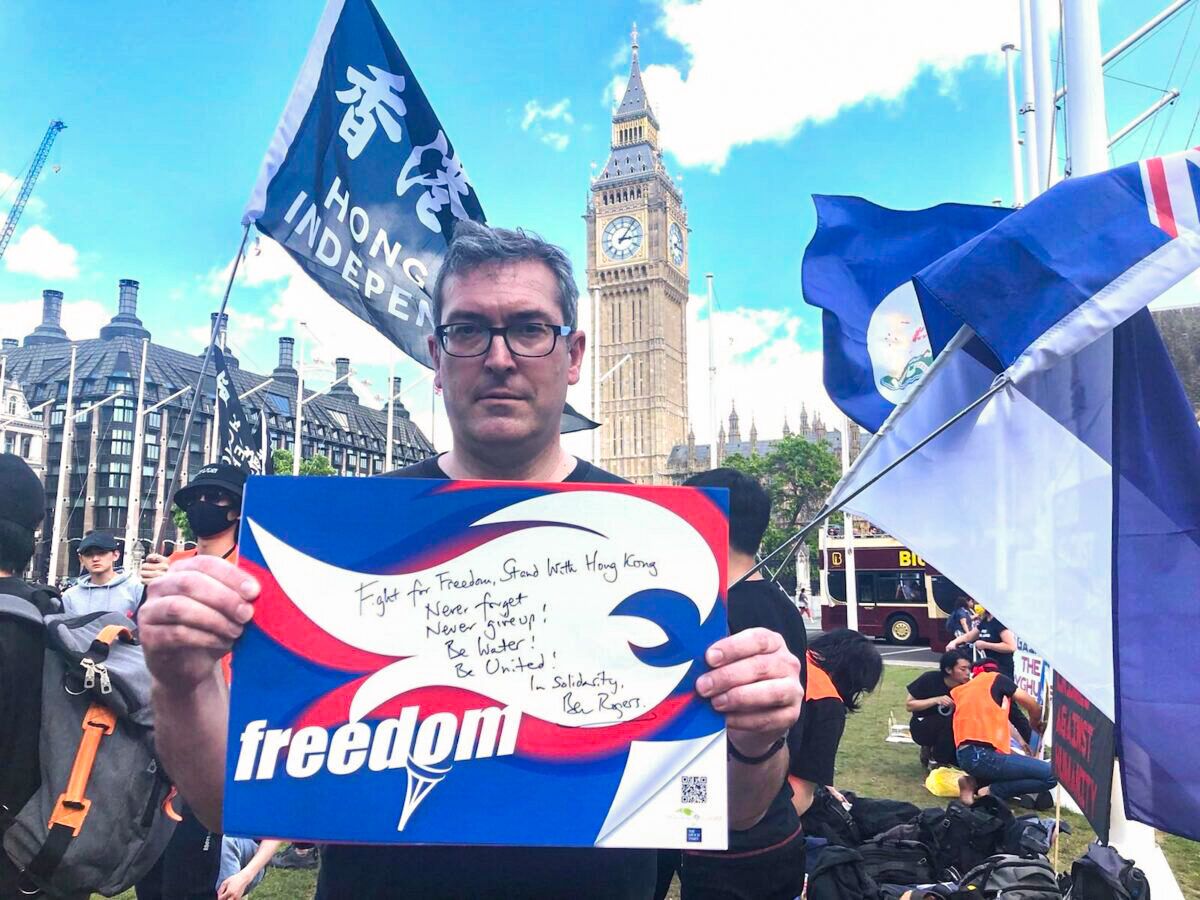 Of far more serious concern is the fate of Hongkongers 25 years on from the handover.
Britain and China made a deal. That deal was enshrined in a treaty—the Sino-British Joint Declaration—which was lodged at the United Nations and is valid until 2047.
That deal said that Hongkongers' freedoms, basic human rights, autonomy, the rule of law, and way of life would be protected.
Halfway through that treaty, Beijing totally reneged on it. Chinese leader Xi Jinping has torn it apart.
For that, there must be consequences.
Two key actions come to mind: Let us provide a lifeline to those who need to get out and cut the lifelines for the regime and those who are complicit with it.
The United Kingdom has led the way with its courageous and generous British National Overseas (BNO) scheme, enabling hundreds of thousands, potentially several million, Hongkongers to build a new life in freedom. Canada and Australia have also opened pathways for Hongkongers, although they could do more. The United States and the European Union, perhaps along with New Zealand and Japan, should join us and open their arms to Hongkongers who need to get out.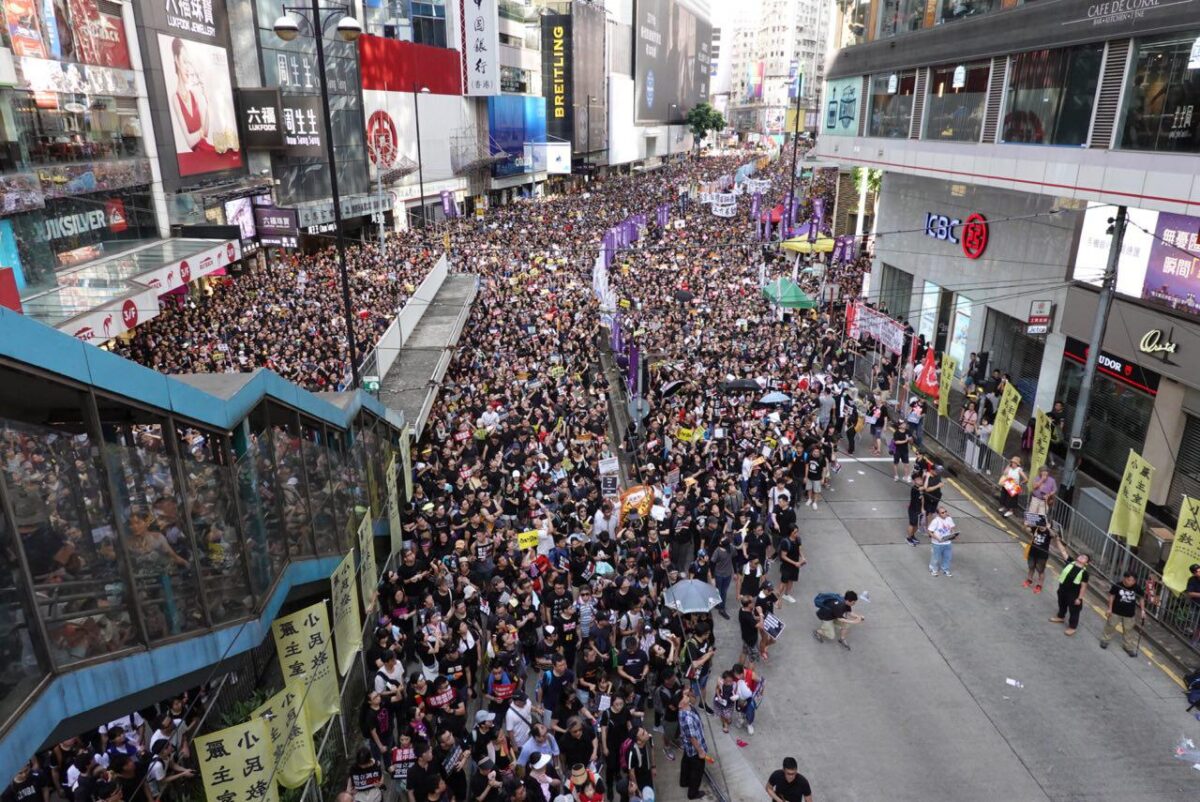 The free world as a whole must be braver in reducing our economic ties with a genocidal, mendacious, malevolent, and brutal regime. We must diversify our economic relationships and ensure that our pensions are not invested in the tools of genocide, crimes against humanity, repression, and surveillance.
And we must ensure that those responsible for dismantling Hong Kong's promised freedoms are held accountable for their actions—and that they pay the price. We need the world's major democracies to implement tough, targeted, and coordinated sanctions against Beijing's tyrants and their Hong Kong quislings.
Tonight, Patten—who publishes his Hong Kong Diaries this month—will address hundreds of Hongkongers and friends of Hong Kong in the Emmanuel Center in London at an event organized and hosted by Hong Kong Watch.
Doubtless, they will chant "Fight for Freedom, Stand With Hong Kong."
We, the friends of Hong Kong, will chant with them.
Will we mean it? In our hearts, we will. From my heart, I will. But what will we then do? That's the question. We must turn it into action—to help Hongkongers find sanctuary and hold those who destroyed Hong Kong accountable. Those are our two big tasks now.
Views expressed in this article are the opinions of the author and do not necessarily reflect the views of The Epoch Times.