Hong Kong Tycoon Seeks to Offload Billions in Chinese Real Estate
September 4, 2013 11:54 am Last Updated: October 1, 2013 7:28 pm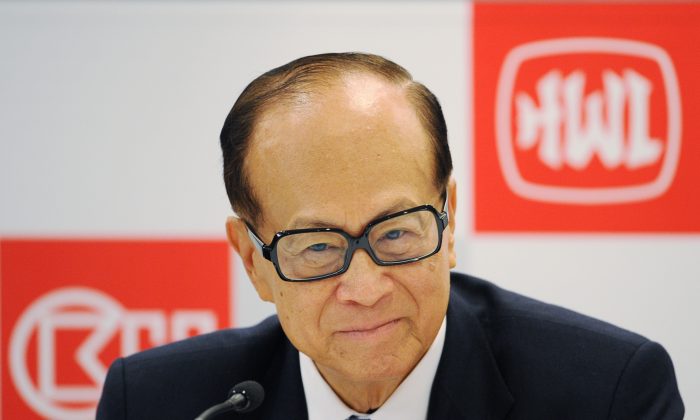 Li Ka-shing, the Hong Kong magnate whose outsize footprint extends into industries as disparate as ports, retail, plastics, and telecommunications, has announced that he intends to sell significant pieces of real estate in Shanghai and Guangzhou, worth billions of dollars.
The move is part of Li's plans to invest vast sums in Europe, and also comes as political relationships in both China and Hong Kong that have served him well for years appear to attenuate.
One of the primary sales is the 35-story Oriental Financial Center, a commercial building in Shanghai's central business district that is still under construction. The building is near the Shanghai World Financial Center and the Jin Mao Tower, both iconic buildings in the city.
Another building that Li intends to sell is the Metropolitan Plaza, a large, partly open-air shopping complex that styles itself as "leisure-tainment," located on the metro line in Guangzhou, a commercial hub in China's south. It features an outdoor cinema, and a 936,460 square foot basement shopping area.
The news of Li's intended sales was reported by 21st Century Business Herald, a major Chinese business publication, and other Chinese financial media. The Herald put the total value of the assets at nearly US$5 billion.
The news of the sales comes soon after Li made public plans to offload the Hong Kong supermarket chain ParknShop, which has 237 stores in the city. Hutchison Whampoa Limited, Li Ka-shing's company that owns the supermarket chain, is said to be considering a US$3-4 billion bid from China Resources Enterprise, a subsidiary of a Chinese state-owned behemoth whose Chairman, Song Lin, has recently been caught in a corruption scandal involving coal mines in Shanxi Province.
Li Ka-shing is the richest man in Asia and the 16th richest in the world, with a personal fortune valued at $27.1 billion, according to Bloomberg. His flagship Cheung Kong Group, which consists of 22 publicly listed firms, has a market value of nearly US$110 billion. He is currently in the midst of handing the reins of the empire to his eldest son, Victor Li.
Li's move to pull money out of China may be connected to relationships with major Chinese communist political figures that appear to have broken down, or which have found diminished utility, over the last few years.
When Li began doing business in China in the late 1980s, one of his well-known phrases was "Do things, and don't talk politics." Yet doing politics may have been unavoidable in China.
Victor Li, his son, was appointed a member of the Standing Committee of a Party-controlled advisory body called the Chinese People's Political Consultative Conference, and Li Ka-shing maintained a close relationship with former Party chief Jiang Zemin.
Anecdotes, invariably impossible to verify, abound in the Hong Kong political press about deals made between Li and Jiang and other top members of the Chinese political system. One has it that Li supplied vast funds to a telecommunications enterprise of Jiang Zemin's son, in exchange for a choice piece of real estate in Beijing. Jiang regularly stayed in Li's Harbour Plaza hotels when visiting Hong Kong, and would breakfast with Li and his son Victor, according to the Hong Kong newspaper Ming Pao. Li did not enjoy such closeness with Jiang's successor, Hu Jintao, though Hu praised him as a "patriot," according to Xinhua, the state news agency.
The messy completion of a property development complex in Beijing in 2007 was criticized heavily in a number of mainland media, and Li's reputation took a hit. He began selling assets in China 2008, likely related to the fraying relationship.
In Hong Kong, Zheng Enchong, a lawyer based in Shanghai and focused on civil rights issues, said, Li made money according to Hong Kong law, but in Shanghai it was through reliance on political connections.
"After seeing Li's repeated failures in Shanghai, I advise all Hong Kong investors: if you want to fight the Chinese Communist Party for money, it won't work," Zheng said. "You'll end up worse than Zhou Zhengyi." Zhou was a flamboyant real estate mogul who was sentenced to jail for 16 years in 2006 after being caught engaged in bribery and fraud.
During last year's election of the Hong Kong chief executive Leung Chun-ying, Li supported the candidacy of businessman Henry Tang. "Industry experts say that Li Ka-sheng has judged that he has a monopolistic business empire," wrote China Business Online, a mainland-based magazine. "He won't be able to keep his dominant position in the current political terrain."
With reporting by Li Chun. Lu Chen contributed research.