A Hong Kong student involved in organizing a volunteer medic group in support of the pro-democracy and freedom protest movement was recently arrested in China, according to the medic group and his classmates.
Kwok Chun-fung, known for his nickname "Fat Kid," is a co-founder of the Telegram group FindcMed tasked with helping injured protesters and those affected by tear gas during clashes with the police. The Hong Kong native is currently studying at Guangzhou University of Chinese Medicine in southern China.
He has been detained since Jan. 8 on charges of "soliciting prostitution," punishable for 10 to 15 days in detention under Chinese law.
Simon Cheng, a former British Consulate staff in Hong Kong, faced the same charge while on a short business trip in the Chinese city of Shenzhen last August. Cheng, who has since fled his home city to London, said the police tortured and forced him to make a televised confession on Chinese state media.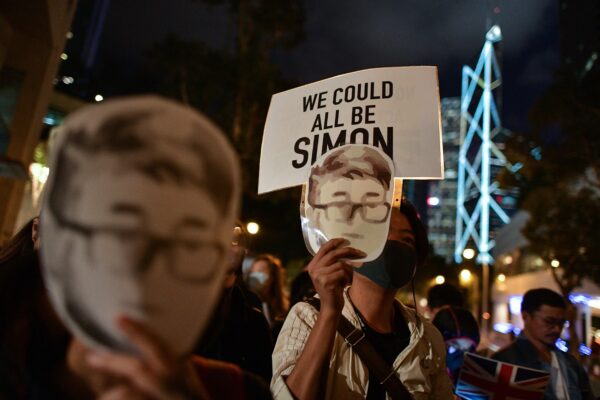 Kwok disappeared in the early morning of Jan. 8 from his school dorm while in the middle of a voice call with another administrator of the medic group, known as Little Cow. In a post on the popular reddit-like protest forum LIHKG, Little Cow recounted the moments before and following Kwok's arrest and appealed for help.
During the call, Kwok told Little Cow he was getting up to open the door. Little Cow said he heard Kwok walking to open the door, and then footsteps before their call got cut off.
Little Cow said that he had not heard from Kwok since but learned through Kwok's roommate that Kwok was under administrative arrest. The roommate said the police had detained him for 24 hours and deleted his Telegram account.
Little Cow also said that on Jan. 9, Kwok added a new member into the Telegram group without consulting the others, raising concerns that the police may have taken control of his account. The person did not respond to Little Cow's private messages.
Kwok's university sent a statement to students on Jan. 15 saying that Kwok had been caught with a woman and 2,300 yuan ($334) in a hotel on suspicion of prostitution, according to Hong Kong media. The statement also said Kwok faced two other counts of prostitution allegations in November and December 2019, and that he had admitted to the charges.
In what felt like an indirect warning, the university's officials during a private briefing reminded non-mainland students to "cherish our chance to study here as we will be graduating in half a year," a student told AFP. The student requested to stay anonymous.
Responding to the charge against Kwok, the medic group told Hong Kong media that it was an "old tactic" used by the pro-Chinese Communist Party (CCP) government under Chief Executive Carrie Lam and that they are "not surprised." "Truth will speak for itself," they said.
The group said on Jan. 16 that they would decline any future comment as the case had moved into legal proceedings.
Sentiments in Hong Kong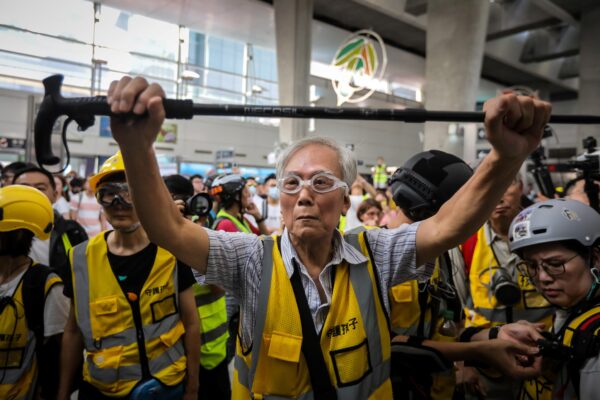 The former British colony of Hong Kong was transferred to Chinese rule under the "one country, two systems" framework in 1997, promising the region a high level of political autonomy for at least 50 years. The city has been roiled by widespread pro-democracy and pro-freedom protests for over half a year over fears that the city is losing its basic freedoms to the ruling CCP regime in the mainland.
A December survey by the Hong Kong Public Opinion Research Institute found that out of all Hong Kong residents, youth aged between 14 and 29 were the most supportive of the protests, with nearly nine in 10 voicing their support. Overall, 59 percent of Hong Kong residents supported the protests, with more than a third saying that they had directly participated in the protests. The survey polled 1,021 people.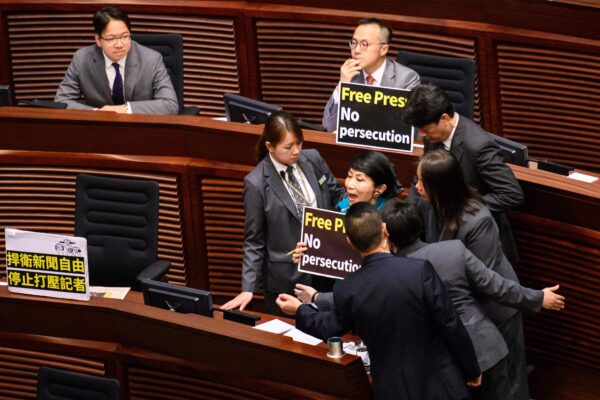 Lam, who has taken a hard stance on the protests, had a rating of 21.5 percent and a net popularity of negative 66 percent, according to a Jan 10 poll of 1,011 Hong Kong residents by the same institute.
In her latest press conference on Thursday, Lam claimed that the youth often seen at the forefront of the protests were acting out of "temporary misunderstandings," adding that "there is enough reason to believe 'one country, two systems' … will not change after 2047."
She was greeted by around a dozen opposition lawmakers who held posters while chanting: "Carrie Lam, step down."
Hong Kong police have fired more than 16,000 rounds of tear gas and made around 7,000 arrests on protest-related charges since June. Roughly 400 of the arrests took place during the 1 million-strong New Year protest.
The police force are reportedly considering to equip officers with stun guns and other electroshock weapons, South China Morning Post and TVB reported, citing unnamed sources.
When questioned by a lawmaker on the issue, the city's security chief did not answer it directly but said that the Security Bureau will "support any method that can allow police to handle rioters more effectively, and will lower the risk of injuries to both parties."