Updated on Thursday, Nov. 27 with new information about the court hearing, interview, and photos.

Prominent student leader Joshua Wong has been banned from Mong Kok after a court hearing on Thursday, Hong Kong time.
In a 9:30 a.m. court session at Kowloon City Magistrates' Court, principal magistrate Mr Justice Peter Law barred all protesters arrested in the clearing from the area enclosed by Fa Yuen Street, Dundas Street, Shanghai Street and Mong Kok Road, RTHK reports.
Photo @Hongkongdash Long Hair doubts area he is banned entering is 5 times larger than injunction #OccupyHK pic.twitter.com/3BDdybDfLS

— Kris Cheng (@krislc) November 27, 2014
Although Joshua Wong and other defendants like legislator "Long Hair" Leung Kwok-hung cannot enter the area, which is larger than that outlined in the high court injunctions, they are allowed to travel through them.
The lawyer for the defendants argued that the bail condition breaches their constitutional rights, and is unnecessary and unlawful since the protesters cannot commit the offense again now that the areas have been cleared, but was over-ruled.
The cases have been adjourned to January 14.
Joshua Wong has been released on HK$500 (about $65) bail, according to Hong Kong publication Ming Pao.
Two men pelted Wong with eggs after he left the courtroom. They were arrested on the spot.
Speaking to reporters outside the courthouse, Wong said: "We didn't have any physical conflict with bailiffs and workers, we just asked questions."
"I was hurt during my arrest on my face and neck, also repeatedly, six or seven times, they hit my groin."
"Why do police even want to hurt my private parts?"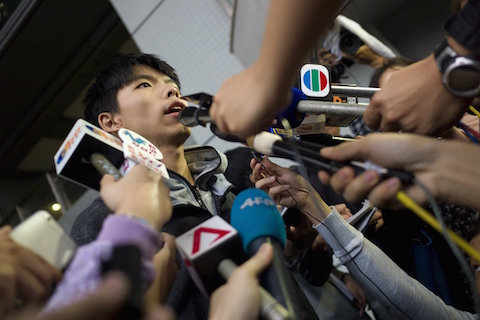 Nathan Road Clearing
During the Wednesday clearing, Wong, the convener of student group Scholarism and a familiar face at major Occupy movement events, was requesting that bailiffs authorized to carry out court injunctions to clear the protest site in Nathan Road properly explain the court orders while police removed metal barriers.
However, shortly after shifting the barriers aside, police rushed in and nabbed the bespectacled 18-year-old and other students in the frontline. Wong's arrest can be seen at around the 38 second mark in the video clip below.
//
Hong Kong Federation of Students deputy secretary general Lester Shum was arrested with Wong, along with Chinese University's Student Union member Jason Szeto and League of Social Democrats Raphael Wong.
MORE: Student Leaders Joshua Wong, Lester Shum Arrested in Mong Kok Clearing
This is not the first time Wong has been arrested this year. He was earlier detained for forty-eight hours on Sept. 26 for storming Civic Plaza in Admiralty with other students at the end of a week-long class boycott to protest Bejing's Oct. 31 decision to withhold fully democratic elections in Hong Kong. The students' arrest inspired the start of the Occupy movement.
Before the Umbrella Movement, Wong found fame as a 15-year-old in 2012 when he successfully led student protests against government plans to introduce a "patriotic" education syllabus. Commentators point out that "patriotic" education is the Chinese Communist Party's attempt to brainwash school children in Hong Kong.
Before Release
While Wong was in police custody, Wong's lawyer claimed in a Facebook post on the teenager's official page that police assaulted Wong in detention and are illegally detaining him. However, after his release, Wong said that police did not physically injure him, but verbally abused him. Wong has also chosen not to plead guilty to charges of obstructing a public officer and contempt of court. 
Scholarism spokesman Oscar Lai said on a Commercial Radio talk show on Thursday morning that police were rude to the student protesters during the clean-up operation, according to South China Morning Post.  
Lai complained that police bruised Wong at the throat and forced Lester Shum to his knees and slapped his head as the duo were arrested.
Lai also feels that police deliberately targeted Wong and Shum to undermine the student-led Umbrella Movement.
"The police's objective was that once the student leaders were arrested the campaign would then lose its direction," Lai said.
On Tuesday night before the Nathan Road clearing, Joshua Wong recorded a message and requested that it be only circulated in the event of his arrest.
Speaking in Cantonese, the Chinese dialect of Hong Kong, Wong urged his "friends in the pan-democratic camp" to "continue their fight at the legislature and give referendum a second thought."
"For those on the streets in Admiralty and Causeway Bay, [we] have to defend every defense line and every single metal barrier.
"We are fighting for results in this movement, not withdrawal.
"I urge everyone to persevere during my time in detention as we cannot afford to lose this fight."