Hong Kong authorities on Nov.29 issued arrest warrants for two former lawmakers living abroad for allegedly inciting others not to vote or cast blank votes in the upcoming elections.
Ted Hui, former democratic legislator, and Yau Man-chun, former district councilor, had "allegedly breached" the regulations by "inciting members of the public to cast blank votes and not to vote" at the elections by "displaying posts on their respective social media pages," the Independent Commission Against Corruption (ICAC) said in a Monday statement.
The ICAC said the new regulations applied to all public activists relating to elections, regardless of their location. While the two are not in Hong Kong, they are now wanted by the city's anti-corruption watchdog. According to the statement, the activists face three years in prison and fines of up to HK$200,000 ($25,642).
Yau is in the UK, and faces eight charges. Hui, who resettled in Australia, faces four charges.
According to Hui's Facebook post, he urged Hong Kong people to cast blank votes in the election that will occur on Dec.19, in protest of the "new parliamentary system under the authoritarian regime."
The Chinese Communist Party passed sweeping reforms to the former British electoral system in May. Critics say the mechanism was to weed out oppositions and ensure that only "patriots"—who are aligned with the ruling Party—can rule the city. Hong Kong's Legislative Council also reduced the number of directly elected representatives from about 246,000 to less than 8,000 and increased the number of Beijing-approved officials in an expanded legislature.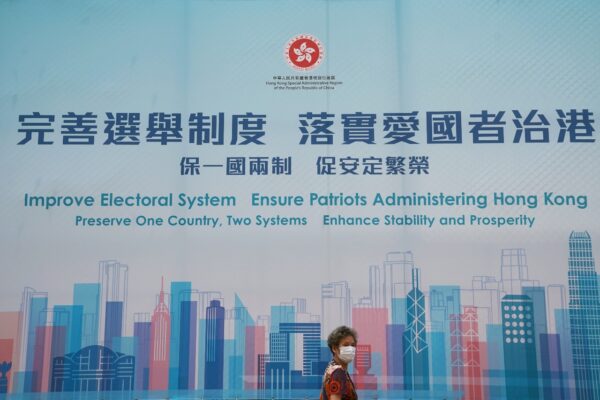 The changes to the city's political system have cemented the authoritarian turn Hong Kong took with Beijing's imposition of national security law in June 2020. It criminalizes anything China deems subversion, secession, terrorism, or collusion with foreign forces, with penalties of up to life in prison.
The Hong Kong government passed new legislation to complement Beijing's changes, redrawing constituency boundaries, creating more electoral districts, and criminalizing calls for voters to leave ballots blank.
There are no candidates this year from the city's pro-democracy camp, with most former legislators and activists ensnared by the new law or arrested for other offenses. Most are either in jail, out on bail pending trials, or in self-exile.
Reuters contributed to this report.