Hong Kong's education secretary Kevin Yeung on June 6 reiterated that schools are responsible for ensuring their libraries do not contain books deemed dangerous to national security.
Yeung's remarks have sparked concerns among Hongkongers fearing another wave of self-censorship at schools.
After the implementation of the National Security Law in mid-2020, Hong Kong's Education Bureau required schools to routinely examine their library collections and remove books deemed to endanger national security—such as those covering 2019 Hong Kong protests, pro-democracy topics, and the 1989 Tiananmen massacre.
Books removed from school libraries must be destroyed—giving them away is not an alternative according to the instructions received by the schools.
The laws have seen many schools removing large numbers of books from their libraries.
A secondary school in Kowloon East has removed at least 204 books from its library, while another school in Tsuen Wan took 173 off its library shelves, according to Ming Pao, a local newspaper.
The Ming Pao report also said that schools were not given clear criteria on what books might be in violation of the law, so teachers must set their own standards. In fear of the possible penalties, the schools and teachers had to self-censor by removing a large selection of books covering various political and social movements.
Among the books taken off shelves have been those by noted academics among them Ambrose King Yeo-chi, who is a Hong Kong sociologist and former president of the Chinese University of Hong Kong (CUHK). One of his written pieces argued that colonial rule and capitalism are the two important threads of Hong Kong. Other academics whose work has been taken off library shelves are Ivan Choy and Ma Ngok who both currently work at CUHK—Choy is a senior lecturer, and Ma is an associate professor.
These three scholars have a history of expressing opposing views to the Chinese Communist Party (CCP) or Hong Kong's ruling authorities.
But some books on topics perceived as politically sensitive have remained on shelves if they follow the CCP's narrative, according to Radio Free Asia.
"Hong Kong has degraded into a place completely manipulated by the CCP," Zhuge Mingyang, an independent writer and China expert, told The Epoch Times.
"For decades, the people in China have learned how to 'discipline' themselves in order to survive under the CCP," Zhuge said.
"Parents and teachers are used to telling children what not to read or say to keep them safe. Now, teachers in Hong Kong have also started to 'discipline' themselves."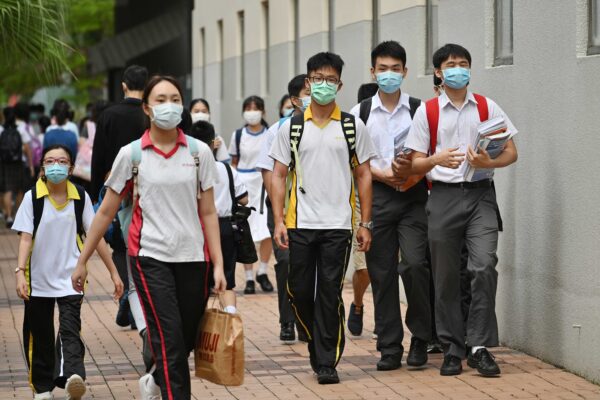 Revised Curriculum
Hong Kong authorities are aiming to strengthen "national identity" among school children through a new curriculum issued in December 2021.
Branded as "brainwashing" by critics, the 89-page revised framework on civic values titled the "Values Education Curriculum Framework," was issued to all schools in the city.
The newly revised curriculum will "cultivate a sense of national identity among students … and help them understand their responsibility, as a Chinese, to protect their family and the country," it states.
Since Beijing imposed the National Security Law, local schools have gone through several "education" sessions to understand the changes.
According to the Education Bureau Circular No. 11/2020 (pdf) issued on July 3, 2020, supervisors and heads of all primary, secondary schools, and kindergartens were required "to 'timely enable' all levels of school personnel and students to acquire an understanding of, and remind all such personnel and students to abide by the National Security Law."
In Education Bureau Circular No. 3/2021 (pdf), all kindergartens, primary, and secondary schools were required to maintain "a safe learning environment nurturing good citizens."
Isabel Van Brugen contributed to this report.