Hong Kong Rally Supports Quitting CCP
October 5, 2007 12:00 am Last Updated: October 5, 2007 12:00 am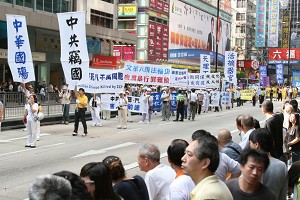 HONG KONG—On September 30, the Hong Kong Service Center for Quitting the Chinese Communist Party (CCP) and The Epoch Times Hong Kong office held a rally and a parade to support the over 27 million Chinese who've withdrawn from the CCP and affiliated associations. The rally included pro-democracy activists, people of faith, and victims of CCP tyranny. Volunteers from the Service Center gave speeches.
Mr. Szeto Wah, president of the Hong Kong Alliance In Support of Patriotic Democratic Movements of China was the first to give a speech. He paid respect to the 27 million people who've quit the CCP, CCP Youth League and CCP Young Pioneers.

Mr. Jia Jia, former Secretary General of the Shanxi Province Scientific and Technological Expert Association spoke to the crowd by phone. Jia defected and split from the CCP last October and currently resides in Indonesia. "October 1 is a day of disaster for Chinese people," proclaimed Jia. "It is a day when the CCP stole the control of the country. Since October 1, 1949, Chinese people have descended into a deep and endless hardship. Every rally supporting withdrawal from the CCP demonstrates another step toward victory for the Chinese people through peaceful struggle."
"The information expressed today is very important, extremely precious, and profoundly truthful," Pastor Fung Chi Wood said to those gathered at the rally. "Our mission is righteous and compassionate, and our perseverance is sure to generate an enormous change."
"Please don't treat the CCP as something powerful or forceful," said Mr. Chen Shi, a victim of the CCP's Anti-rightist Movement. "Once the CCP truly collapses, it will only take a moment."
Chen pointed to the many groups that were protesting in front of the CCP's Hong Kong Liaison Office earlier that day against the Myanmar Military regime's bloody suppression of the Burmese people. "It is a matter related to the Myanmar Military regime, so why protest outside the CCP office?" asked Chen. "Because the Myanmar military regime is supported by the CCP. Just as those responsible for the genocide of Sudan are supported by the CCP."
Another Mr. Chen—an everyday citizen of Hong Kong—shared his views on the rally. "I have watched the parades supporting withdrawal from the CCP many times. I think these people are very brave," he said.
Following the rally, a parade led by the Tianguo Marching Band marched through several sections of Hong Kong, including Jiulong, Shenshui Bu, Taizi, Wangjiao, You Madi, Zuodun and concluded at the Hong Kong Cultural Center at Tsimshatsui.