Hong Kong Rally and Parade to Support 35 Million Chinese Quitting the CCP
April 28, 2008 12:00 am Last Updated: April 28, 2008 12:00 am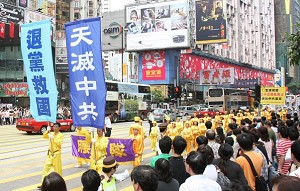 HONG KONG—On April 26, 2008, the Hong Kong Service Center for Quitting the Chinese Communist Party (CCP) and many other local civil organizations held a rally and a parade in Victoria Park to celebrate 35 million Chinese people for quitting the CCP. Many democratic activists spoke at the rally to show their support. Many of them considered 35 million withdrawals from the CCP and its affiliated organizations represent the awakening of the Chinese people and a victory for human rights.
By the end of 2007, 30 million people announced their statements to quit the CCP and its affiliated organizations on The Epoch Times website. In four months, 5 million people joined the activity. The number is growing at a rate of 50 thousand per day.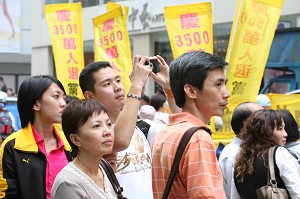 At the beginning of the rally, the host read a statement from the chairman of the Global Service Center for Quitting the CCP, Gao Dawei. In the statement, Gao congratulated those who quit the CCP and said, "Spreading the Nine Commentaries on the Communist Party and quitting the CCP is a manifestation of rationality and wisdom of the Chinese people. This is an invisible way to utterly remove the CCP's poisons in our spirits and to bring down the CCP from inside. In the process of eliminating the CCP, we minimized the loss of Chinese people."
Albert Lam, a central committee member of Hong Kong's Democratic Party, Chen Shi, victim in the Anti-rightist movement, Zhen Shengang, founder of the China Human Rights Forum in Hong Kong, pointed out that the 35 million withdrawals represented the will of the people.
Former Legislator Rev. Fung Chi-Wood said in his speech that Hong Kong media have many scruples and restrictions when reporting news about quitting the CCP. "Still, our action, voice and standpoint are very important. I believe there are many in Hong Kong quietly supporting us," he said.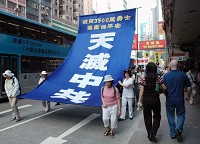 Eastern District Councilor and founder of civil radio station Tsang Kin-Man commented that Beijing had already won many champions during the torch relay before the Olympic games takes place, "Beijing drew the most protestors, mobilized the most guards, and the Olympics torch went out the most times. This can all be listed in the Guinness book."
After the rally, 300 people started to march toward the Liaison Office of the Central People's Government in the Hong Kong Special Administration Region. On their way, the loud drumbeat from the waist drum team and banner groups of different themes drew the attention of many passersby. The parade lasted two hours before it arrived in front of the Liaison Office. Participants read statements of quitting the CCP and ended the event.