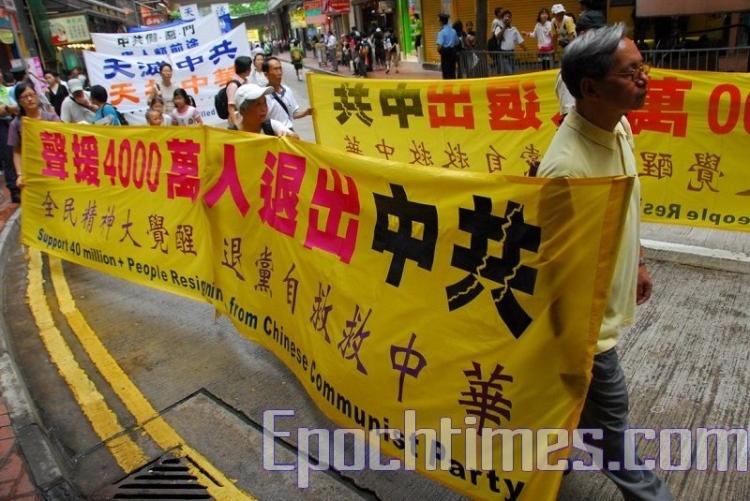 As of July 14, over 40 million people have issued statements on The Epoch Times Website declaring to quit the Chinese Communist Party (CCP) and its affiliated organizations.
On July 12, just before the number of people who quit the CCP reached 40 million, a rally and a march at Victoria Park in Hong Kong was held. They called for a peaceful end to the CCP by withdrawing from the Party.
Gao Dawei, President of the Global Service Center for Quitting the CCP, sent his statement to congratulate those who distanced themselves from the CCP and embraced the future. Gao also said for the people and officials in China not to hold any expectation for the CCP.
Szeto Wah, President of Hong Kong Alliance in Support of Patriotic Democratic Movements of China, spoke at the rally as well. He hopes that by next year, the 20th anniversary of the Tiananmen Square Massacre, The Epoch Times can publish a book with statements from those who quit the CCP "to tell us why they quit the CCP and how they came to that realization."
"I believe that book will push the trend of quitting the CCP to its peak," said Wah.
A prerecorded message from Jia Jia, former General Secretary of the Shanxi Provincial Association of Scientists and Technology Experts, who recently was granted asylum in New Zealand, and Göran Lindblad, member of the Swedish Parliament, was played at the rally expressing their support for the movement.
Hong Kong Councilman Tsang Kin-shing spoke at the rally about how totalitarian will eventually collapse and he hoped that everyone who was persecuted by the CCP will stand up and fight for their rights.
After the rally, the Celestial Marching Band and about 500 people marched from Victoria Park to the Liaison Office of the Central People's Government in Hong Kong. The parade went through the busy streets. The Tang drum performance, waist drum troupe, and banners to support the activity drew attention from locals and tourists from China.
The parade lasted three hours and ended when a statement was read in front of the Liaison Office.
To read the original article in Chinese, click here