Hong Kong Qualify for World Cup Repechage, at Least
Rugby—Asia 5-Nations
May 13, 2014 6:35 am Last Updated: May 13, 2014 6:39 am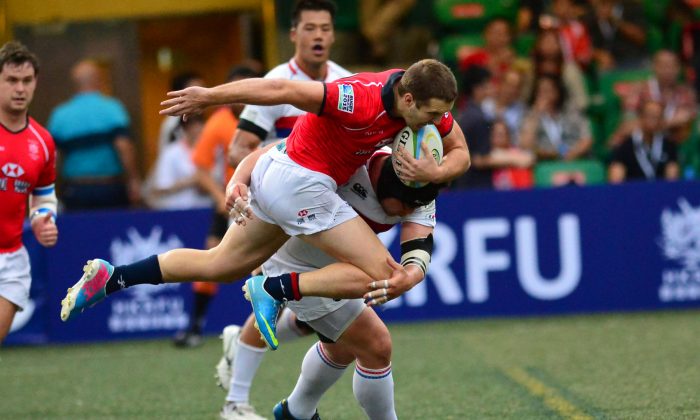 HONG KONG—Hong Hong put on another superb performance at the Hong Kong Football Club Ground on Saturday May 10 to win their 3rd consecutive Asian Rugby Football Union Asia 5-Nations 2014 match to qualify at least for the 2015 IRB World Cup Repecharge. After beating Philippine Volcanoes 108-10 in their first game and Sri Lanka in 39-6 in Columbo the previous week, they outshone South Korea to win 39-6 giving Hong Kong 18 points from their first three matches.
Japan steamrollered Sri Lanka in Nagoya last Saturday winning 135-6 to notch up their second straight win and put them on 6-Points and 2nd in the Standings. Hong Kong occupy the top spot, but they have played one more match than Japan.
The Philippines and Sri Lanka have both lost two matches and are languishing on zero points, South Korea have 6-points after beating the Volcanoes. Japan are still undefeated after 2-matches with 12-points. South Korea play at home in Incheon against Japan this coming Saturday May 17 and Sri Lanka take on Philippines in Columbo in a bottom of the table clash to decide which team will be relegated to Division 1. Hong Kong have a rest day this weekend, before meeting Japan in Tokyo on May 24.
No matter what the result between Japan and South Korea the battle for the top spot will be on May 24 when Japan host Hong Kong in Tokyo. Korea have a final match of the campaign against Philippines in Laguna. Even if Japan were to lose to South Korea, Japan could snatch the Championship with a 6-Point victory against Hong Kong to draw level on points.
Korea have no way back from the Hong Kong defeat. The final match between Japan and Hong Kong will be played to decide the ARFU 2014 5-Nations Champion to grab a place in Pool-B of the IRB 2015 World Cup.
In last Saturday's match South Korea started impressively and picked up 2-penalties in the first 5-minutes, taking advantage of Jake Phelps sin bin misdemeanour. But immediately Phelps was back on the pitch he ran in a try which was converted by Chris McAdam to put Hong Kong in front at 7-6. From this point forward Hong Kong never looked in trouble. With a strong defensive performance Hong Kong cut off all of the Korean attaching moves and were fast on the counter attack ratcheting up the points to 20-6 at half time.
Hong Kong continued their good work in the second half with trys by Salom Yiu, Alec McQueen and Steve Nolan and 2-conversions by McAdam pushed the final score to 39-6.