One of the world's busiest airports came to a complete halt on Aug. 12 after some 5,000 Hong Kong's pro-democracy demonstrators packed into its main terminal to protest police brutality.
The airport protests marked the fourth consecutive day of peaceful sit-ins at Hong Kong International Airport, and came after a night of heightened violence that included police firing tear gas inside a subway station and shooting rubber bullets and pepper pellets at protesters at close range.
While commending Hongkongers' determination in getting their voices heard, U.S. Senate Majority Leader Mitch McConnell (R-Ky.) warned Beijing that "any violent crackdown would be completely unacceptable."
"The people of Hong Kong are bravely standing up to the Chinese Communist Party as Beijing tries to encroach on their autonomy and freedom," McConnell said in an Aug. 12 tweet.
"The world is watching," he said.
The White House said in a same-day statement that it is continuing to monitor developments in Hong Kong and urged all sides to refrain from violence after the weekend clashes.
"As the president has said, this is between Hong Kong and China, with the understanding that 'they're looking for democracy and I think most people want democracy,'" a senior official said, according to Reuters.
"Societies are best served when diverse political views are respected and can be freely and peacefully expressed," the source said.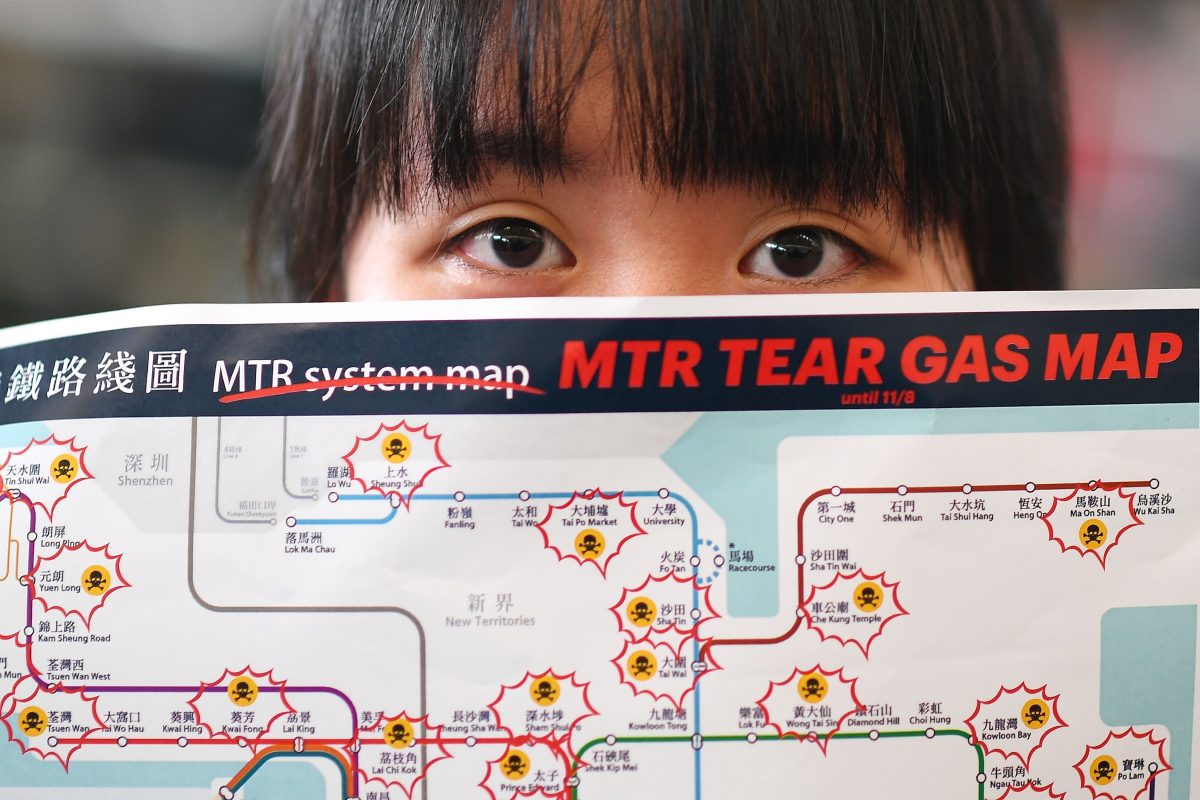 Hong Kong police have shown more aggression as sporadic citywide protests have entered their tenth week. Earlier on Aug. 12, the police force showed off water cannons that could be deployed, a development that Amnesty International has warned could lead to serious injuries if misused in the densely populated city.
Since Aug. 9, police have arrested at least 149 people—111 males and 38 females aged between 15 and 53—on charges of illegal assembly, assaulting police officers, and possession of offensive weapons, according to a police press briefing on Aug. 12.
Airport Protests
The airport demonstration was prompted by public anger over police dispersal operations over the weekend, which culminated in bloody confrontations with protesters. In an extreme case, a female medic was hospitalized after being shot in the eye with a pellet round.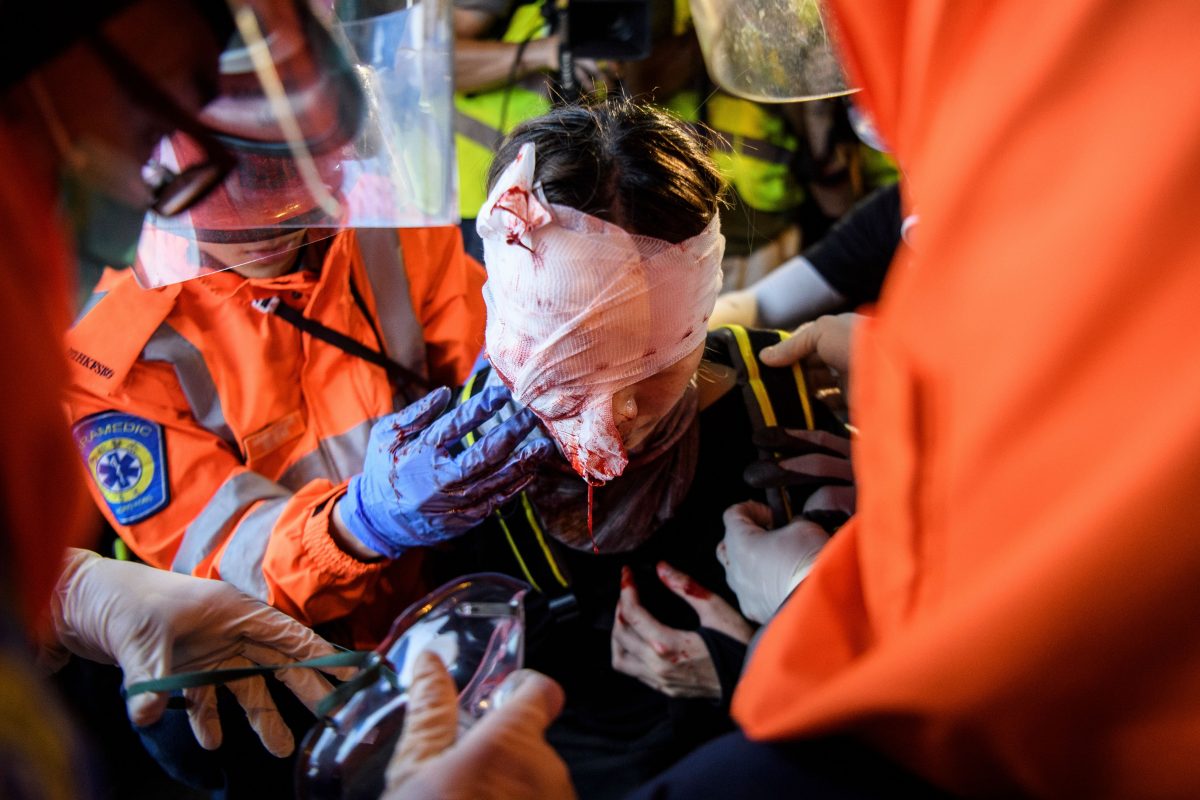 Video footage also showed police dragging young protesters off the ground after they were tied up. On Aug. 11, several journalists were injured after police beat them with batons while shouting "fake press."
Protesters, who had already appeared at the airport for three consecutive days for a sit-in rally, chanted slogans condemning the "black police" while holding up signs that read "HK Police Are Killing Us," "An Eye for An Eye," and "We Want to Choose Our Chief Executive"—a request that Hong Kong protesters have repeated over the past two-plus months, along with the demand for a full withdrawal of an extradition bill that would allow individuals to be sent to mainland China for trial.
Some protesters also covered up their right eye in solidarity with the injured woman.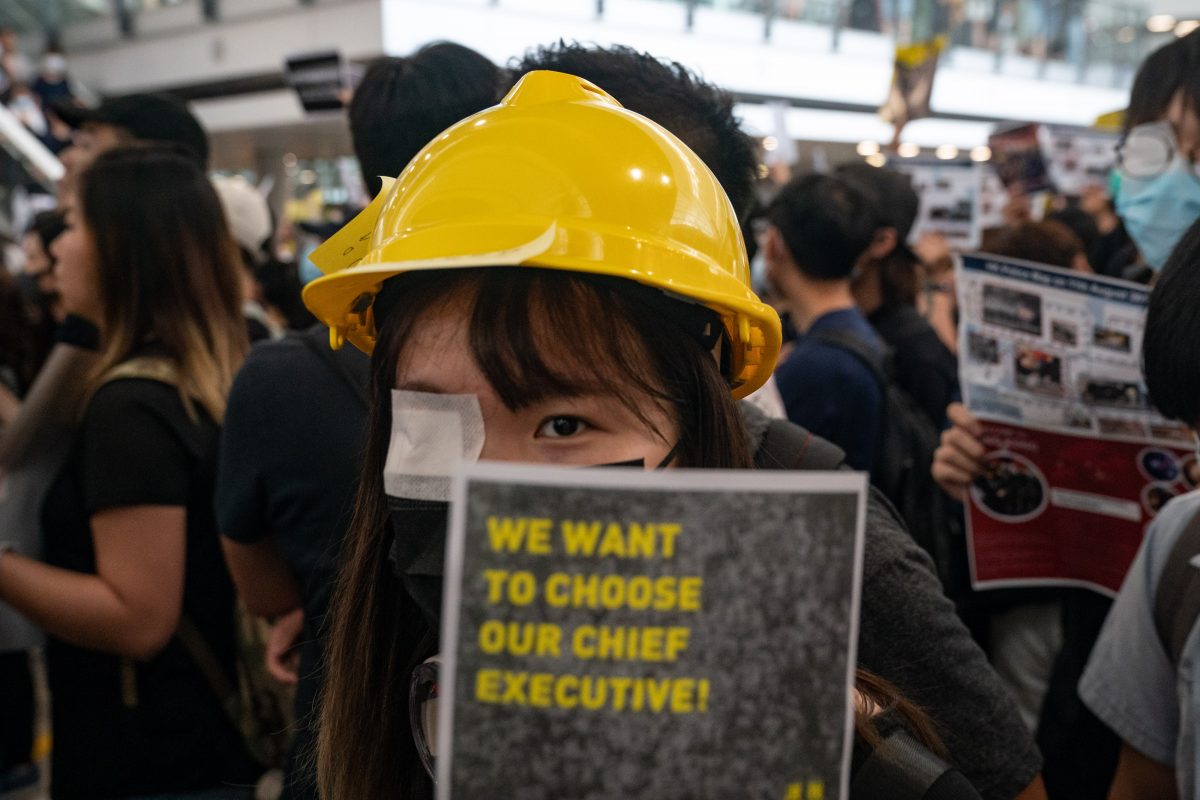 At 4:50 p.m. local time on Aug. 12, the Hong Kong International Airport announced that it had canceled all flights in and out of the airport, saying in a statement that the protests "seriously disrupted" its operations and that "all passengers are advised to leave the terminal buildings as soon as possible."
A large number of protesters left the premises following the announcement. By midnight, some protesters still remained. On a protester chat group on the encrypted messaging app Telegram, a recorded video was circulating, showing a group of them singing "Happy Birthday" for a stranded traveler who spent his birthday at the airport.
In the same Telegram group, there were photos of Hongkongers hauling carts loaded with food and drinks for airport rally attendees.
No clearance operations were reported at the airport as of Aug. 12 evening. Protest organizers have called on everyone to adhere to the principle of "no argument" and "no vandalism."
They wished to "bring the most truthful side [of Hong Kong] to incoming travelers," the organizers said on the popular Reddit-like website Lihkg.com, which protesters have used as a platform to plan and discuss demonstrations.
Airport authorities later said that flights would resume at 6 a.m. on Aug. 13.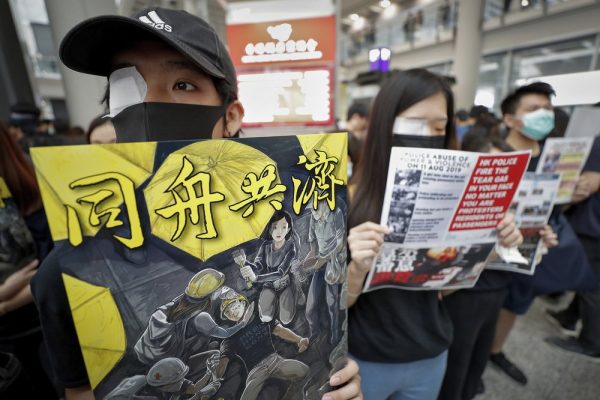 Government Pressure
Both the Beijing and Hong Kong governments have taken on increasingly aggressive stances toward the protesters, who have persisted for more than two months, condemning them as violent and radical.
For the third time in just over two weeks, China's Hong Kong and Macau Affairs Office, Beijing's highest agency for managing Hong Kong affairs, held a press conference on Aug. 12 praising the police who were injured during dispersal operations over the weekend.
The office's spokesman, Yang Guang, accused the protesters of committing acts signaling "a budding terrorism" that threatened the lives of Hongkongers. The Chinese regime has used the threat of terrorism to justify the suppression of minorities and religious groups in the regions of Xinjiang and Tibet, which has drawn censure by Western governments and rights groups.
In a statement, Yang also called on the Hong Kong authorities to spare "no leniency or mercy" in punishing the protesters.
Hong Kong's flagship carrier Cathay Pacific Airways earlier on Aug. 12 warned of "disciplinary consequences" for any employees who decide to join the "illegal protests." Meanwhile, China's aviation authority had earlier condemned Cathay Pacific staff for participating in previous protests, urging the staff to be suspended.
On Aug. 10, the airline suspended one pilot for "rioting," and dismissed two ground staff for reportedly leaking onto social media some travel information for a Hong Kong police soccer team that was due to fly to mainland China.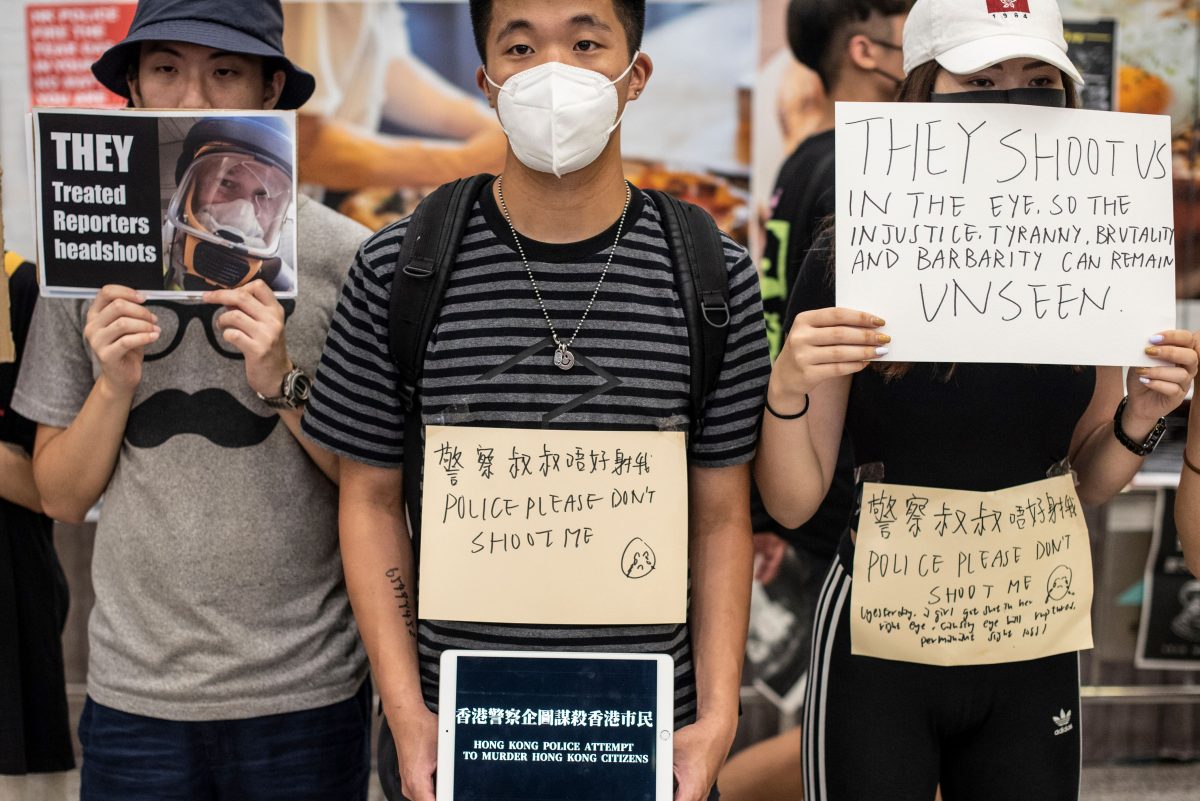 Civilian Responses
A group of masked protesters held their own press conference on Aug. 12, criticizing recent police violence that they said brought Hong Kong to "its darkest weekend in contemporary history."
They said that the government's descriptions of the protesters are "evidently mistaken" and that the "focus was completely misplaced."
"Hong Kong had turned into a torture field overnight," they said in a statement.
They added that the firing of tear gas inside the Kwai Fong subway station disregarded the manufacturers' safety instructions, which states that the device is strictly limited to outdoor use.
"We saw Kwai Fong Station being turned into a gas chamber," spokesman Jerry Chan said.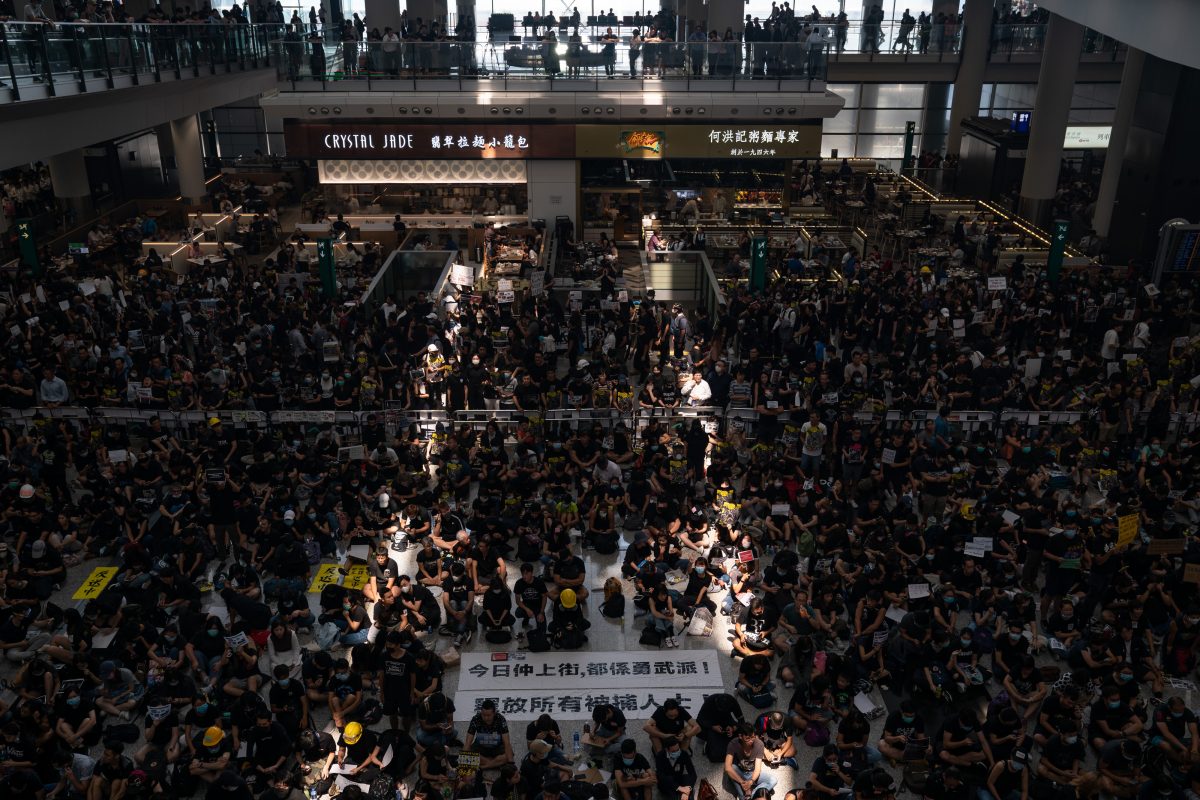 Meanwhile, Civil Human Rights Front, a pro-democracy umbrella group that has organized multiple mass demonstrations in the past few months, has applied for another protest for Aug. 18, with more details to be announced at a press conference on Aug. 13.
Protesters are also fundraising to place ads in newspapers around the world, to "expose how the Hong Kong government stops at nothing in suppressing dissidents." The campaign had more than $1.97 million an hour after it was posted onto Lihkg.com.
A group of medical professionals and 11 student unions led by the Hong Kong University Students' Union have called for medical staff and students to go on an indefinite strike in the wake of police's "loss of control" over the weekend.
Civil servants from 52 departments also criticized police for acting as a "willing accomplice of unlawful orders" and "betraying political neutrality."
The medical staff, in a statement posted on Facebook, denounced the police for their "shady" and "shameless" tactics in arresting first-aid medics and disrupting the treatment of injured protesters.
The group said that they would go on strike indefinitely until the government addresses the protesters' demands.
At least 13 medics rallies are planned at various local hospitals on Aug. 13, the group said, with participants to wear black medical masks and black ribbons.
"Like every one of you, when we take off our uniforms, we are just Hongkongers who yearn for justice, truth, and freedom," the group said.
Epoch Times staff member Frank Fang contributed to this report.