Hong Kong authorities are finally going to take down the Admiralty protest site, 74 days after pro-democracy demonstrators made the streets their own.
On Sept. 28, police tear gas and batons inspired tens of thousands of Hongkongers to join student protesters in Admiralty, a government and financial district.
The students are demanding the right to select their semiautonomous city's top leader by "genuine universal suffrage." At present, the Chinese communist regime screens two or three candidates for a small pro-Beijing election committee to vote in.
For nearly two and a half months, protesters maintained a clean and orderly "tent city" on a stretch of Harcourt Road.
Rallying speeches were made and songs were sang from a makeshift podium. Countless pieces of art and banners huge and small dotted the protest site.
The Admiralty site, dubbed "Umbrella Square" by protesters, even had a "Lennon Wall." Conceived along similar lines as the original wall in Prague, thousands of Post-It notes with messages in support of democracy and freedom were pasted on one side of a government building, forming a colorful pastiche.
But the "Lennon Wall" is no more. Demonstrators meticulously removed the Post-It notes for the protest art archiving effort by the Umbrella Movement Art Preservation Group.
Carefully tearing or cutting post-its aka Lennon Wall. then put in bags to remake it somewhere else. #occupyhk https://t.co/9zXVj3121l

— Kris Cheng (@krislc) December 10, 2014
Preserving the Lennon Wall. Even at almost 3 AM there is an amazing energy in camp. #OccupyHK #UmbrellaRevolution pic.twitter.com/QsVFWgV7R2

— Hong Kong Hermit (@breakandattack) December 10, 2014
Lennon wall is archived already #OccupyHK pic.twitter.com/CzKrzhxqdG

— Abdulkadir Alkan 哈康 (@ChinAnalyst) December 10, 2014
Sticky notes on Hong Kong protesters' Lennon Wall are being removed and archived, before a police clearance tomorrow. pic.twitter.com/SXVTpy0z5j

— Alan Wong (@byAlanWong) December 10, 2014
Gone too are most of the art work and banners.
In their place, Ho Sifu, an older pro-democracy supporter who used to build barricades and set up tents in Mong Kok before the site was cleared, raised a new three-story banner with the words "We'll Be Back."
Ho Sifu the Mongkok master builder and @rosetangy #occupyHK #umbrellarevolution pic.twitter.com/JCRV73EaHG

— Hong Kong Hermit (@breakandattack) December 10, 2014
The third shot makes it, big applause for Ho Sifu. #occupyhk #umbrellarevolution https://t.co/ICG6GLO1B9

— Hong Kong Hermit (@breakandattack) December 10, 2014
The 3-stories high "人民誓必歸來 WE'LL BE BACK" banner in Admiralty by "The Engineer" from MongKok #OccupyHK pic.twitter.com/ekOR2V6Bna

— Galileo Cheng (@galileo44) December 10, 2014
"It's just the beginning," reads another new banner strung up on a metal barricade, water mill, and bamboo pole barrier, a final message of defiance before the police move in.
another farewell message from occupy: it's just the beginning! pic.twitter.com/xduWRYSYcv

— Stephen 唐肆啼 Thompson (@sifan64) December 10, 2014
Here's five things to know about the clearing of the Admiralty protest camp.
Where is "Umbrella Square?"
It's the odd-shaped area in light green.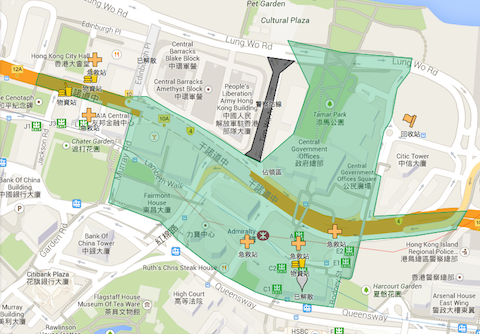 Admiralty is in Hong Kong Island, south of Kowloon Peninsula.
Although Hong Kong high court injunction against the protesters only covers an area just outside the concentration of tents, police have said that they will take the opportunity to clear out the whole site.
What time will police move in?
According to Hong Kong publication Apple Daily, bailiffs and police will arrive on scene on Thursday, 9:00 a.m. local time (Wednesday, 8:00 p.m. Eastern Standard Time).
After the plaintiff's lawyer reads out the injunction order, protesters will be given 30 minutes to pack their belongings and leave.
By 11:00 a.m. latest, if the protesters don't move, police will lockdown the site and arrest those who remain on the charge of "contempt of court."
How will the protesters respond?
Student leaders from the two prominent student groups, Hong Kong Federation of Students and Scholarism, intent to hold their ground for as long as they can in a peaceful, nonviolent manner.
"We will still resist till the last moment," said Alex Chow, secretary general of HKFS, according to the Associated Press.
"We intend to link hands to have a peaceful sit-in and wait to be arrested," said Oscar Lai, Scholarism's spokesman, Wall Street Journal reports.
A new splinter student group, Student Front, has criticized HKFS and Scholarism for planning to tamely surrender and be arrested. The leaderless group declared on their Facebook page that they will stand firm with defensive gear and tactics, and may not stick to the principle of nonviolence.
Will the police be violent?
The Hong Kong police has come under intense public and media scrutiny these past weeks for their violent clearing of the Mong Kok protest site and the protesters' attempt to retake Lung Ro Road, a major thoroughfare in Admiralty.
Recent polls by the University of Hong Kong saw public support for the police hit an all-time low of 29 percent. The Hong Kong police even ranks behind the People's Liberation Army Hong Kong garrison in terms of popularity (61 percent versus 63.1 percent)
Police spokesman Cheung Tak-keung says that police will use "minimum force" to drive off protesters who won't leave.
Numerous Hong Kong newspapers also report that police have been told to only hit protesters' legs if there is a need for batons.
However, if Student Front sticks to their word and offers stiff resistance, there is no guarantee we won't see batons, riot shields, and pepper spray flying again.
Can the Umbrella Movement survive the clearance?
Hard to tell.
A recent University of Hong Kong survey of 514 people puts public support of the student occupation at 31.3 percent. 49.3 percent disapprove of the occupation.
Wong Yeung-tat's Civic Passion political group have been carrying out a "Shopping Revolution" in Mong Kok after the site was cleared, where protesters adopt flash mob tactics to stretch out the police.
It is unclear if the Admiralty protesters, who are a less prone to radical and guerilla tactics, will adopt this strategy.
In any event, police plan to patrol Admiralty after the clearance to prevent a reoccupation.