Hong Kong Protesters Arrested After Beijing Says 'No' to Democracy
Protesting legislators escorted out of speech justifying decision on election rules
September 3, 2014 11:38 am Last Updated: September 3, 2014 11:45 am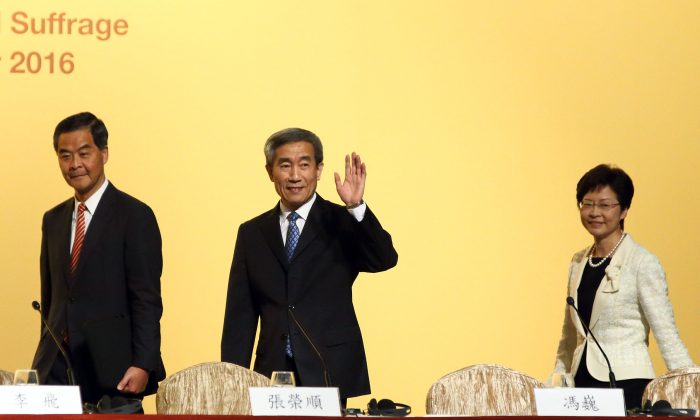 With the hope of a true democratic election in Hong Kong in 2017 dashed by the decision from Beijing about what election rules will be used, 19 members of the political group Civic Passion were arrested by the police as they staged a protest in front of the Grand Hyatt Hotel in the Wan Chai District, where Li Fei, deputy secretary general of the National People's Congress Standing Committee, was staying. A speech earlier in the day by Li justifying Beijing's stance was interrupted by protests by Hong Kong lawmakers.
On Sept. 1, the protesters, aged between 20 and 45, were pepper-sprayed by the police without any warning and then roughly arrested on charges of obstructing police officers and illegal assembly. One by one they were all released on bail by midnight.
Members of the "Occupy Central" gathered outside the police headquarters on Sept. 2, showing their support for the arrested members of Civic Passion.
Earlier in the day, Li explained China's tough stance on the 2017 Hong Kong chief executive election at a briefing organized by the Hong Kong government and held at the AsiaWorld-Expo convention center. Beijing has decided to continue using an election system that allows it to control who is chosen as Hong Kong's chief executive, despite earlier promises that Hong Kong would have democracy, with universal suffrage by 2017.
During the speech, Li pointed out that "those who remain confrontational, in the past, now or in the future, can never be chief executive."
Li urged that people "not devote their lives to the street. Give Hong Kong a moment of silence. Give society a little bit of positive energy."
During Li's speech, Leung Kwok-hung, chairman of the League of Social Democrats and a Legislative Council member, shouted out "Hong Kong people want a general election," and was taken away by security guards.
Fellow Social Democrat legislative council members continued to shout out slogans, while holding up banners such as "CCP Breaking Promises and Depriving Democracy." Their banners were roughly taken away by security guards, and they were escorted out of the event. Several other lawmakers, including Wu Chi-Wai, a lawmaker from Democratic Party, were also taken away by the security guards.
800,000 people voted for the adoption of universal suffrage in Hong Kong in an unofficial referendum held by Occupy Central in July. The strong desire among Hong Kongers for the direct election of those who govern them and a deep anxiety about the erosion of Hong Kong's freedoms are seen in messages posted on the Internet.
A netizen who described him or herself as a Hong Kong high school student wrote, "The people of Hong Kong should have the chance to select their own chief executive to govern our own Hong Kong."
Another netizen with the nickname Injecter said at discuss.com.hk "Demanding democratic elections from the CCP is like asking a tiger for its skin—it is a pipe dream. The [election] announcement revealed the CCP's true evil color and brings about the death of Hong Kong. Without general election, Hong Kong is just like any city in China—there is no special advantage or characteristic of Hong Kong—everything is gone."