HONG KONG—Pro-democracy legislators walked out of the much-awaited start of a debate on democratic reforms in Hong Kong on Wednesday to protest the government's intention to stick with a plan to screen all candidates in an election of the city's top executive in 2017, an issue that sparked massive recent street protests.
Chief Secretary Carrie Lam, the city's No. 2 official, opened the consultation with a speech in the territory's Legislative Council. 24 lawmakers aligned with the pro-democracy movement calling for free elections immediately raised yellow umbrellas — symbols of the street protests — and walked out.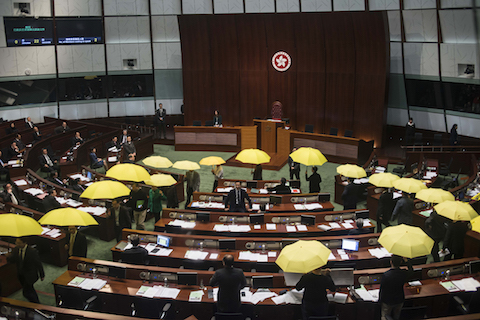 Pro-democracy legislators hold 40 percent of the seats, enough to block the election plan. However, that would only preserve a status quo that is also unappetizing to democracy activists. Currently, the chief executive is chosen by an elite committee that is friendly to the Chinese communist regime.
The pro-democracy legislators accuse leaders in Hong Kong and mainland China of breaking promises to let the city choose its chief executive through universal suffrage by 2017. The Chinese regime pledged such a vote when the financial hub was handed from colonial British to Chinese rule in 1997 under a form of autonomy dubbed "one country, two systems."
"The walkout is to signify our protest against this government that's been cheating Hong Kong people on the political reform front," said legislator Claudia Mo, who joined the protest. "We tried for years, democrats in general to try to appease Beijing and play it soft and try to be negotiable and it's all to no avail and now we know we need to stand firm for our younger generation."
An earlier consultation from December 2013 to May 2014 was followed by a report announced in August that recommended the Beijing-backed plan for a panel to screen all candidates. The panel is generally believed to favor the central government.
Lam urged the pro-democracy legislators to take part in the consultation and argued that a popular vote, even under Beijing's rules, would be an important step forward for the city's democracy.
"I urge the members to think twice and not completely destroy the limited space for political discussion even before the second consultation has started," Lam said to a half-empty chamber.
The Hong Kong government said in a report Tuesday that it remains committed to the Beijing-crafted plan. That plan prompted thousands of protesters to block streets in Hong Kong for more than two months demanding open nominations for the chief executive.
The report noted that "constitutional development is an extremely controversial issue," but said it was the "common aspiration" of Hong Kong's residents, its government and Beijing authorities to hold the election according to the city's own Basic Law and the central government's plan.
The council must approve any election plan by a two-thirds majority, and then submit it to authorities in Beijing.
Willy Lam, a political analyst at Chinese University in Hong Kong, said city officials are now trying to persuade at least four of the 27 pro-democracy legislators to support the government plan, which would give the proposal enough support to pass. The city's chief secretary mentioned in her speech concessions such as opening up the nominating committee to more sectors of society.
"There is still some room for change which could persuade some of these soft pan-democratic legislators," Lam said.
From The Associated Press