A former student leader who advocated for Hong Kong independence was one of several activists arrested by Hong Kong police on secession charges on July 29.
Police arrested 19-year-old Tony Chung at his home in the Yuen Long district and seized several bags of Chung's belongings, the group Student Localism announced on its official Facebook page. He was formerly the group's convenor.
Chung is currently in custody at the Ma On Shan Police Station and volunteer pro-democracy lawyers have been arranged to represent him, according to Fleco Mo, a district councilor in the Wang Yat area of Yuen Long.
At a late-night press conference on July 29, police confirmed they had arrested four students—three males and one female between the ages of 16 and 21—connected to a newly established group that advocated on social media for Hong Kong's independence.
These were the first known arrests made by a new Hong Kong police unit tasked with enforcing a sweeping new national security law, which punishes actions deemed as secession, subversion, terrorism, and collusion with maximum life imprisonment. Police previously made 10 related arrests at the site of July 1 protests against the new law.
Since police declined to disclose the peoples' names or affiliations, it's unclear whether Chung is among them.
The group Student Localism dissolved its Hong Kong branch on June 30, on the eve of the law's implementation. Critics fear that the law, which Beijing singlehandedly enacted, has enabled the Chinese regime to expand its control over the former British colony.
Police accused the four, who were arrested at around 3:30 p.m. local time on July 29, of posting "problematic messages" on social media that promoted separatism and incited pro-independence activities. Police confiscated their phones, computers, and files, police senior superintendent Li Kwai-wah said at the press conference.
"Don't think that if you're on social media, you don't need to be responsible," he added, warning people about their online speech. When asked by reporters about the legality of browsing pro-independence content, he said, "I don't think it's a problem."
Li said the arrests were solely the action of the police's national security department, when asked if a Beijing security bureau established for enforcing the new law was involved.
He added that police don't have to prove that people have been incited to action; the sole act of engaging in speech that promotes the idea of separating Hong Kong from mainland China constitutes a violation of the security law.
Chung had previously expressed concerns about being targeted by the police. Just two days before his arrest, he posted on his Instagram account a photo of a black-shirted man, whom he suspected of being a plainclothes officer, saying that the man had followed him to Mong Kok from Yuen Long.
He noted that upon taking a photo, the man walked away.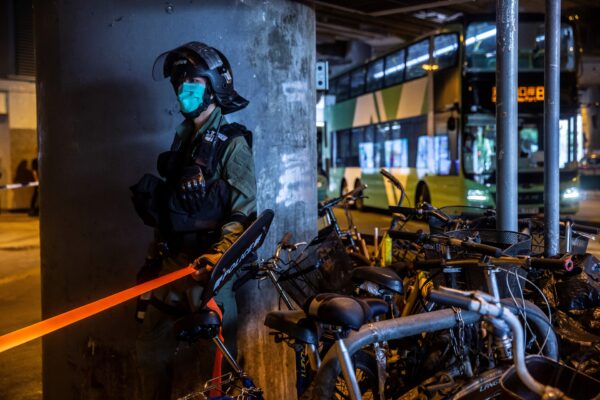 Hong Kong student activist Sunny Cheung said Chung's arrest is a deliberate tactic for the Chinese regime to crack down on less prominent pro-democracy activists.
"Nobody is immune from the purge destined to follow," he wrote in a tweet calling for solidarity among Hongkongers, adding that "keeping our eyes on our enemies is the sole way to survival."
According to Cheung, two other former Student Localism members were also arrested on July 29.
Luke de Pulford, who sits on the UK's Conservative Party Human Rights Commission, called the arrests "a clear test of the international community."
"Beijing will be paying close attention to the response of the free world. If we fail to meet this outrage with proportionate consequences, things will get worse," he wrote on Twitter.
As of June, Hong Kong police had arrested more than 9,200 people related to a pro-democracy movement that opposes Beijing's encroachment on city affairs. The city has prosecuted close to 2,000, police said in a July 29 statement. Roughly 40 percent of the arrestees were students.