Hong Kong police on Sept. 7 stopped protesters from blocking access to the airport but fired tear gas elsewhere in the city in the 14th weekend of unrest.
Police checked for tickets and passports to only allow airline passengers into the airport, to avoid the disruption caused last weekend when protesters blocked roads leading into the airport.
For more than three months, Hong Kong has been rocked by protests initially against an extradition bill that would allow people to be transferred to the mainland for trial, but has long since evolved into wider calls for democracy.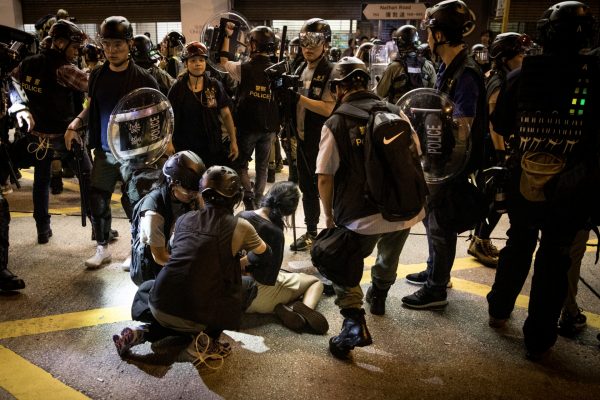 By nightfall, police fired tear gas at a busy shopping district of Mong Kok to disperse protesters who had gathered in opposition to alleged police brutality at Prince Edward metro station last week. Footage from the event showed riot police charging into train cars and beating and using pepper spray on unarmed suspected protesters cowering on the floor.
Earlier in the day, angry activists came to a stand-off with police in Tung Chung, a neighborhood close to the airport. Many protesters held up phones that displayed the slogan, "Alive, we want to see the person, dead, we need to see the body," referring to suspicions that some victims from the metro station violence may have died. Police have denied this allegation.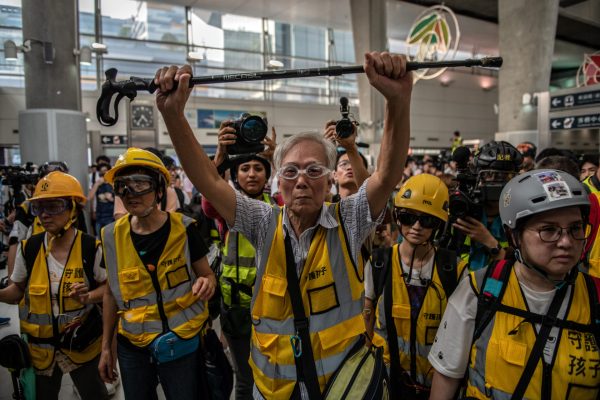 A dozen or so elderly people stood at the front of the crowd at Tung Chung, creating a buffer between the police and the younger protesters. "Safeguard the kids," the words on their yellow vests read.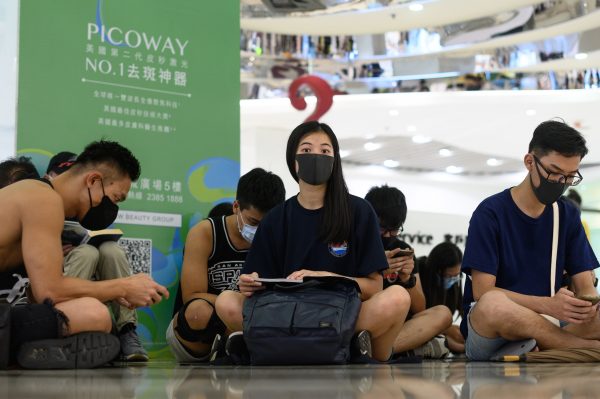 Meanwhile, crowds of protesters also gathered at Hanford Plaza and Citylink Plaza, two major shopping malls owned by the city's subway, Hong Kong MTR Corporation Limited, for a sit-in protest. They said that the railway has been working with the police to undermine recent protests by shutting down or suspending train services when it was not necessary.
"The MTR Corporation Limited, as the largest transportation tool in Hong Kong, has basically been collaborating with the government or the police's plans," a student surnamed Lam told the Hong Kong bureau of The Epoch Times.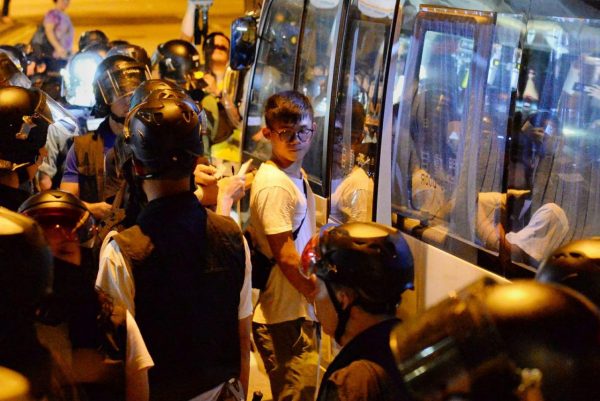 Protesters have also accused the rail operator of colluding with police and concealing what happened at Prince Edward station on Aug. 31. They have requested the MTR release surveillance footage from the incident, but have not received a response.
On Sept. 5, U.S. Defense Secretary Mark Esper extended support to the protesters and urged the Chinese regime to exercise restraint.
"We all see what's happening to those who continue to speak out against the (Chinese Communist Party's) influence in Hong Kong," Esper said at the Royal United Services Institute think tank in London.
"I was there for the handover in 1997 when the "one country, two systems" designation was affirmed – I would ask you: given what we see in Hong Kong today, has China kept those promises?"