Hong Kong will place tens of thousands of residents on lockdown in an effort to contain a new outbreak of the CCP virus, according to the South China Morning Post.
The Post, citing unnamed sources familiar with the situation, said new lockdown measures will target coronavirus-hit Yau Tsim Mong district, which is home to many aging, subdivided flats where the virus could spread more easily.
Hong Kong authorities did not confirm when a possible lockdown will be implemented, but some local media have reported that it could begin as early as this weekend.
The decision comes after sewage testing devices recently installed across Yau Tsim Mong district showed concentrated traces of COVID-19.
"Persistently high and spreading infection [in the areas] and sewage surveillance suggest the outbreak is not yet under control, and many silent sources still exist within the area," a source told the publication.
Health authorities in the city of 7.5 million first isolated four tenement blocks in the area last Friday, stopping people from entering or leaving those buildings to make sure all residents are quarantined.
Under the new measure, only residents who show negative COVID-19 test results would be allowed to leave their buildings, however, to reduce transmission risk, relevant persons who underwent testing are advised to stay at home and avoid going out when waiting for test results.
However, residents with medical health needs are exempt from the new rules, reportedly the first such measure the Chinese-ruled city has taken since the pandemic began last year.
The government will only lift the lockdown declaration when it is satisfied everyone in the lockdown area has been tested, SCMP reported.
In a press release on Jan. 23, the government announced that the Jordan and Sham Shui Po districts, which cover a small but densely populated part of the Kowloon Peninsula, will also be covered by compulsory testing notices if there is one or more confirmed cases found in the area in the past 14 days.
Any person who fails to comply with the testing notices commits an offense and may be fined a fixed penalty of $5,000 HKD ($645), according to the government press release.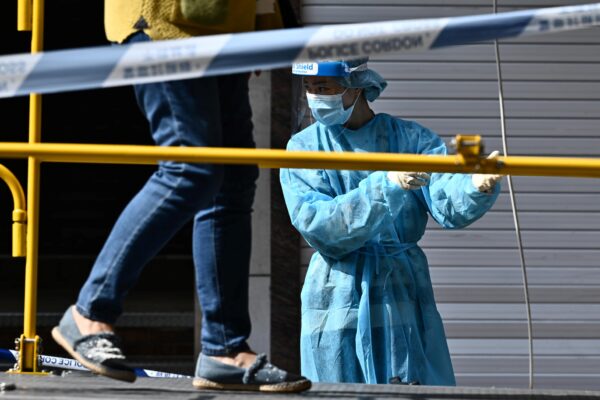 The person would also be issued with a compulsory testing order requiring him or her to undergo testing within a specified time frame. Failure to comply with the order is an offense and the offender would be liable to a $25,000 HKD ($3,225) fine at level 4   and imprisonment for six months.
"The Government will seriously follow up on the compliance of compulsory testing notices by persons subject to compulsory testing, and continually review the compulsory testing arrangement of the above-specified areas taking into account the epidemic development," a spokesman for the Food and Health Bureau (FHB) said in a press release.
"Since the infection risk in the community of the specified areas might be higher, the Government encourages residents in the areas to undergo testing proactively and promptly, even if they are not subject to compulsory testing. The mobile specimen collection stations will provide free testing services for all residents in the areas regardless of whether they are subject to compulsory testing or not."
Hong Kong has so far reported far fewer infections than other big world cities in the past year, with 9,797 total COVID-19 cases and 166 deaths, according to data from Johns Hopkins University, which is tracking the pandemic.
Currently, Hong Kong has a number of CCP virus restrictions in place, including a ban on in-house dining after 6 p.m., while facilities such as gyms, sports venues, beauty salons, and cinemas are closed.