It has been over two weeks since the severe incident happened at the MIRROR WE ARE LIVE Concert at Hong Kong Coliseum. Thus far, neither the government special investigation unit nor the Hong Kong Police has any updates on the cause of the incident.
On Jul 28, a 600-kg (1,320 pounds) LED screen fell onto the dancers who were performing alongside two of the 12 MIRROR members, Edan Lui and Anson Lo.
The two injured dancers Mo Lee Kai-ying and Cheung Chi-fung. Mo was unconscious and had undergone several injuries after being hit in the head as the LED screen fell. Mo's father said although he finally regains consciousness and can converse simply, he remains in critical condition.

In the history of stage performances, incidents as such have never happened before in Hong Kong. The public has been asking the burning question: How did it happen?
Lee Tsz-chun, assistant director of the Leisure and Cultural Services Department, said metal fatigue could be a cause of the incident. However, Lee said he could not rule out other possibilities. None of the concert contractors has yet taken accountability.
While people continue to speculate, The Epoch Times interviewed a local LED expert, who has been in the LED structure business for over a decade. to get his take on the unfortunate accident.
Mr. Shan (alias) is a business owner and a seasoned engineer for LED wall installations, similar to the ones used in MIRROR Concert.
The government investigation unit said 3mm-wide steel cables were used to hang the 600 kg (1,320 pounds) LED TV screen.
Were the 3mm (0.12 inch) steel cables strong enough to hold 600kg?
Mr. Shan sat with our reporter and looked at some photos taken from the visual inspection on-site. As a precaution, Mr. Shan and his company always choose cables that can hold more weight than the actual product required. In this case, the LED screen at the MIRROR concert weighed about 600 kg. According to data, a 3mm thick steel cable can hold 500-600 kg (1,100 to 1,320 pounds).
While Mr. Shan said that 3mm is commonly accepted for the particular LED screen, he stated he would have never picked it. "If I were on the spot and saw that 600 kg LED screen, I would not have chosen the 3mm cables. No way. I would not choose it even for a screen weighing 100kg." Mr. Shan stated.
The LED wall expert said that it is always better to use stronger steel cables in any LED installation. A 3mm thick steel cable can carry 500-600kg, but a 6mm-thick steel cable can hold up to two tons. The difference between the two cables is significant.

Mr. Shan reiterated, "For my business, it is standard practice that we use thicker or wider steel cables for safety precautions. Even for a LED screen that weighs 100 kg, we will still use steel cables that can hold a higher load. So in this case, we would have used a total of six, 6mm-thick steel cables, which could hold up to 12 tons instead of about 3600kg (4 tons)."
Basically for Shan, the safest bet is always a few times over the actual load required.
Shan emphasized, "It is always better to be safe than sorry."
Convenience Over Safety?
For its intended visual effect, the stage design of MIRROR Concert involved complicated apparatus in mechanical movement and elevation.
MakerVille, concert and event organizer, began to set the stage at the Hong Kong Coliseum on Jul 18, only seven days before the first show. Mr. Shan said, "If we take a simple concert as an example, we will always start with the ceilings, then the floors, the stage. Stage design mechanism is always last. This sequence will never change. It takes at least a few days for adjustment after installation."
When reviewing the incident video clip, Mr. Shan noticed how complicated the design was. He analyzed, "There is only a little room under the stage. When adjusting a component, other machinery might be affected due to the linkage. If everything was put together so closely, there would be no room for any error."
Shan also pointed out that the time for rehearsing and testing was not sufficient. He suspected that many of the mechanical engineers were not familiar with the machine's operation by the time of the concert.

Easy Job?
Mr. Shan said setting up LED walls is a simple task compared to other stage construction. He said to install six self-revolving LED screens on the ceiling, should take a day and the job is all about rigging.
What is Rigging?
A Canadian industrial rigging equipment supplier, Northern Standards, says on its website, "The role of a rigger is to estimate the size and weight of objects to be moved. It allows workers to choose the right equipment to ensure that a task is completed in a safe, secure, and effective manner."
In other words, a rigger is required to install and operate parts such as cables, ropes, pulleys, and winches without them breaking apart, dismantling, or causing damage to the lifting devices.

Australian company Construction Training International, warns that rigging can be complex. Therefore, workers should know how to handle a load safely, precisely, and correctly.
More importantly, the responsibilities of a rigger are also to inspect, maintain and repair rigging equipment to ensure perfect functionality before and when in use.
As a Hong Kong company, Shan said it is its job to implement sturdy and strict safety measures to monitor the standards and protect workers.
Is construction talent a dying breed in the industry, he asks?

COVID-19 has affected the world. The Hong Kong entertainment industry is no exception.
Mr. Shan said over the past three years, Hong Kong has had a significant loss of construction talent, particularly those who have over a decade of experience. Many seasoned professionals have left Hong Kong, and migrated elsewhere and it has been hard to train new people. "There have never been such serious accidents in the 20 years of my career and being in business." This is something you would hear from China, Mr. Shan added.
With the unbalanced ratio of old and new blood, it can be hard for workers to follow up on every detail. Shan expressed, "Greener workers might not be as well equipped with knowledge as the seasoned ones, since they have never been trained from real-life situations or experience. The lack of common sense in the industry can create problems."
Who Might be at Fault?
One of the three contractors, In Technical Production's (ITP) said in a statement on Jul 29, ITP was only in charge of providing LED screens. They were not responsible for any screen hanging, installation, production, or operation. They also were not the ones who engaged in the structure or engineering of the cable wires.
Shan said ITP's statement means "it is none of their business." But Shan felt differently. He said ITP is a company that offers a one-stop-shop service in stage construction in Hong Kong. That includes bestowing equipment and installation. "This is a standard practice unless under special circumstances," Shan added that ITP also provides pre-and-post production work. But actual responsibilities should be contained in the contract documents.
Shan said another company, Hip Hing Loong Entertainment Ltd (HHL) is a reputable and competent company in the industry. Mr. Shan felt that when an accident happened involving an experienced company, it might be related to the lack of time in setting up, preparing, and experienced workers. He also reminded us that the cable wires which were used in the accident were too thin to hold up heavy loads.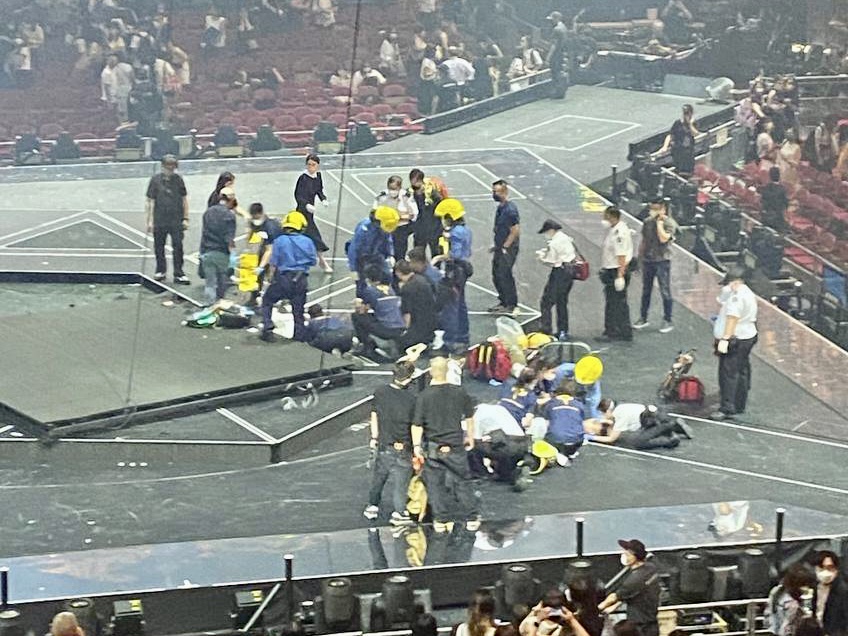 Shan asserted that the concert management may also be to blame, "There was simply not enough time from rehearsal to the day of the concert. This is the responsibility of the event management."
When it comes to examination and approval, it is always the contractor's job. Mr. Shan said signing off the approval should come from the main contractor in this case, Hip Hing Loong.
"When a part of the concert construction is complete, the workers will notify the main contractor. Tests are always performed to ensure the operation and set up passes the safety rules." Mr. Shan wondered why there is not a single complete checklist to stipulate standards, methods, and ways to perform individual tests. Perhaps there is one, but this has not been disclosed.
"How a concert should be structured, tested, and approved has not changed in the past 20 years. It is based on experience and common sense," Mr. Shan thought inadequate supervision and the lack of time are most likely what caused the incident.
Mr. Shan debunked other opinions on the cause of the accident. He said, "It is very unlikely to be the ring screws  (eye bolts). Usually, we add one or two nuts to secure the bolts." He also stated that it was unlikely to be the metal frame either. "If the system exploded, there would be dents and bursts. But the frame is still intact in this case."
What Others Say
What Mr. Shan said also aligns with other industry professionals interviewed by radio program 881 On a Clear Day of Commercial Radio.
Unnamed insiders said other than the three companies, Art Design, ITP, HHL, the event management MakerVille should also be accountable for the accident to various degrees. One said, "ITP being one of the two main contractors, should explain to the public whether they were responsible for the LED screen installation, or they only provided the LED screens."
Another interviewee shared his take, "HHL is responsible for the machinery in the entire concert, such as platform elevation. They should confirm whether it was HHL or ITP that did the final test and approval before the show."
Others also asked the main event organizers to clarify how they got the additional two days for the extended shows, "Did they make room by cutting  rehearsal time in half?"
Fittings Information