The Hong Kong Economic Journal (HKEJ) has abruptly cancelled the column of its former lead writer and veteran commentator Joseph Lian Yi-zheng in a business restructure and overhaul.
Lian's termination, which occurred as the September Legislative Council election approaches, has caused much discussion and indignation.
An assistant professor of journalism at Baptist University, To Yiu-ming, noticed that the HKEJ has driven away many columnists over the past few years, and the newspaper has been tightly controlled. Since media freedom keeps shrinking, some columnists have begun to write columns for the Chinese edition of Epoch Times in Hong Kong, To said.
To thinks the closure of Lian's column must have been under the influence of the Chinese regime.
He believes Lian's articles are an important asset for the HKEJ, and the removal of his column is unfavourable to the newspaper's business, reputation, and experience; so the decision must have been made under political pressure.
He worries that the column of Lam Hang-chi, the founder of the newspaper, might be at risk as well.
Senior journalist Ching Cheong thinks axing Lian was not a smart decision. He said the HKEJ needs to compete with the Hong Kong Economic Times, and its price is also HK$1 more expensive than other newspapers. Its commentary columns are what makes it stand out, he believes.
Lian posted his last column in the HKEJ on Aug 1.
"I don't think freedom of speech is gone in Hong Kong," he stated. "Such freedom as a core value runs deep in our blood, and thus any plot to silence the people will ultimately be of no avail."
HKEJ founder Lam criticized the disrespectful way the current editor-in-chief handled the case in his column on Aug 2.
"No matter how unspeakable the real reason is or what kind of pressure the current chief editor is being faced with, the manner in which she turned away Dr Lian was utterly disrespectful and, to some extent, a disgrace to journalistic values," Lam wrote.
Veteran cartoonist Yuen Chow-tai, who publishes under the name Yat Muk, has announced his resignation from the HKEJ to support Lian. Yat Muk has been working for the newspaper for 28 years.
"This is no longer the HKEJ that I know," he said.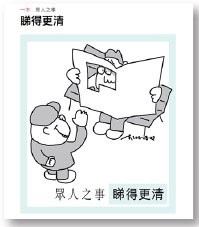 On Aug 2, Yat Muk issued his last comic sketch (pictured above).
"When there are more restrictions in the environment, and commentators need to be careful of what they can say, I can only choose to leave for my own freedom," he said.
Former HKEJ deputy editor Yau Ching-yuen was one of the key personnel who left the newspaper in a wave of resignations in 2013. He said the unexpected closure of Lian's column truly reflects the fact that press freedom "has gone beyond the bottom line, to the fourth stage of cancer."
He said that the Chinese Communist Party (CCP) has been using two types of weapons to achieve power: the gun and the pen. They have always tried to control media of high reputation.
"Lian has been known as Hong Kong's leading writer. Without him, the HKEJ only has Lam Hang-chi," said Yau.
"If they cannot keep Lam Hang-chi there, then they don't need to carry on the business. The situation is quite miserable now," Yau added.
Yau joined the HKEJ after he gained recognition from Lam. He remembers the good old days when Lam and his wife operated the newspaper in a literary style.
"Everyone could freely express his or her opinion, as long as it was valid and well-reasoned. It was a rational discussion," Yau recalled.
Alice Kwok

 Alice Kwok Yim-ming has served as editor-in-chief of the HKEJ since 2013. Since then, the newspaper has experienced several self-censorship incidents.
Quite a few columnists have been requested to rewrite, cut things out, and even cease publication. Edward Chin's 9-year column and current affairs commentator Lai Chak-fun's column were terminated.
When Kwok was the managing editor at Metro Broadcast, she was alleged to have been involved in media censorship: including the dismissal of local interview director Paul Cheung, the cold treatment of news about the anti-Tung Chee-hwa movement, reports about the persecuted spiritual discipline Falun Gong, and negative news of Metro's parent company, Cheung Kong Group.
Commentator: Space for freedom tightening
Lai Chak-fun's column was cancelled by HKEJ on Jan 1 this year also in the name of restructuring. He believes that he was terminated because he touched the CCP's sensitive red tape in his column by mentioning the downfall of senior CCP officials such as Fang Fang, Song Lin, and Guo Boxiong, as well as former military official Xu Caihou's money-laundering in Hong Kong.
Lai thinks Lian has always been a critic of Hong Kong leader Leung Chun-ying. If Leung was not directly involved in the incident, he must have put some pressure on the newspaper, Lai said.
Lai now publishes his column articles in the Chinese version of Epoch Times. The column name is Political Economics, the same name as his column in HKEJ before.
He stated that he has served as a columnist in a number of newspapers, but all of them are tightening the space for freedom. Epoch Times gives him freedom, so he chose Epoch Times.
Edward Chin, a senior hedge fund manager and a former columnist at the HKEJ, was suspended in 2014 prior to the democratic Umbrella Movement. Now he also has a column at Epoch Times.
In an interview with Standnews posted on Aug 5, Lian told the Internet media that he would like to have a rest first, but he promised that readers will see him again very soon.
Translated by Susan Wang. Edited by Sally Appert.