After Hong Kong leader Carrie Lam announced at a July 9 press conference that a controversial extradition bill was effectively "dead" but refused to withdraw it, local lawmakers, civil groups, and international organizations criticized her rejection of protesters' demands.
In a statement released after Lam's remarks, the Civil Human Rights Front (CHRF), the organizer behind three marches in the last month attended by millions of Hongkongers, said it would continue to hold protests and rallies, as Lam has again ignored the people's demands.

The group insisted that the term "dead" does not have any legal authority, and that only "withdrawal" had legal meaning.
"She has continued to prioritize her pride while refusing to learn her lessons," the group said in a July 8 statement.
CHRF added that it would announce details of its upcoming protests soon.
U.K.-based human rights group Amnesty International said in a statement that Lam's "refusal to acknowledge the consequences of the fatal flaws" of the extradition bill continues to "inflame the situation" in Hong Kong. It urged Lam to formally withdraw the bill.
Fernando Cheung, a pro-democracy lawmaker who has been aligned with the protesters, said Lam's response was insufficient.
"She still doesn't get it. If she doesn't establish an independent inquiry commission, it's the death of her administration, not just the bill. The crisis cannot be settled without some heads rolling," he told Reuters.

Hong Kong's Democratic Party Chairman Wu Chi-wai held a press conference following Lam's, saying that he was "very disappointed" with her remarks, which he said did not address a key problem: people's lack of trust in the government.
"[It] made no attempt to listen to people's opinions. This has only eliminated the possibility for the current political storm to calm down," Wu said.
Hong Kong's pro-democracy party Demosistō also issued a statement, saying that Lam should just say the word "withdraw" to show the people that she is not playing with words and that there is no chance of the bill being revived.
It also called on the city government to observe universal suffrage so that people can directly elect members of the LegCo and the chief executive—the position now held by Lam.
Currently, the chief executive is voted in by an electoral committee comprised of mostly pro-Beijing elites, while only a portion of lawmakers in the legislature are directly elected by constituents in a geographical area.
Other Demands
In recent weeks, protesters have revised their demands to include the enactment of universal suffrage.
That goal was what sparked 2014's Umbrella Movement protests, when Hongkongers occupied the city's main thoroughfares for 79 days to call for electoral reform.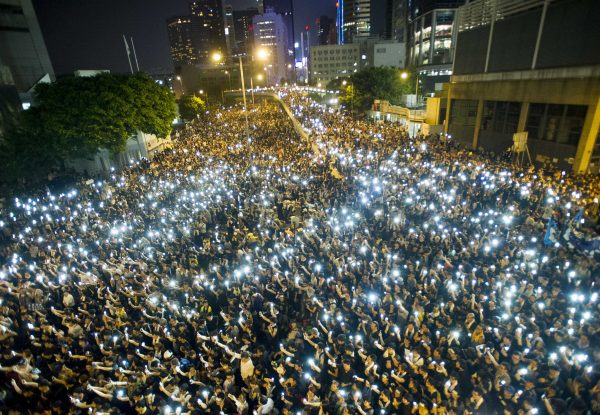 Amid the recent extradition bill crisis, many have said that a lack of true representation in the legislature and government was the crux of the issue.
"Even if the extradition bill is 'dead' today, there could be similar evil laws tomorrow, and millions of us would again take to the streets," CHRF said in its July 8 statement.
"Therefore, without genuine universal suffrage, the government would never respond to the public's demands or shoulder responsibilities that it is supposed to for the people."
Regarding the protester demand that those arrested in recent clashes with police not be prosecuted, Lam said that "an amnesty at this stage … is unacceptable" and would be against the law.
The most violent clashes occurred on June 12, when police fired pepper spray, tear gas, rubber bullets, and bean bags in an attempt to remove protesters who had gathered in the government headquarters complex.
According to Hong Kong newspaper Apple Daily, between June 12 to July 8, at least 67 have been arrested in relation to the extradition bill protests.

Lam also reiterated that the government would not set up an independent investigative committee as protesters have demanded, because the city's internal police watchdog, the Independent Police Complaints Council (IPCC), has already promised to conduct a fact-finding study on recent protests and submit a report within six months to inform the public.
But CHRF said it would continue to demand an independent inquiry, arguing that it could exercise investigative powers that the IPCC would not, including the ability to summon witnesses. The group also said it believed the IPCC was not fully impartial, as pro-government figures dominate the agency.
In its statement, Amnesty International also called for "an independent, impartial, effective, and prompt investigation" into police actions on June 12. The group had earlier conducted an analysis of footage from the scene, concluding that the police use of force was "unlawful."
This article previously misstated where Amnesty International is based. The Epoch Times regrets the error.