Hong Kong leader Carrie Lam said it was too early to say if the ban on facial masks has been effective, in a press conference on Oct. 8, as protests in the embattled city show no signs of slowing down.
"It is too early to say that the anti-mask is not effective," Lam said, before adding, "It would take time for it to be effectively implemented."
She called on Hongkongers to "observe the law."
On Oct. 4, Lam invoked a colonial-era law, the Emergency Regulations Ordinance, which empowers the city's chief executive to bypass the Legislative Council (LegCo) to implement laws and regulations during "occasions of emergency or public danger."
After invoking the emergency ordinance, Lam implemented an anti-mask law, which would see anyone found guilty of covering up their face in an unlawful assembly or public gathering of more than 50 people potentially face one year in prison. The law went into effect at midnight on Oct. 4.
Lam added that she currently did not have any plan to put in place further measures using the emergency law, although "if the situations become so bad, then no option could be ruled out."
Speaking to local media on Oct. 7, Ip Kwok-him, a non-official member of Hong Kong's Executive Council—a cabinet-like organization that advises the city leader—said the city government could ban the Internet in an effort to stop the protests, though he did not provide more details.
Over the past weekend, tens of thousands of protesters, many defying the mask ban, took to the streets to voice their anger against the anti-mask law while reiterating their calls for the government to fulfil demands for greater democracy, including universal suffrage.
During the press conference, Lam told a reporter that she has not ruled out calling on Beijing for assistance, though she and her team were committed to "restore order and calm" through Hong Kong's "legal and political instruments," as well as through her dialogue sessions out in the community.
There have long been speculations that Beijing would deploy its armed forces to quash the Hong Kong protests. The Chinese Communist Party has forces stationed at the People's Liberation Army Hong Kong Garrison located in Central and in the nearby mainland city of Shenzhen.
U.S. officials have repeatedly voiced concerns about any Chinese military intervention in Hong Kong. On Oct. 7, President Donald Trump, while speaking to the press following the signing of the U.S.-Japan Trade Agreement, warned China of consequence for the ongoing Sino-U.S. trade talks if Beijing doesn't adopt a "humane solution" to the protests.
"If anything happened bad, I think that would be very bad for the negotiation," Trump said according to a White House press release.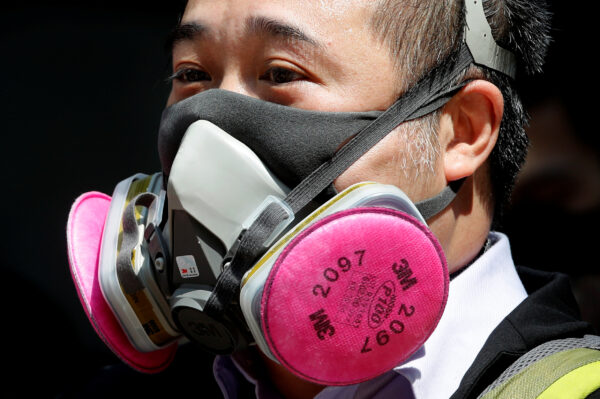 Lam reiterated her rationale behind invoking the anti-mask law, saying that it has a "deterrence effect" on people, particularly for youngsters to stay away from "political" and "violent activities."
Beijing and Lam's government have repeatedly labeled Hong Kong's protesters as "rioters," while voicing support for the Hong Kong police, who have fired tear gas, bean bag rounds, and rubber bullets, at times indiscriminately, to disperse protesters. International rights organizations have criticized the police for their excessively violent actions.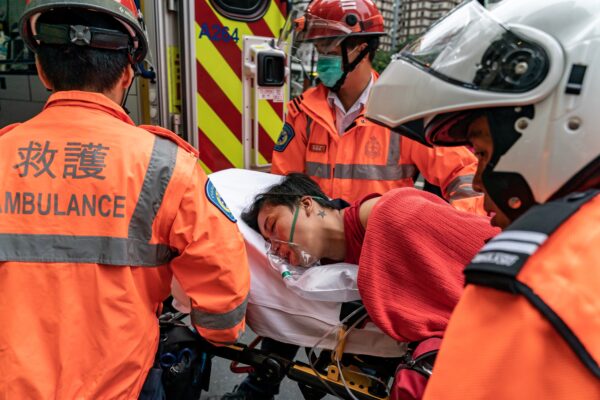 Exemptions Unclear as Law Faces Court Challenge
When asked by a reporter about an incident over the weekend when police forcibly removed journalists' facial masks, Lam said that her government would continue to study how to strike a balance between law enforcement and safeguarding the rights of certain professions exempt from the law.
Hong Kong's Secretary for Security John Lee, speaking at a press conference on Oct. 4 to introduce the anti-mask law, had said that reporters were exempt from the anti-mask law.
People with health reasons and those wearing a mask for religious reasons are also exempt, according to a document published on the security bureau's website.
Lam acknowledged that the anti-mask law was facing challenges in the local court during the press conference, but said the law was "valid" for the time being.
A judicial review of the constitutionality of the anti-mask rule is scheduled for the second half of this month, after Hong Kong's High Court refused to issue an injunction against the law after a plea from 24 pro-democracy lawmakers.
When asked about a comment by Hong Kong's last governor, Chris Patten, who stated that Lam must be "crazy" to implement the anti-mask law, Lam called on foreign governments and foreign politicians to look at what's happening in Hong Kong "objectively" and not make any "irresponsible comments."
"She would have to be crazy to be making these decisions on her own without being pressured into them. The face mask business, absolutely madness," Patten told UK-based Sky News on Oct. 7.
Patten added: "I fear for the future, unless Carrie Lam actually intervenes and understands the importance of dialogue."
Lam said she did not meet with any Chinese central government officials on her recent trip to Beijing on communist China's National Day when asked if she met with Chinese leader Xi Jinping.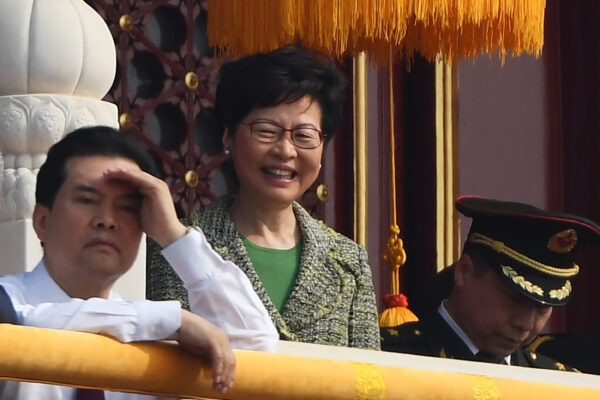 Also on Oct. 8, about 150 students from Cheung Chuk Shan College in North Point, all wearing facial masks, took to the streets from a metro station near the school to voice support for two schoolmates who they said had been recently arrested, according to local media RTHK.
In the afternoon on Oct. 8, 26 protesters are scheduled to appear in West Kowloon Magistrates' Courts, on charges of taking part in a riot, according to RTHK.
Among these defendants, 14 are also charged with violating the anti-mask law. They were all arrested in Wan Chai on Oct. 6.
Two more protesters, including an 18-year-old college student, were charged with violating the anti-mask law on Oct. 7.