Hong Kong leader Carrie Lam has reiterated her support for local police in her latest public appearance, while adding that her dialogue sessions with the community begin next week.
In a press conference on Sept. 17, Lam said that accusations that Hong Kong police were targeting young pro-democracy protesters for arrest was "unfounded and unfair."
She denied speculation that police had double standards for protesters, saying that her government condemned all forms of violence.
Men wearing white shirts and pro-democracy protesters clashed at several Hong Kong metro stations on Sept. 15 after thousands of protesters marched peacefully in yet another rally against Communist Party influence in Hong Kong from Causeway Bay to Central, despite a police ban.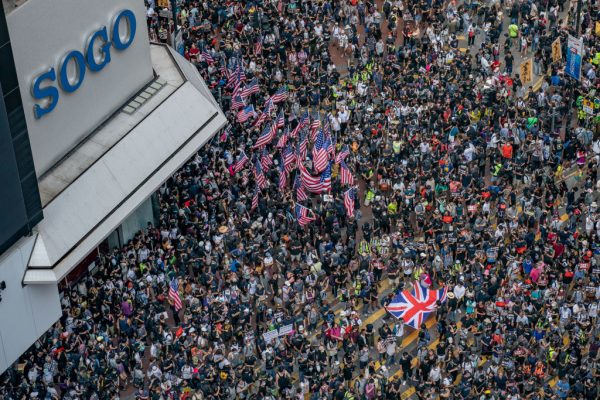 In one incident at Fortress Hill metro station, the police did not arrest men in white shirts who were attacking protesters. Instead, they arrested a young person who had been beaten, according to online footage. Other similar incidents of police showing leniency toward white-shirt attackers were reported that night.
Pro-democracy lawmakers held a press conference on Sept. 16, slamming the police for double standards, according to Hong Kong Free Press. In its daily briefing the same day, police denied selectively targeting protesters and said that they arrested 29 people in North Point on Sept. 15, including people with different political views.
Aside from fending off the public's concerns of discriminatory treatment by police, Lam defended her planned dialogue sessions with people from "all walks of life," saying that they were not a "gimmick," and that the public could sign up for the first session next week. The meeting will accommodate up to 200 people and is open to the media.
She said the exact arrangements of the session will be announced later.
Lam first proposed her platform of dialogue on Aug. 20 as a way to reach out to the public and quell the dissatisfaction fueling the ongoing protests, now in their 15th consecutive week.
Protesters continue to call for the city government to fulfill their five demands.
Lam said that she has already responded by withdrawing the extradition bill. She said that the protesters' four remaining demands, such as dropping all charges against arrested protesters, would be in violation of the core values of Hong Kong.
Though Lam withdrew the controversial bill on Sept. 4, protesters have continued to stage rallies and hold marches, demanding that the city government uphold the 1984 Sino-British Joint Declaration which ensures the Hong Kong people's autonomy and freedoms until 2047 or later. In addition, protesters also want the city government to set up an independent inquiry to investigate instances of police violence against protesters.
On Sept. 16, Hong Kong's Civic Party lawmaker Tanya Chan, while speaking at the United Nations Human Rights Council in Geneva, said: "Hong Kong is on the verge of a humanitarian crisis, as police brutality against supporters of the democratic movement escalates."
She said that police have fired more than 2,000 tear gas canisters, and that "there is no sign the police will exercise restraint."
Chan called on the U.N. High Commissioner for Human Rights Michelle Bachelet to convene an urgent session and establish a commission of inquiry.
Also on Sept. 17, about 50 members of Hong Kong's Democracy Party staged a rally outside of the police headquarters in Wan Chai, announcing the establishment of a task force within the party to travel to different countries to urge governments to sanction the Hong Kong police force.
Lam is also set to hold a two-hour dialogue with all of the city's district councilors on Sept. 18, although at the time of writing, the Democracy Party, Civic Party, and pro-democracy political group Neighborhood and Worker's Service Center said they will not take part in it.