HONG KONG—The teenage face of Hong Kong's democracy protests turned himself in Friday but was released by police, who have vowed to crack down on leaders of the street occupation that blocked traffic in the Chinese financial hub for months.
Joshua Wong, 18, and three other members of his Scholarism group were told by police that they were being investigated for taking part in, organizing and inciting an unauthorized assembly. But they were released without charge after refusing to be bound by police bail.
They're among a number of activists and pro-democracy lawmakers who have been told to go to police to help with the investigation into street protests that authorities declared illegal.
Wong had said he wasn't nervous and was prepared to be arrested, and flashed a victory sign to supporters as he entered police headquarters.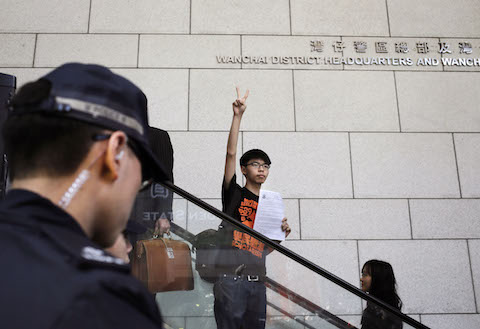 He vowed that there would be further "Umbrella Movement" protests to come and said any arrests "would just motivate more of the secondary school or university students to come to the street and join the action."
Wong and the three other Scholarism members— Agnes Chow, Oscar Lai and Derek Lam — said on social media that during questioning police played video clips found online of them. But Wong told reporters via instant messaging that he refused to answer questions so the police did not have any evidence to charge him, although they made him sign a form acknowledging that investigations would continue and he could be charged later.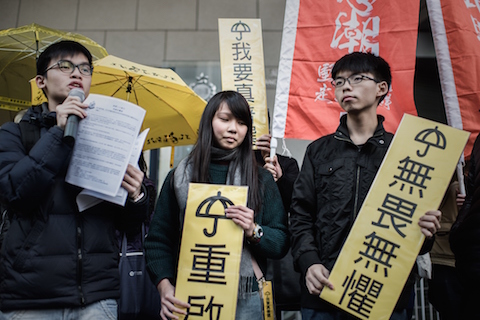 The student-led protesters shut down streets in three areas of the southern Chinese financial hub last fall to demand greater electoral freedom from the Hong Kong government than Beijing is willing to grant. The movement and its youthful leaders gained an initial surge in public support when police unleashed dozens of tear gas rounds against protesters that caught the world's attention. Some protesters used umbrellas to protect themselves, giving the movement its nickname.
But the protests gradually fizzled out as the government ignored activists' calls for the government to drop the Chinese government's requirement that all candidates in a 2017 inaugural election for the territory's top leader be screened by a Beijing-friendly panel.
After police cleared the last protest camp in mid-December, they promised to investigate and arrest the "principal instigators" within three months.
Hong Kong's unpopular Beijing-backed leader Leung Chun-ying warned in a speech earlier this week that the city could "degenerate into anarchy" if democratic development didn't follow the law.
From The Associated Press.