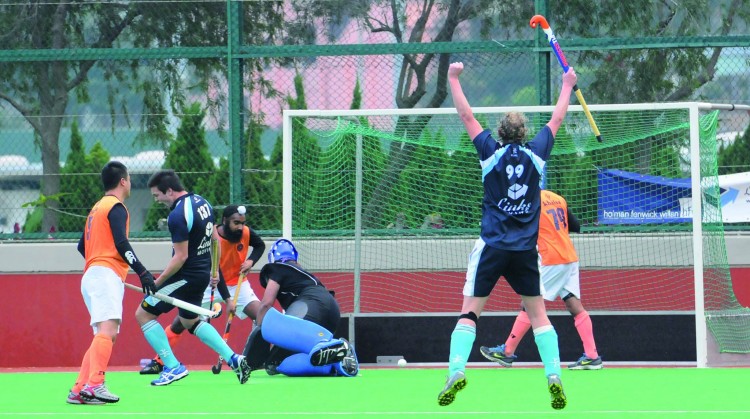 Hong Kong Football Club is in a perfect position to take out the titles in both the men's and women's Hong Kong Hockey Association Premier Divisions. Nevertheless, it looks like being a nail biting end to the season.
Men's
The much awaited men's top of the table clash between HKFC-A and Khalsa-A was, as expected, "match of the day". Playing with home ground advantage, HKFC-A won the top of the table battle against Khalsa-A, 3 goals to 1, on Sunday Feb 5. 
Putting them five points clear on 30 points with five matches to go in the season, Charles Poulton, Football Club's hockey section Chairman, said: "It's ours to lose."
Poulton was obviously delighted with his A team's performance.
"Club did their usual thing. We took our chances. One lucky short corner and a nice goal from open play and a good deflection in the second half," Poulton told The Epoch Times post-match.
About Khalsa's performance and the overall result he said: "I have seen Khalsa play better, but Club made it hard for themselves towards the end and we failed to hold onto the ball. Very happy to see the boys do well, it's put us in a nice position.
"But, there are no easy games in this league and we still have to play teams that can beat us. Pakistan [who defeated Shaheen-A, 3-1] are a big threat and we have lost to KCC already," said Poulton.
HKFC-A started in sparkling form and scored their first goal after 20 minutes to the delight of their local supporters. Khalsa seemed to be a bit off their best. They have been playing such superb hockey all season and the ease with which Club scored their first goal was a little unexpected.
But HKFC-A were fired up and set the pace. Their second goal came on 25 minutes from a well executed short corner. The second half was more even, but HKFC-A scored a third goal on 42 minutes. To their credit, Khalsa-A did manage to get a goal back towards the end of the mach.
HKFC-A have played one more match than second-placed Khalsa and have only four more matches left to play. If HKFC-A win their remaining matches, the title will be theirs. However, should the leaders lose a match, Khalsa-A – or even KCC-A who won against SSSC-A on Sunday 3-2 – could snatch the title. 
What is even more intriguing is that both HKFC-A and Khalsa each play KCC-A before the end of the season. Should KCC win those clashes it could put them in a winning position. 
Women's
In the women's title race, HKFC-A are three points clear of KCC-A (31 to 28) and in a strong position with a game in hand. But, should fortunes swing in KCC's way in the next few weeks, the last match could decide the title.
HKFC-A have four more games to play and KCC-A, the only team that can catch them, have three to play. However, as with the men, HKFC-A play KCC-A in the closing matches – in fact it's the last game of the season.
Because HKFC-A currently have a better goal difference (56 to 42), KCC-A would need some big wins, while also relying on HKFC to drop one match, to enter that final clash with a chance of snatching the title.