Hong Kong Ferry Collision Kills 38, Police Arrest 7 Crew
October 3, 2012 12:34 am Last Updated: October 1, 2015 12:12 pm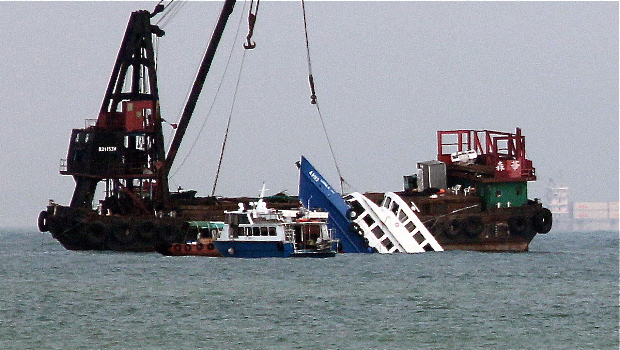 Thirty-eight people have been reported dead as a result of Monday night's boat collision near Hong Kong. Police on Tuesday arrested seven crewmembers.
The Lamma IV, a vessel owned by Hong Kong Electric Company, carrying over 100 staff members and their families, was bound for Victoria Harbor at 8:20 p.m. on Oct. 1 to watch the fireworks for China's National Day and Mid-Autumn Festival.
About five minutes into the journey, as the boat was cruising on the waters off Yung Shue Wan and Pak Kok Village near Lamma Island, it was hit by the Sea Smooth, a high-speed ferryboat of Hong Kong and Kowloon Ferry Holdings Ltd.
Within two minutes of the collision, the Lemma IV sank, its bow partially visible, and all 121 passengers plus three crewmembers were flushed into the sea, with no time to put on lifejackets, according to a report by Hong Kong Fenghuang Satellite Television (wenxuecity.com).
The ferryboat, however, did not stop to rescue the victims, the report said, but nearby ships came to their aid and reported the accident to police.
Hong Kong police then sent out 21 boats and two helicopters to assist in the rescue, Chinese state-run media said.
As of Tuesday, the death toll was reported at 38; 28 were confirmed dead at the scene, eight died at hospitals, and two more bodies were found Tuesday.
A Central News Agency report said that Lai Tungk-wok, Hong Kong's security chief, announced the arrest of six crew members, three from each of the two ships involved in the collision, on suspicion of endangering passengers. Another arrest was made later on, according to the Associated Press (AP).
This has been the deadliest accident involving a ferry in Hong Kong since 1971, when 88 people died after a Hong Kong-Macau ferry boat sank during a typhoon, AP said.
The Epoch Times publishes in 35 countries and in 19 languages. Subscribe to our e-newsletter.