Prominent Hong Kong democracy activist Nathan Law announced on July 2 that he has left the city after testifying to a U.S. congressional hearing about a strict national security law imposed by China.
His departure comes two days after the national security law took effect following ceremonial votes by China's rubber-stamp legislature, the National People's Congress (NPC).
The law, which China has deemed necessary in order prevent pro-democracy protests such as those seen in Hong Kong during much of 2019, gives Beijing sweeping power to target individuals for any acts of secession, subversion, terrorism, and collusion with foreign forces, with maximum penalties of life imprisonment.
"No Hong Konger is under the illusion that Beijing has any intention to respect our basic rights and honor its promises to us. Mass arrests have already begun on the first day of the National Security Law's implementation," Law wrote in the first of several Twitter posts announcing his departure.
"At the House Foreign Affairs Committee hearing yesterday, I spoke about the regime's lawlessness in hopes that the world would not forget about what's going on in Hong Kong. Of course, I knew my speech and appearance would put my own safety in serious jeopardy given the circumstances," he continued.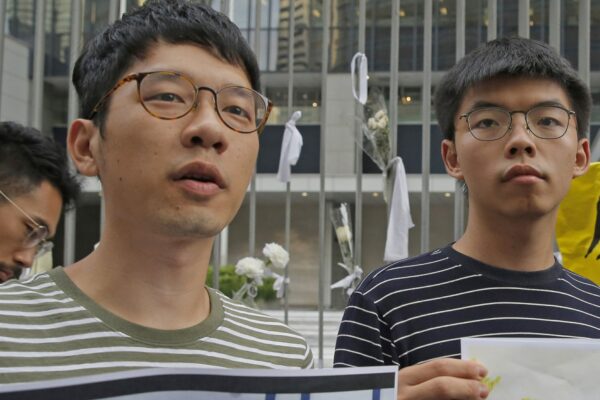 Law urged Hong Kongers to continue defending the "international front" adding that he had chosen to remain vocal about the threat of Chinese authoritarian expansion by testifying before the U.S. Congress, thus jeopardizing his own safety.
"So I bade my city farewell," he said. "As the plane took off the runway, I gazed down at the skyline I love so much for one last time. Should I have the fortune to ever return, I hope to still remain as I am: the same young man with these same beliefs. Glory to Hong Kong."
The 26-year-old, who last week resigned from his role as a founder member of Demosisto, a pro-democracy party in Hong Kong, did not disclose his new location.
Just hours after the national security law came into effect in Hong Kong, mass protests broke out throughout Hong Kong in defiance of a police ban on marching.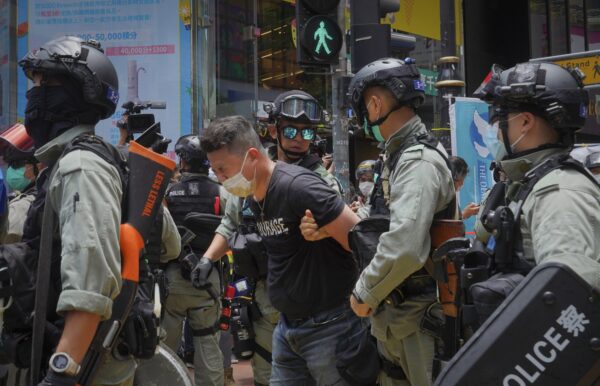 The Hong Kong government said in a statement Thursday night that popular protest slogan "Liberate Hong Kong, the revolution of our times" connotes a call for Hong Kong's independence or its separation from China, meaning those using it or displaying it on flags or signs could be in violation of the new law.
Local police arrested roughly 370 people on Wednesday, and fired pepper spray, tear gas, and water cannons at large crowds of people gathered at the area of Causeway Bay where the march was due to start. Ten of those arrested were detained on suspicion of violating the national security law.
Despite the mass protests, Hong Kong leader Carrie Lam at a press conference on Wednesday argued that the new law "has perfected" the framework of "one country, two systems," and branded it a turning point to bring order back to the region.
The Associated Press contributed to this report