Hong Kong Bishop Admonishes Chinese Communist Party for Disrespecing Pope
March 11, 2006 12:00 am Last Updated: March 11, 2006 12:00 am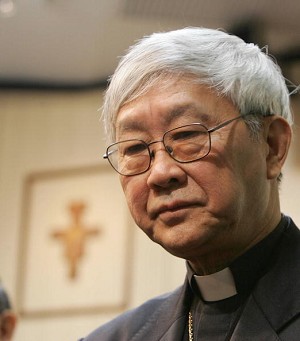 Hong Kong's newly appointed cardinal Bishop, Joseph Zen Ze Kiun, released a written statement on Thursday in response to earlier criticism made by Liu Bainian – Vice Chairman of the Chinese Catholic Patriotic Association, that Pope Benedict XVI is opposing China. Liu Bainian criticized the Pope's election of Joseph Zen as a move to challenge Beijing, just as deceased Pope John Paul II challenged the former Polish Communist Party. Joseph Zen admonished that these words are an exaggeration that shows extreme disrespect for the present Pope Benedict XVI.
Joseph Zen emphasized that Sino-Vatican ties are a political matter but the Vatican has no political motives and the Pope only wishes for true religious freedom.
In response to Liu Bainian's criticism of his anti-communist stand, Joseph Zen expressed that it is expected the Catholics do not believe in the Communist ideology because they are atheist.
Liu Bainian expressed his strong views on Wednesday during an interview with Reuters. His words surpassed in force comments made by China's Ministry of Foreign Affairs.
City University of Hong Kong Political Studies Lecturing Professor Zheng Yushuo thinks this is a two-pronged policy often used by the Chinese government. On one hand China hopes to establish good ties with the Vatican, yet on the other hand it is wary of the impact Joseph Zen's words will have on the Party's rule.
In Professor Zheng's opinion, because Cardinal Zen has publicly expressed his intention to persist in criticizing the rule of the Communist Party and Special Administrative Regions, Chinese authorities will definitely retaliate with some warnings. The Chinese Communist Party has always been wary of religions becoming a threat to their political rule.