Hong Kong Bird Reserve a Sitting Duck for Chinese Pollution
February 27, 2007 12:00 am Last Updated: February 27, 2007 12:00 am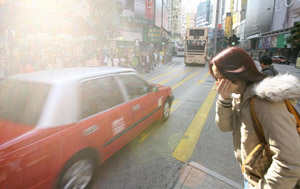 HONG KONG—An important nature reserve for migratory birds in Hong Kong is being increasingly polluted by industrial and organic waste flushed down from southern China, a leading green group said on Tuesday.
"The kind of pollution problems we're getting at Mai Po is a common one, right throughout China where you've got this very rapid urbanisation," said Lew Young, manager of the WWF-run Mai Po nature reserve, on the north-western tip of Hong Kong, a stone's throw from the Chinese border city of Shenzhen.
Mai Po and its lush wetlands straddle Shenzhen and Hong Kong and have for decades been an important wintering point for tens of thousands of waterbirds, including critically endangered species such as the black-face spoonbill.
"It's unfortunate that we're stuck in the middle of these very urban areas that will keep urbanising," said Young.
Untreated domestic sewage flushed into Deep Bay along storm drains, livestock waste from pig and chicken farms and industrial pollution from factories in the Pearl River Delta are disrupting the precarious ecological balance in Mai Po.
In 1996, a rumoured breakdown in a Chinese sewage treatment plant choked the bay with untreated effluent, turning Mai Po's mudflats black and sending dissolved oxygen levels close to zero, killing invertebrate species on which waterbirds depend.
"We noticed that all the mudskippers and crabs that are usually found on the mud-flat had completely disappeared," said Young. "Even now, 10 years later, numbers are still only half what they used to be," he added, saying the same disaster could happen again.
Bena Smith, another WWF conservationist at Mai Po said the pollution was reducing ecological diversity.
"We've lost the specialist species and gone over to pollution-tolerant generalist species," said Smith, citing a sharp drop in the numbers of Saunder's Gull since 1996.
While statistics on the total discharge of untreated Chinese waste into Mai Po's surrounding waters are hard to come by, Hong Kong government figures have shown a steady rise in levels of E.coli bacteria, and inorganic nitrogen over the past decade.
"The problem is very serious," said Ma Jun, a leading Chinese environmental campaigner and water pollution expert, who said 52 billion tonnes of mostly untreated waste were discharged into China's rivers each year.
"In the coastal seas and the estuary, the quality of coastal sea water is below category four, meaning the seawater is good for no use," he added.