Hong Kong Attorney He Junren Fasts to Support Attorney Gao Zhisheng
February 8, 2006 12:00 am Last Updated: February 8, 2006 12:00 am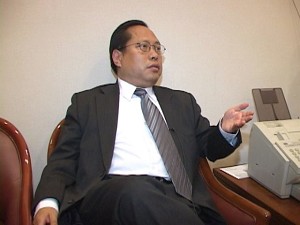 HONG KONG – Hong Kong's Relay Hunger Strike for Human Rights Support Group (RHSHRSG) declared its support for renowned Chinese human rights attorney Gao Zhisheng, by sponsoring a relay hunger strike to protest the Chinese Communist Party's persecution of human rights activists. Legislative congressman and attorney He Junren is fasting for 20 to 30 hours today to show support and respect for Gao. President of the Hong Kong branch of the China Alliance Mr. Si Tuhua said the alliance will discuss mobilizing the people to participate in the fast.
He Junren said that he is participating in the hunger strike to show his respect for Gao Zhisheng and respond to this meaningful act. Because attorney He has to work and does not have time to sit and formally fast, he is fasting for 24 hours today at a legislative council.
On February 6, Vice-Chairmen of the China Alliance in Hong Kong Wu Guoxiong and Zhuang Jiyang also joined the relay fast. They ended their hunger strike at noon of February 7, and both seemed pretty energetic. Wu Guoxiong said that there were many friends who came to visit, and many Chinese tourists voluntarily came to read the banner and display boards, then understood the truth. Wu Guoxiong was very happy to be able to participate in the hunger strike and promote China's move towards democracy.
On the second day of the fasting relay, two Hong Kong residents Zhou Sheng and Dong Ming joined the fast. In 1999, when appealing to end the persecution of Falun Gong, Ms. Zhou Sheng was beaten, arrested and strip searched. Ms. Zhou said that Gao Zhisheng wrote three times to Hu Jintao and Wen Jiabao in support of Falun Gong, and in response he was subjected to the CCP's rampant suppression, including a 85 day-long close–monitoring campaign and an attempt to assassinate him. When his life was threatened, the attention and support of people from all walks of life has thus become more important. Standing up and joining the cause is her unshirkable duty.
The CCP Has Lost Its Confidence to Rule
Prominent lawyer He Junren, who has been quietly but continuously paying attention to Gao Zhisheng's bitter experience, called Gao Zhisheng on February 6 for the first time and spoke with him for over 20 minutes. Attorney He said that he called Gao especially to express his admiration. When He Junren pointed out to Gao the pressure and pain he had brought upon himself Gao replied that those minor things were not even worth mentioning and that he would diligently continue to do so. He Junren described Gao as sincere, faithful, courageous, clear minded and firm in character.
He Junren said, "His work will not be done in isolation, no matter how big the information blockade is in mainland, it can't block all related news, and because of this, the CCP is extremely afraid."
He went on to say, "I feel that if a political power wants to use criminal means to suppress an attorney, then it is very sad and degenerate. If a political power has come to this point, then I believe it already lost not only the legality of control, but also the confidence to govern and rule."
Peaceful, Rational, and Non-violent Protest
He Junren said, "When these human rights lawyers are suffering such suppression, their sacrificing behavior will draw even more attention from society. The success of this movement lies in having civilized places all over the world support them. Consolidated support is the most important."
He continued, "Today I went on hunger strike for 20 to 30 hrs and there will be others who continuously join the relay hunger strike. Their fasting will also be published on the Internet. Then many millions around the world will support these activists with one mind. This Chinese communist regime must make a thorough self-examination, a thorough reformation, otherwise, it will become extinct."
Continue to Work on it with Perseverance Si Tuhua said, "To gather global support for the anti-persecution relay hunger strike is very meaningful. This will direct more people's attention to the small and weak social groups in China and focus on the human rights advocacy movement. "
He also said, "The human rights advocacy movement in today's China can be considered an extension of the democracy movement. If the rights activists can keep making progress, the civic consciousness of the Chinese people will be elevated and this will help push forward democracy in China, help end one party monopoly and help build a democratic China. "
Si Tuhua said that the rights advocacy movement has three effects:
1. It discloses the fact that Chinese communist regime disobeys laws and challenges human divine rights and it also discloses the corruption of government officials.
2. Because it is of immediate benefit to oneself, with immediate legitimate rights and interests to oneself, small and weak groups are easy to unite.
3. The awakening of their civic consciousness will strengthen the power of Chinese citizens, which will become a force in the future that will promote the democracy.
Si Tuhua urged, "I hope more and more people will respond. I hope more people, more small and weak groups can stand up to protect their own legitimate rights and interests. I also hope more people can provide them with help, so they can keep working diligently to allow the human rights advocacy movement to flourish."