Hong Kong Again Reach ICC World Twenty20 Qualifier in UAE
April 3, 2013 7:36 am Last Updated: April 4, 2013 2:27 am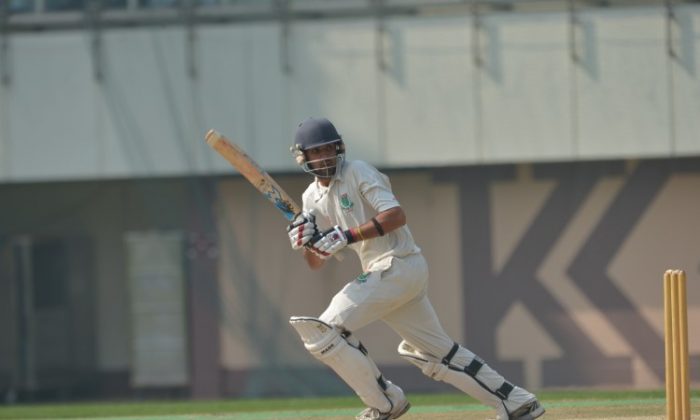 Hong Kong have qualified for the October's ICC World Twenty20 Qualifier in the UAE.
The performances of Hong Kong and Nepal in the ACC Twenty20 Cup 2013 group stage gives them both another crack at the ICC World Twenty20 Qualifier in UAE later this year. By reaching the Semi-final Hong Kong and Nepal qualify for the October's ICC World Twenty20 Qualifier in the UAE as the other two Semi-finalists Afghanistan (ODI place) and UAE (host nation) have already pre-qualified under other rules.
In the Semi-final although Nepal had a 6-wicket win in a close match with UAE, Hong Kong faltered against Afghanistan.
 Batting first, none of the recognised Hong Kong batsmen settled enough to get established at the crease, resulting in their lowest total of the series (109).
The run-rate was well controlled by the Afghanistan bowling attack, and three run-outs in the innings did not help. Afghanistan in reply reached the target in 17.1 overs, in just over an hour for the loss of three wickets.
Karan Shah picked up two wickets for 18 runs. Waqas Barkat was Hong Kong's highest run scorer with just 17.
In the group stage Hong Kong put in good performances to win all four of their matches beating Malaysia, Nepal, Maldives and Singapore to lead the group with eight points and moving them into the Semi-finals (April 2), but could not maintain the momentum in the Semi-final.
Paving the way for the victories in the group stage matches were good batting performances by Irfan Ahmed (87, 30, 16, 63), Waqas Barkat (5, 39, 109, 69*) and Nizakat Khan (8, 42*, 18, 41*). With the ball, Tanwir Afzal (2-23, 2-21, 3-21, 1-20), Irfan Ahmed (1-9, 0-21, 3-22, 1-20), Nadeem Ahmed (1-25, 3-18, 1-1, 1-25), Nizakat Khan (2-19, 0-21, -, 1-34), Karan Shah (-, 1-10, 2-0, 1-33). (* signifies Not out.)
The Hong Kong batting line-up has not been as solid as coach Charlie Burke might have liked right through the tournament. Good individual performances with the bat particularly by Irfan Ahmed and Waqas Khan pushed the team to success in the competition, but the lack of consistency and lean patches by some of the recognised batsman must be a worry.
However, the bowling attack generally worked well with all of the bowlers contributing good performance.
Hong Kong's 14-man squad for the ACC Twenty20 Cup 2013:
James Atkinson (Captain), Waqas Barkat (Vice Captain), Tanwir Afzal, Irfan Ahmed, Nadeem Ahmed, Babar Hayat, Mudassar Hussain, Aizaz Khan, Nizakat Khan, Courtney Kruger, Anshuman Rath, Karan Shah, Daljeet Singh and Manjinder Singh.
Reserves: Muhammad Khan, Waqas Khan, Li Kai Ming and Adil Mehmood.
Officials: Charlie Burke (Coach), Jawaid Iqbal (Assistant Coach), Christopher Pedra (Physiotherapist).