Hong Kong Activists Protest Harsh Sentence for Flag Burning
February 18, 2013 11:19 pm Last Updated: October 1, 2015 11:08 am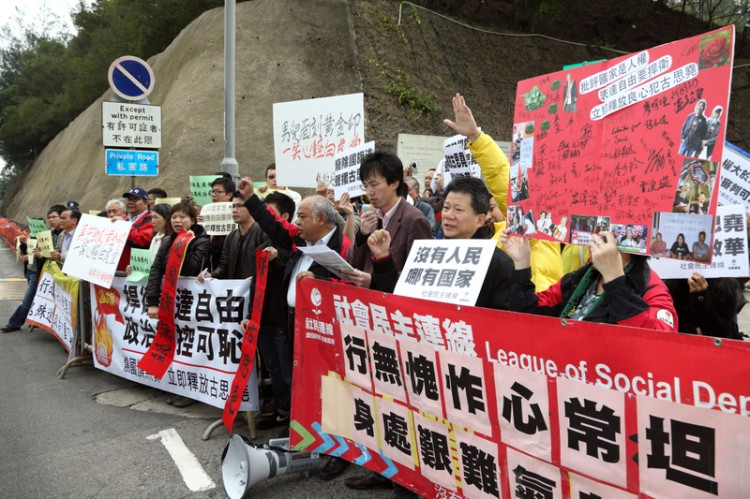 Human rights groups gathered outside Stanley Prison in Hong Kong on Feb. 17 to protest the nine-month sentence recently given to activist Sze Yiu Koo.
The protesters demanded Koo's release, and submitted a petition to Hong Kong Correctional Services with more than 50,000 signatures.
Koo was arrested in January for burning the flag of the People's Republic of China and voicing discontent over the alleged suicide of democracy activist Li Wangyang.
Koo also publicly accused the local Hong Kong administration of being under the control of the communist regime, through the latter's Liaison Office in Hong Kong.
Legislative Council Leung Kwok-hung announced that Koo has decided to appeal the unusually harsh sentence. The rights group Civil Human Rights Front expressed its determination to assist Koo's appeal. The activist groups maintain that Koo's long sentence is in fact political suppression of freedom of speech, and punishment for his criticism of the administration. 
Human Rights Front organizer Jackie Hung told The Epoch Times, "The appeal is not just for the penalty and sentencing at a personal level, but towards the entire prosecution system, and even the decision of the court. We foresee more political prosecutions in the future, and there will be more criticism of those political prosecutions from activist groups like us." 
Wong Hoyin, speaker for the Front, said that since the communist regime took over Hong Kong 16 years ago, the quality of life and human rights in Hong Kong have deteriorated. He urged all sectors of society to express solidarity to "oppose the suppression of dissent, and to defend our freedom of speech and expression," despite the political harassment.
Outspoken activist Avery Ng, deputy chair of the League of Social Democrats, called for the immediate abolition of the National Flag and the Regional Flag Act. "Human rights are above the regime, the people are higher than the nation, their rights to express and elect must not be deprived. We must immediately abolish the National Flag and the Regional Flag Act." 
Ng asserted that since Leung Chun-ying assumed the post of Chief Executive and President of the Executive Council of Hong Kong, he had instigated various forms of suppression and political prosecution to restrict demonstrations and protests, and to stifle journalists. Ng insisted that Leung Chun-ying and Andy Tsang, the current Commissioner of Police of Hong Kong, step down immediately.
Read the original Chinese article
The Epoch Times publishes in 35 countries and in 21 languages. Subscribe to our e-newsletter.