NEW YORK—Prominent Hong Kong activists Joshua Wong and Brian Leung appealed for the international community to "shine more spotlight" on the ongoing leaderless movement in their hometown that is now in its fourth consecutive month of protests.
At a Sept. 13 panel held at Columbia University, Wong and Leung shared their thoughts on the anti-extradition-bill protests that have since morphed into greater calls for free elections and an independent investigation into alleged police brutality against demonstrators.
The extradition bill proposed allowing the Chinese regime to transfer individuals to face trial in mainland China, where there is no rule of law. It drew widespread fears that the city's autonomy—as promised by Beijing after the territory returned to Chinese sovereignty in 1997—would be threatened.
Both are well aware of the risks they are running for confronting the Chinese regime's growing encroachment over the city's affairs. Wong has spent time in prison for being a student leader in the 2014 pro-democracy Umbrella Movement, when scores of Hongkongers staged a 79-day sit-in to call for universal suffrage in their city elections. The movement ended with none of the protesters' demands fulfilled by the city government. Wong was also recently arrested for participating in the extradition bill protests.
Brian Leung Kai-ping, currently a political science PhD student at the University of Washington, stormed into the Hong Kong legislature building along with other protesters on July 1, the anniversary of Hong Kong's handover from British to Chinese rule. He was the only one who took off his face mask and unveiled his identity that night, to deliver a manifesto about why the protesters chose to break into the building. Many protesters wear gas and face masks to protect themselves against the police's frequent firing of tear gas, and to conceal their identity for fear of reprisal.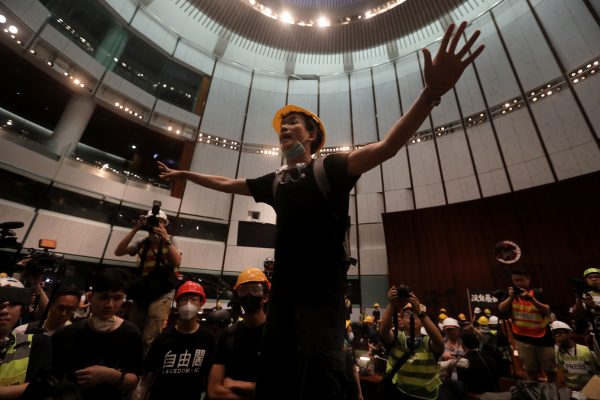 "People took the moment to storm into the legislature, which is supposedly to represent the people, I think this is a symbolic gesture to voice discontent of how little progress we have made in the past few decades in terms of democratization. To me, I share that kind of frustration and I agree with that kind of lack of institutionalization," Leung told The Epoch Times after the panel event.
With his identity publicized, Leung could be arrested if Hong Kong police decide to press charges over property damage; some have already been arrested for participating in the July 1 storming.
But both said they will press on despite the pressure, pointing to the many other unnamed protesters who are on the frontlines of this movement.
"Our movement will go forward until the day of democracy," Wong said during the panel. The city's leader is currently voted in by an electoral committee comprised of mostly pro-Beijing elites. The candidates are also handpicked by Beijing.
"Why we need to fight so hard is because our system is not democratic, and our leader produced in that system is not accountable to the people," Leung told The Epoch Times.
New Strategies
Unlike previous movements, there is no individual leadership during the extradition bill protests, which Leung said was a key factor to the movement's resiliency.
Wong said that protesters chose to adopt the decentralized approach for efficiency considerations, as it would be "hard to pick any single individual activist or politician to represent two million people." Wong was referring to the June 16 march that organizers estimated was attended by two million people.
Without a leader, it is more difficult for the government to hinder the movement by singling out an individual and arresting him or her. The vague terms in Hong Kong's criminal codes mean that authorities could give harsh sentences of up to ten years for "rioting."
Wong also shared that protesters have learned from the previous Umbrella Movement that he led. "During the Umbrella Movement when police fired tear gas, the only reaction of protesters is to leave that smoke-surrounded area," Wong said. "But now, activists just hold the tennis racket, and throw back the tear gas."
Leung added protesters are in for the long haul, because they know that "Beijing is very smart and very patient," he said. Chinese authorities who oversee Hong Kong affairs "wear you down, basically let your movement die down," he added.
Leung also noted that the protesters have consistently exercised deliberation to learn from past demonstrations and make better decisions.
"Democracy is more about an open-ended process that allows people to … come up with initiative and self-correct if the outcome is not what they want," Leung said. "It's not about getting the right outcome all the time."
Protesters have used the Telegram encrypted messaging app and LIHKG, a popular Reddit-like forum, to come up with ideas and vote on next steps.
As the city government ignored protesters' demands for months, some protesters chose to escalate their tactics, such as by occupying the city's international airport and disrupting traffic. But Leung said that protesters are careful not to cross the line, as they are aware of how their actions are perceived by the public. "Whenever Hong Kong protesters finish a certain march or protest or an airport occupation, they will evaluate their action: have we gone too far, how was the international reputation or reception about our action, is this justifiable?"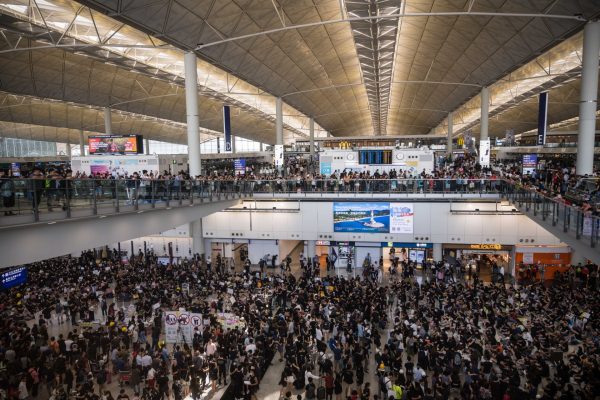 Countering a Draconian System
Beijing has begun to pressure companies in Hong Kong to take a stance against the protests. For example, the CEO of Hong Kong's flagship carrier Cathay Pacific Airways recently resigned after staff took part in airport protests. The company has since made public statements forbidding staff from participating in future protests.
Leung said that in an international financial hub like Hong Kong, there should not be such a climate of fear.
"China's political control … is going to diffuse worldwide if Hong Kong, being at the forefront, is not defending liberal traditions and institutions that we treasure," Leung said.
He added that as Beijing has increasingly encroached upon the city, Hong Kong youth have increasingly identified themselves as Hongkongers to draw a distinction from the Chinese communist-ruled mainland.
In this movement, protesters are bound by their common cause against Beijing's interference and "giving birth to a new identity," Leung said.
Wong said that protesters have also appealed to mainland Chinese citizens so they understand why Hongkongers are opposing China's authoritarian regime.
Throughout this "summer of discontent," protesters have passed out pamphlets in simplified Chinese to mainland tourists in shopping areas and railway stations, he said.
"Under the Great Firewall, political and information censorship, it's hard to seek all understanding," Wong said, referring to the false information and propaganda that Beijing has used to portray Hong Kong protesters as violent rioters.
Upon conclusion of the panel event, dozens of Chinese students in the audience stood up from their seats and began bursting out the Chinese national anthem while waving small China flags.
Eddie and Vincent, two Columbia students from mainland China who put on masks in solidarity with the Hong Kong protests, said that many of their fellow international students from China are stuck in their own echo chamber despite studying in a free Western society.
"The number of Chinese students is so large that they formed their own ghetto, immersing themselves in the world of WeChat, Toutiao, and Moments [a social networking function on WeChat]," where they only see the Chinese regime's propaganda, Vincent said.