Former First Lady and Secretary of State Hillary Clinton can be deposed for a lawsuit about her use of a private email server while she was in office, said a federal judge in a ruling on Monday.
District Court Judge Royce Lamberth granted a request to conservative watchdog organization Judicial Watch, authorizing the group to question Clinton and others about whether she carried out State Department business on a private email server. The organization for years has been seeking emails related to the deadly 2012 attack in Benghazi, Libya.
"Any further discovery should focus on whether she used a private server to evade [the Freedom of Information Act] and, as a corollary to that, what she understood about State's records management obligations," Lamberth wrote in his order.
Lamberth said that the recordkeeping "does not sufficiently explain Secretary Clinton's state of mind when she decided it would be an acceptable practice to set up and use a private server to conduct State Department business."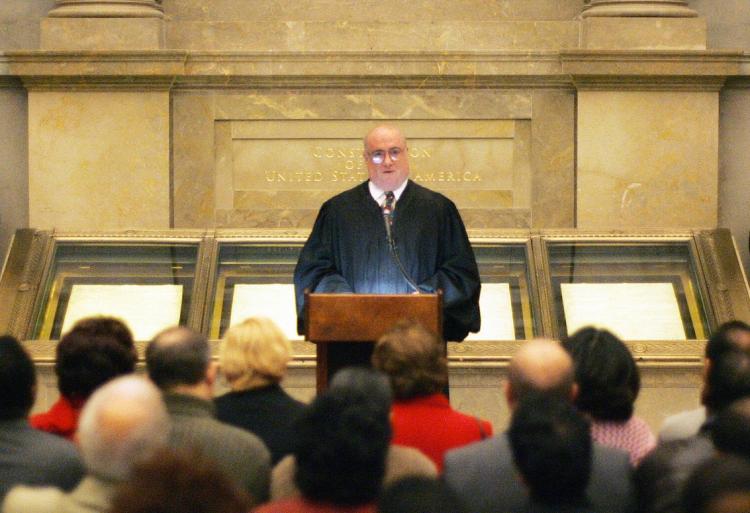 The judge, who was appointed by former President Ronald Reagan, noted that Clinton, who unsuccessfully ran for president in 2008 and 2016, responded to written questions in another case. But Lamberth said her responses were "incomplete, unhelpful, or cursory at best," while leaving "many more questions than answers."
Ultimately, the FBI investigated and recommended against criminal charges against Clinton just months before the 2016 election. The agency, however, did find dozens of messages in Clinton's account that officials said had highly classified information.
But "even years after the FBI investigation, the slow trickle of new emails has yet to be explained," Lamberth wrote.
Lamberth said Clinton still needs to answer several questions related to her emails: "How did she arrive at her belief that her private server emails would be preserved by normal State Department processes for email retention? Who told her that—if anyone—and when? Did she realize State was giving 'no records' response to FOIA [Freedom of Information Act] requests for her emails? If so, did she suspect that she had any obligation to disclose the existence of her private server to those at State handling the FOIA requests? … And why did she think that using a private server to conduct State Department business was permissible under the law in the first place?"

Former Clinton aide Cheryl Mills, a former chief of staff, can now be deposed under Lamberth's order. He also approved a subpoena to Google for any Clinton emails that it might have on its servers.
Lamberth placed a 75-day timetable on the collection of depositions and evidence related to the case.
On Monday, Judicial Watch chief Tim Fitton re-posted a Twitter video from last year about the case: "I want to know" if Clinton's "emails can be found." Fitton had explained that Judicial Watch's lawyers were able to discover more information about her email server after the FBI and Congress wasn't able to do so.
Clinton and Mills have not publicly issued comments about the latest ruling.