Hillary Clinton: $200,000 Speaking Event Slated in Dallas, Report Says
April 24, 2013 6:30 pm Last Updated: April 24, 2013 6:48 pm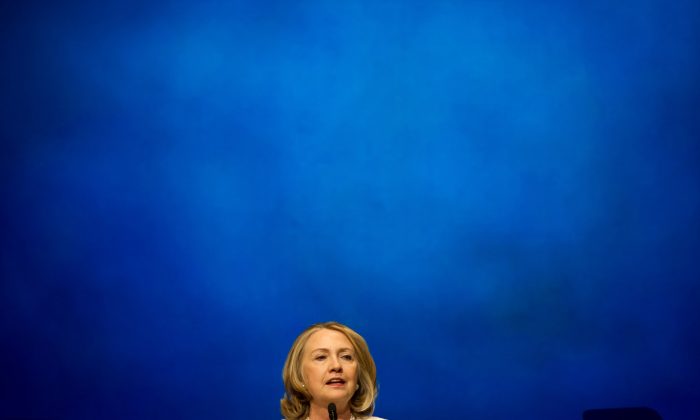 Hillary Clinton $200,000: Former First Lady and Secretary of State Hillary Clinton reportedly takes home $200,000 per speech, joining husband Bill Clinton as a very highly paid public speaker.
Politico reported Wednesday that Clinton will speak at the National Multi-Housing Council in Dallas. It was reported a few months ago that she is asking for $200,000 for each event. The website's Maggie Haberman wrote that her "next chapter … begins today."
"I think she'll be cautious in whatever she says, which has been her trademark for at least the last couple of decades, ever since she said, 'I'm not gonna stay home and bake cookies," Jeff Gerth, the co-author of "Her Way: The Hopes and Ambitions of Hillary Clinton," told Politico.
"This seems to me be a pretty straight and easy glide path into … the next chapter," said former Bill Clinton aide Joe Lockhart, adding that Clinton is a "very enviable person."
While she was secretary of state, Clinton only made around $186,000 per year.
The Daily Mail reported that Clinton is represented by the Harry Walker Agency, which in the past has secured lucrative speaking events politicians and other celebrities.
The Mail reported that Bill Clinton made more than $75 million between 2001 and 2010 doing speaking events. He made $10 million in 2010 alone.
A recent poll from Quinnipiac University found that Clinton, if she were not run in 2016, would trounce her Republican and Democrat challengers.
"Former Secretary of State Hillary Clinton would start a 2016 presidential campaign with enormous advantages," stated Peter A. Brown, the assistant director of the Quinnipiac University Polling Institute, according to a release in March.