It's almost Thanksgiving, one of my favorite holidays of the year. It's a time to gather together with family and friends and be thankful for the abundance we have in our lives. It's also the day that many of us forget about eating healthily and usually end up feeling stuffed and remorseful. So here are a couple of my favorite recipes that can help you stay on track and still feel like you have indulged.
Butternut and Root Vegetable Soup (serves 8 )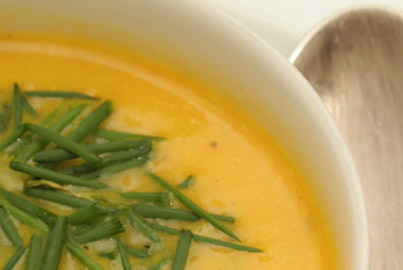 Ingredients 
1 large butternut peeled, seeded and cubed
3 carrots peeled and chopped
3 parsnips peeled and chopped
1 sweet potato peeled and chopped
1 large onion peeled and chopped
2 leeks cleaned and chopped (white parts only)
8 cups vegetable stock
2 cloves fresh garlic crushed
1 teaspoon ground thyme
salt and freshly ground pepper to taste
3 tablespoons olive oil
Directions
Heat oil in a large pot, add onion and garlic and stir-fry till the onion is soft.
Add remaining vegetables, thyme and salt and pepper and stir-fry for a few minutes.
Pour in the stock and bring to the boil. Reduce heat, cover and simmer till all the vegetables are soft (about 45 minutes).
Cool before pureeing.
Adjust seasonings and re-heat before serving.
Quinoa Stuffed Acorn Squash
(serves 2 as a full meal)
by Jenny Sansouci at HealthyCrush.com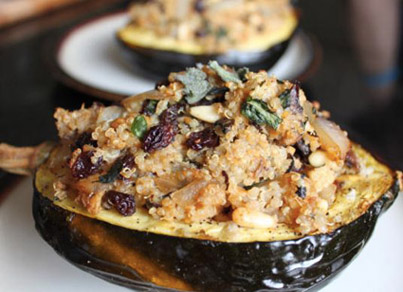 Ingredients
1 large acorn squash
1 tbsp olive oil
Sea salt & pepper to taste
1 cup quinoa
1/2 yellow onion
2 cloves garlic, chopped
1/2 cup chopped mushrooms (any variety)
1/2 package organic tempeh OR 1/2 cup chickpeas (your choice)
1/2 cup chopped fresh basil
1/3 cup raisins
1/3 cup pine nuts (substitute options: pumpkin seeds or sunflower seeds)
A few splashes of tamari (wheat-free soy sauce)
A sprinkle of cayenne
A sprinkling of sage on top
Directions
Pre-heat oven to 400. Cut your acorn squash in half length-wise and scoop out the seeds.
Brush the squash with olive oil and sprinkle with salt and pepper. Place in a lightly oiled baking dish and pop into the oven. Bake for 1 hour.
While squash is baking, prepare the stuffing!
Cook quinoa.
Add onions, mushrooms, garlic and tempeh or chickpeas to a pan with either a tiny bit of oil or just a little water and a few splashes of tamari, and a sprinkling of cayenne.
Cook until onions are translucent & all ingredients are starting to brown up a bit.
Add cooked quinoa to onion mixture in pan and mix thoroughly. Remove from heat and put into a large bowl.
Add raisins, basil and pine nuts to the quinoa mixture and stir well.
After 45 minutes, remove the squash from the oven and stuff with the stuffing. Cook another 15 minutes with stuffing inside.
When squash is very soft when pierced with a fork, and starts to turn a little golden brown around the edges, you're ready to eat! Top with sage.
Roasted Brussels Sprouts (serves 4)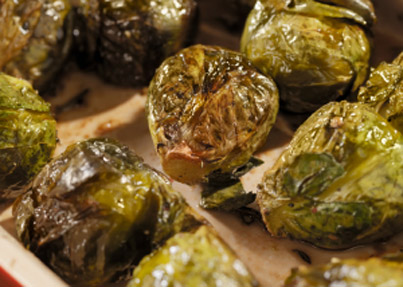 Ingredients
One pound of brussels sprouts
Extra virgin olive oil
Coarse sea salt
Directions
Pre heat oven to 400 degrees.
Cut Brussels sprouts in half.
Place on a baking sheet.
Toss with enough oil to evenly coat.
Sprinkle with sea salt and roast at 400 degrees for 30 – 40 minutes till browned and tender.
Smooth Criminal Chocolate Mousse Tarts
Recipe from Sarah Britton (mynewroots.blogspot.com)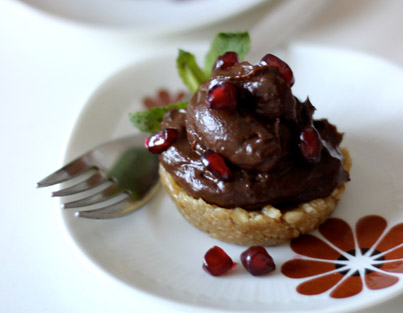 Maple Walnut Crust
Ingredients:
1 ½ cups organic walnuts
2 Tbsp. maple syrup
a pinch fine sea salt
Chocolate Avocado Mousse
Ingredients:
4 ripe avocados
10 very soft dates (soaked if necessary)
4 Tbsp. raw agave nectar
2 Tbsp. high-quality raw cacao powder (or cocoa powder if you don't have the other)
Directions:
Place walnuts in a food processor and pulse until chunky. Add the maple syrup and sea salt and pulse until the mixture is combined. (You can create a smoother crust by blending longer if you like, but in my experience leaving some chunks is a good idea to add contrast against the smooth chocolate pudding).
Get out a muffin pan. Scoop out a couple tablespoons of the walnut mixture at a time and press into the bottom of a muffin cup. Press firmly so that the walnut mixture is compact and holds together. You should be able to fill about 8 cups with the walnut crust. Refrigerate.
Finely chop the dates.
Cut open all the avocados and scoop them out into a clean food processor. Blend. Add the other ingredients and blend to incorporate.
Remove walnut crusts by running a knife around the perimeter to loosen, then lift out. If the crust breaks or becomes dented, simply press it back together once it's out the mold.
Spoon a large dollop of avocado mouse on top of the crust base. Garnish with whatever fruit you have on hand (fresh berries, banana, dates, pomegranate, pineapple…).
Serve to very lucky people.
This article was originally published on www.drfranklipman.com. Read the original here.
 *Image of "table decoration" via Shutterstock