Health Marketplace Contacting Minorities for Eligibility Service
September 16, 2013 6:03 am Last Updated: September 16, 2013 5:54 am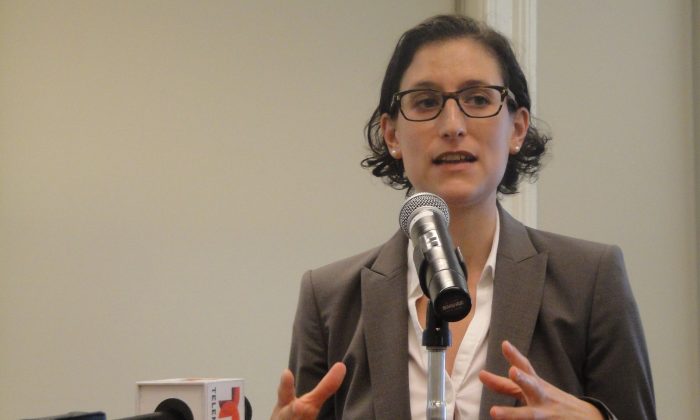 NEW YORK—To overcome language and cultural barriers, the state's health insurance marketplace has contracted community-based groups to contact minorities ahead of the mandatory insurance rollout Jan. 1, 2014.
The NY State of Health: The Official Health Plan Marketplace (NYSOH) is an agency that helps consumers determine the best health plans suited to their incomes and immigration status.
The NYSOH opens on Oct. 1. Its website's calculator will be the only place where people can check eligibility for federally subsidized health insurance and Medicaid.
Sara Rothstein, the director of policy and planning at NYSOH, said at an event in Manhattan on Sept. 13 that consumers would insert their income, family composition, and other information (for example whether someone in the household is pregnant or a student).
The calculator will show the level of federal subsidies people are eligible for. After selecting a health plan, people will be able to choose whether to deduct the subsidy from their monthly insurance bills, or get a rebate from the Internal Revenue Service (IRS) at the end of the year. Consumers may also apply a percentage of the rebate each month aiming for a rebate at the end of the year. This could help avoid owing money to the IRS at the end of the year, if their income increases.
The website will include a Spanish version next year, Rothstein said. The timeline for other languages has not been confirmed.
Undocumented Immigrants
People without Social Security numbers can get preapproved for Emergency Medicaid, and children who entered the country illegally under the age of 19 can also apply for Child Health Plus. But those immigrants are ineligible for any of the other health plans.
"If people don't have Social Security numbers, we won't send their information to the federal government," Rothstein said.
The services offered on the website will also be available over the phone, for people who don't have Internet access, or who cannot speak English.
The call center will operate in English, Spanish, Cantonese, Mandarin, Russian, and Haitian, and will be able to connect with translators for more than 170 other languages.
The call center will also be able to direct consumers to in-person assistance in their communities. Rothstein said NYSOH wants to make clear that no one should have to pay for that assistance, which includes trained people in community groups, some insurance brokers, and certified application counselors.
Enrolling Late Is Costly
If people do not enroll between Oct. 1, 2013, and Mar. 31, 2014, they will be ineligible for subsidized health plans until the next open enrollment period.
In the meantime, if people want to avoid a penalty from the IRS for not having insurance after Jan. 1, they will have to find insurance on the open market. Exceptions will be made for people who become pregnant, divorce, or go through other significant life events.
Overcoming Barriers in Migrant Communities
NYSOH has contracted 50 community organizations to provide in-person assistance to people primarily in minority communities.
Nora Chaves, the director of Community Health Advocates, a New York state designated consumer assistance program at the Community Service Society of New York, said people who illegally immigrated are going to need reassurance that applying for insurance will not put them at risk of deportation.
Noilyn Abesamis-Mendoza, health policy director at Coalition for Asian American Children & Families, said many of people in minority communities do not prioritize health, and were more concerned about sending money back home or paying for their children's schooling. In their home countries many were not familiar with health insurance.
She said members of some ethnic groups, such as Cambodians who had gone through trauma and war, were weary about anything "run by the government." To her, that highlighted the need for people in those communities to spread the information on the government's behalf.
The cost of premiums can change once a year for individuals and families, and quarterly for small businesses with less than 50 employees. If people want to quit a plan, individuals and families must give a 30-day notice, and small businesses can only drop a plan once a year.
The IRS will start to assess penalties for being uninsured in April 2015 for the 2014 tax year. The fine is complicated to calculate "because of the decision tree involved," Rothstein said, but is likely to be 1 percent of income, or $95, whichever is higher, in the first year, increasing to 2.5 percent of income or $695 in the second year.
People who receive employer-sponsored insurance can shop in the marketplace for a better rate if the premiums they would pay are higher than 9.5 percent of their income.