Health Department Objects to Restaurant Grading Bill
September 23, 2013 6:30 am Last Updated: September 23, 2013 10:33 pm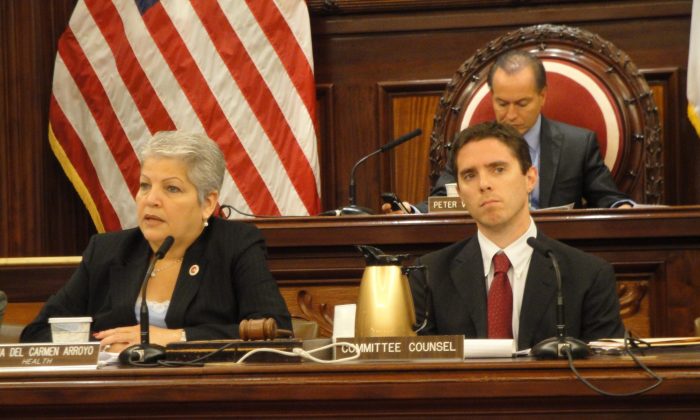 NEW YORK—The Department of Health is objecting to a bill before City Council that would set up an ombudsmen office to deal with restaurant owners' complaints about sanitary inspections.
Aside from receiving complaints via a hotline, the office would have the power to withdraw fines for violations about the physical layout of, or major fixtures within, a restaurant, if previous inspections had not cited the problem.
Restaurant owners would still have to fix any layout problems cited by an inspector.
Council member Maria del Carmen Arroyo is the sponsor of the bill, which was one of five introduced at a Committee on Health meeting Sept. 23, to help reform the restaurant grading system.
In his testimony, Daniel Kass, the deputy commissioner for environmental health at the New York City Department of Health and Mental Hygiene said, "We do not think that the purpose of this office should involve the withdrawal of violations prior to adjudications."
The Health Department was also worried that the ombudsmen office would have the power to review health inspectors' performance. The department had its own methods for reviewing health inspectors' performances, Kass said.
He hoped instead that the ombudsmen office would pass its findings to an advisory board—proposed under another piece of legislation introduced Monday, sponsored by Council member Peter Koo.
The advisory board would compile an annual report for the mayor and City Council on how letter grading affects health and safety in restaurants.
Koo's legislation asks the advisory board to look into the relation, if any, between letter grading and food-borne illness rates.
The three other bills introduced Monday looked at increasing the data publically available about restaurant inspections, providing restaurants with consultative inspections to help avoid fines, and providing restaurants with a code of conduct pamphlet at the start of an inspection cycle.
Each year the Department of Health elicits around $40 million worth of fines from the city's 24,000 restaurant owners. Last year, the Health Department collected $52 million in fine revenue.
Arroyo said the bills before the council would reduce fines for restaurant owners by about $10 million per year.
Members of the restaurant industry who testified at the Health Department meeting Monday were supportive of all the bills. Many of them had also testified at a City Council hearing about the grading system in March 2012.
"This is long overdue," said Neal Corman, the executive chef for the Alicart Restaurant Group.
The restaurant grading system was introduced in July 2010 to reduce unsafe food handling practices and to improve restaurant hygiene.
At present almost half of the city's restaurants can score an A on an initial inspection, up from just 27 percent after the first six months of grading in 2010. Citywide, 68 percent of restaurants can ultimately post an A grade.