The health code system crashed in current China's COVID-19 outbreak center—Xi'an city—on Jan. 4. The 13 million residents then couldn't receive a nucleic acid test which is mandated by the regime and went into panic.
On the early morning of Jan. 5, the Xi'an city government announced that Liu Jun, the director of the city's Big Data Resources Administration which manages the health code system, was dismissed, and Liu Xin, a candidate to deputy director of the administration, was appointed to lead the government agency temporarily.
"All residents are asked to use the [cellphone based] health code system to register for the COVID test. This morning, the code system crashed when half of the residents who live in my building were waiting in line for the test," a Xi'an resident whose surname is Ma told the Chinese-language Epoch Times on Jan. 3. "We waited until noon before we could be tested by registering our ID, rather than scanning the health code app."
Wang lives in a rural village of Xi'an. She told the Chinese-language Epoch Times that the system crashed at 9:00 a.m. in the morning and returned to normal after 10:00 a.m. in her village. "Our tests were interrupted because the system crashed. Our villagers finally finished the test at noon," Wang said. She explained that the test was finished over one hour later than planned.
"The system didn't work well with some residents after it resumed at about 10:00 a.m. We had to type the resident's ID to the system manually and then scan the code. The workload is heavier than before," a staff member who worked at a test site in the city's urban area told the Chinese-language Epoch Times.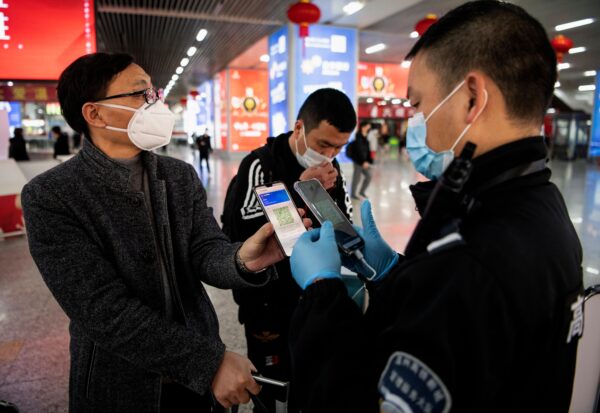 China's health code is like an e-passport. The Chinese regime mandated the whole country to use a health code system as a means to identify if someone is virus-free (green code), might meet some infected person (yellow code), or infected (red code). A person's code will maintain green if he/she takes a test on time and the result is negative.
After the regime launched the health code system in April 2020, anybody in China has to have a green code if he/she wants to travel by any type of public transportation tools, enter a building or restaurant, or pass a checking site in the middle of the highway or on streets.
On Jan. 4, Xi'an was locked down and residents weren't allowed to travel. But the health code system's crash still caused patients who urgently needed to visit a hospital to not be accepted by any hospital.
System Crashes
Starting from 8:00 a.m. on Jan. 4, Xi'an residents' health code app kept on showing "loading" and couldn't be operated. At around 9:00 a.m., the whole health code system in the city crashed.
After 10:00 a.m., when the system was restored, a big number of residents couldn't make their cell phone-based app operate.
Chinese web portal NetEase quoted technicians saying that users must uninstall the app, clear the cached data, reinstall the app, and log in again. However, not all Xi'an residents know how to go through this process on their phones.
Xi'an netizens shared their opinions on Chinese social media platforms.
Some netizens mocked the regime's goal—zero infections from Jan. 4, although the city reported new infections on that day. "Nobody can take a test when the system is down. Then nobody will be tested positive, and the new infection is zero! You [the city government] are so smart (tricky)!" a netizen posted on Weibo.
Xi'an residents criticized the government's extreme rule and disordered management.
"13 million people suddenly are forced to stop our steps and are locked down at home. It's a horrible thing," Ma said in a phone interview. "So many residents from the whole village or whole residential compound were moved to quarantine centers where they don't have a heater and can't find enough food." Ma said the temperature in Xi'an was as low as 20 degrees Fahrenheit at night.
The lockdown policy has caused numerous humanitarian disasters.
The Chinese regime censored all negative news about its COVID rules. But the posts that Xi'an residents posted online when they urged for help showed a series of sad stories.
A pregnant woman suffered heavy bleeding when she begged to be treated at Xi'an Gaoxin Hospital on the evening of Jan. 1. Two hours later, the hospital accepted her and gave her an operation, but found the 8-month-old fetus died in the womb because of the late treatment.
A man who suffered a stroke had been waiting outside a hospital for eight hours on Jan. 2 and passed away on the early morning of Jan. 3.