Canada's Medicare Gets Black Eye in U.S. Health Care Fight
July 14, 2009 10:42 pm Last Updated: October 1, 2015 9:37 pm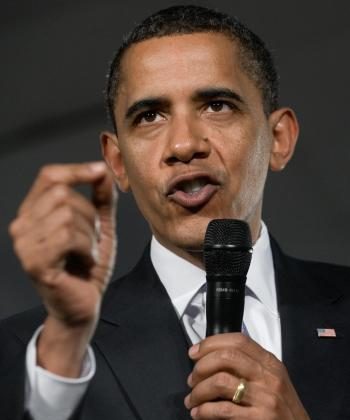 Thanks to President Barack Obama's push to pass comprehensive healthcare legislation this year, Canada's health system has been taking a severe licking south of the border.
The fact that Obama isn't even proposing a Canadian-style system hasn't fazed his opponents, who have been issuing dire warnings that health-care reform will saddle Americans with the same system they say is vastly unpopular in Canada.
The effort to build opposition to Democratic healthcare reform heated up in early June, with congressional testimony, ad campaigns, and cable news talk shows offering nightmarish accounts of endless wait-times, poor-quality treatment, and outdated technology in government-administered healthcare in Canada.
One group, the Americans for Prosperity Foundation, has launched a multi-million dollar ad campaign, the focus of which is a television ad featuring a Canadian brain tumor survivor saying she sought treatment in the United States after being told she would have to wait six months to see a specialist in Canada.
"If I'd relied on my government I'd be dead," she says in the ad.
Another ad campaign, sponsored by the Conservative Patients' Rights Action Fund, shows Dr. Brian Day, former head of the Canadian Medical Association, saying patients are "languishing and suffering on wait lists" and that Canadian medicare is a "dysfunctional system in need of reform."
The owner of a private surgery clinic in Vancouver, in the ads Day says privatization and competition in the health system would serve Canadians better than a "state-run monopoly."
Even former MP Belinda Stronach's 2007 struggle with breast cancer has been brought into the fray, with Wyoming Senator John Barrasso making appearances on Fox News Channel where he used the MP's decision to seek treatment in California as evidence that Canada's system is lacking.
"When she got cancer, what did she do? She came to the United States for her care. That's what Canadians do," Barrasso said. In another interview, he said Stronach sought treatment in the United States "because we do a better job with prevention, we do a better job with early detection."
But Barrasso's comments were misleading. According to the National Post, Stronach chose to have a highly specialized type of reconstructive surgery at a California facility during the latter stage of her treatment only, and it had nothing to do with early detection or her faith in the Canadian health system.
'OUTRAGEOUS AND UNETHICAL'
Michael McBane, spokesman for the Canadian Health Coalition (CHC) which advocates for medicare, says the CHC has launched a new Web site to counteract the bashing of Canada's health-care system.
"We really think it's important that Canadians get informed and not get misled by this campaign to smear Canada's public health-care system. … [U.S. critics] take some individual cases and extrapolate to say that basically the Canadian health-care system is a mess and no one should go near it."
As for Day's comments, McBane says "it's completely outrageous and totally unethical for a physician to be engaging in that level of misrepresentation."
The CHC has written an open letter to Obama urging him "to listen to the overwhelming number of Canadians who value and depend on our public health care, not to Brian Day and his for-profit friends."
Some Americans, too, are defending Canada's public health system.
During congressional hearings in June, Dr. David Gratzer, a senior fellow with the Manhattan Institute who grew up in Manitoba, focused his entire testimony on the shortcomings of Canada's medicare.
Gratzer said he could "understand the temptation" to go with a single-payer system but warned against it.
Representative Dennis Kucinich, an Ohio Democrat, took Gratzer to task.
"Do you know what Statistics Canada, the analogue to the U.S. Census, says the median wait time is across Canada for elective surgery?" he asked Gratzer.
"Why don't you inform us, sir," answered Gratzer.
"It's four weeks. And what does Statistics Canada say the median wait time for diagnostic imaging like MRIs is? It's three weeks," said Kucinich.
Kucinich went on to point out that one in every four Americans goes without needed care due to the high cost of health insurance, while "none or very few" Canadians find themselves in that predicament.
"So we're trying to make a case here that somehow Canada is in a mess, but we're not focusing on the fact that in the United States there are people who aren't getting needed care, and this gentleman has expected us to believe that rationing is worse in Canada. I don't know how we can buy that," said Kucinich.
'GET REAL'
Steven Lewis, a health policy analyst and adjunct professor of Health Policy at the University of Calgary and Simon Fraser University, says that despite its problems, "Canadians are very devoted to the principles of medicare."
"When we wait longer than we think we should, people are a bit unhappy, but overall, people who use the system have a very positive response—typically 80 to 90 percent approval ratings for the system for people who've used a lot of health care in the previous years. So I think it's patently untrue to say that we're unhappy with our system."
Lewis says some of the more pressing issues, such as a shortage of doctors, are being addressed, with medical school enrollment currently about 68 percent higher than a decade ago.
"In the next few years we're going to see many, many more doctors graduating and starting to practice."
The "real hot button area," says Lewis, continues to be hip and knee replacements, for which patients have to wait six months or more. It can also take a long time to see a specialist.
McBane says that while wait times need to be improved, critics of medicare "need to get real."
"There isn't a health care system in the world that doesn't have stories of people suffering; there isn't a country in the world that doesn't have waiting lists. In the United States the waiting list is pretty long—if you don't have the money, you wait forever."
This is one of the problems Obama hopes to fix with his proposal for an optional, single-payer system to compete with private insurers.
Lewis says that while he doesn't care what Americans think of Canada's health care system, he hopes Obama's attempt at reform in the United States is successful.
"There are these enormously powerful interests in the way that make it very difficult to get any kind of coherent plan through congress. … For the sake of the American people I hope they get it right, because I think a whole lot of Americans really suffer because their health system is so unfair."